courtesy of Bundy Modern
Details from "The Wedding Present" by Johnny Swing
Two summers ago, June and Wendell Anderson opened the Bundy Modern, a contemporary art gallery housed in a rehabilitated midcentury gem in Waitsfield. They have since hosted a range of seasonal exhibitions in the breathtaking, light-filled gallery space, from Vermont landscapes by Mad River Valley painter Julia Purinton to loud abstract canvases by Essex Junction artist Blake Larsen.
The Bundy's current exhibit, "Under the Influence of Motion: Sculpture, Furniture, Light" by artist and designer Johnny Swing, however, feels like the type of show for which the space was made.
Based in Brookline, Vt., Swing is particularly known for his sculptural coin furniture. Several such pieces are on view at the Bundy, along with two of the artist's massive light fixtures, 14 sculptures containing smashed toasters and other works. Notably, this is the first time the gallery, which is also the Andersons' living room, has been fully cleared to showcase the work of a single artist.
At the center of the high-ceilinged space is the massive "Murmuration." Measuring 11 feet in length, the piece is a divan, though the term barely applies. Its undulating surface is made completely of nickels welded in place to create the illusion of having been gently draped over steel trusses.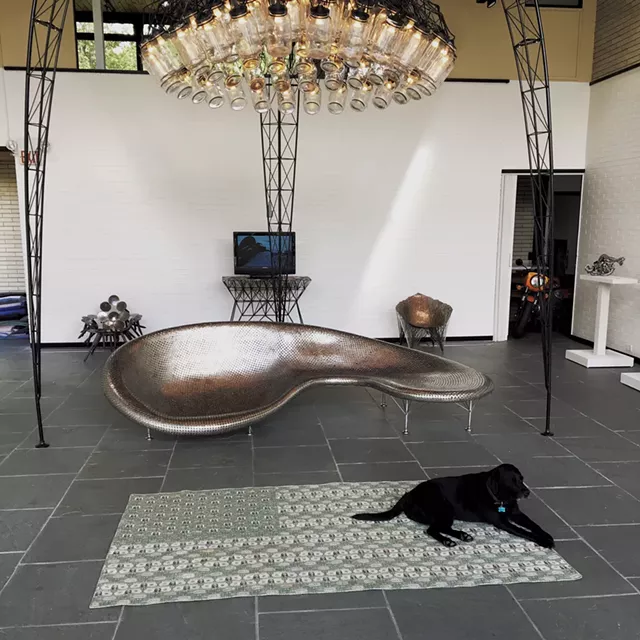 courtesy of Bundy Modern
From top: "Big Jardaleer," "Murmuration," and "$100 bill rug" by Johnny Swing
Nearby is Swing's first-ever foray into furniture making, "Tack Chair," which dates back to 1987 and is made from conjoined, oversize metal tacks. It looks like a torture device turned inside out, but, despite the prickly exterior, it's comfortable to sit on — as are all of his furniture pieces, by design.
Hanging above "Murmuration" like a grandiose reading lamp are the numerous bulbs of "Big Jardaleer." On his website, Swing describes the work as a "pod structure" of seven satellites. Each satellite has 15 light bulbs encased in ordinary glass jars. "The original 'Jardaleer,'" Swing writes, "evolved as a solution to having baby food jars become elevated in stature; now, quite literally, they are overhead."
In a catalog essay on view at the exhibit, art critic and journalist Judd Tully compares Swing's employment of mundane materials — particularly currency — to the subversive ethos of pop art. At the feet of "Murmuration" is a quilted carpet made from $100 bills. Tully likens it to Andy Warhol's early silkscreen "200 One Dollar Bills," an organized, linear screen print of currency.
Swing also uses bills as textile to create smaller, soft pieces, including a $1 bill pillow and a $1 bill teddy bear. It is not difficult to picture American Psycho's unhinged, money-loving capitalist Patrick Bateman clutching either.
Swing's coin furniture is beautiful and commanding; pieces have been acquired by prestigious and, ahem, moneyed collections such as the Storm King Art Center in New Windsor, N.Y., and Chatsworth House in Derbyshire, England. His "Quarter Lounge" was included in the opening exhibition of the Museum of Arts and Design in New York City. The $1 bill works, however, seem like novelty. At the very least, though, it's fun to see currency taken out of circulation in this way.
Underlying the sleek cleverness of Swing's furniture is a deep love for his primary medium: metal. (He's been welding since he was 13, according to another catalog essay, by New York gallerist Nicholas Kilner.) The coin furniture showcases Swing's penchant for turning small, everyday metal items into larger, unexpected and ultimately useful pieces.
courtesy of Bundy Modern
Details from "The Wedding Present" by Johnny Swing
By contrast, the series of sculptures collectively dubbed "The Wedding Present" celebrate metal transformations of a different kind, turning quintessentially dull, mass-produced, functional objects into decidedly nonfunctional art. Each of these midsize sculptures contains one toaster — some with and some without packaging — irrevocably crushed in a high-tension twist of polished steel cable. Each work is tinged with the awe-inducing power of a car crash or factory mishap.
Swing turns industry on itself, using the raw force of metal to thoroughly destroy a more nuanced iteration of the material. He has found a captivating way to freeze the joyful catharsis of victimless destruction.
Visitors can see Swing's process in a gallery video, which captures the artist using heavy machinery to twist coils of metal at his rural studio. These scenes are not glamorous, but Swing removes traces of the rough-hewn origins from the final works. Cable edges are ground smooth; steel surfaces shine. Each sculpture is displayed on an elegant, matte-painted metal pedestal, custom-made by Swing for the exhibition.
Those looking to engage with his work on a philosophical level can ask what it means to lounge atop piles of money or join in the endless debate over distinguishing fine art, craft and design. Those who'd like to see something a little different and spend the afternoon in a gorgeous space will likely be contented, too. Either way, this is a prime time to visit the Bundy.