Photo Courtesy Of Shelburne Museum
Johnny Swing exhibit in the Pizzagalli Center
Johnny Swing made his first chair in 1987. The dramatic "Tack Chair" looks like a pile of oversize nails, perhaps a vague relation to the iconic seat featured in HBO's "Game of Thrones." Never mind its prickly exterior, sitting on it is a different story: The saucer-size rounds of steel are as comfortable as can be.
The Brookline, Vt., artist's first foray into furniture making would foreshadow his lifelong love of and illustrious career in metalworking, marked by deeply playful designs that elevate mundane objects to extraordinary ones.
This spring, the Shelburne Museum celebrates Swing's masterful craft. Its Pizzagalli Center for Art and Education showcases not only the works for which Swing is best known — sculptural furniture meticulously fashioned from ordinary coins — but also elements of his process from start to finish.
"If you could walk into Johnny Swing's head, this is what you would see," said curator Kory Rogers of "Johnny Swing: Design Sense." The exhibition is on view through June 2, inviting visitors behind the scenes, as it were, and into Swing's creative world.
For Rogers, what makes this show most exciting is its emphasis on lesser-known and seldom-seen aspects of the artist's practice. "We're venerating sketches, molds, tools and prototypes as the works of art," he said.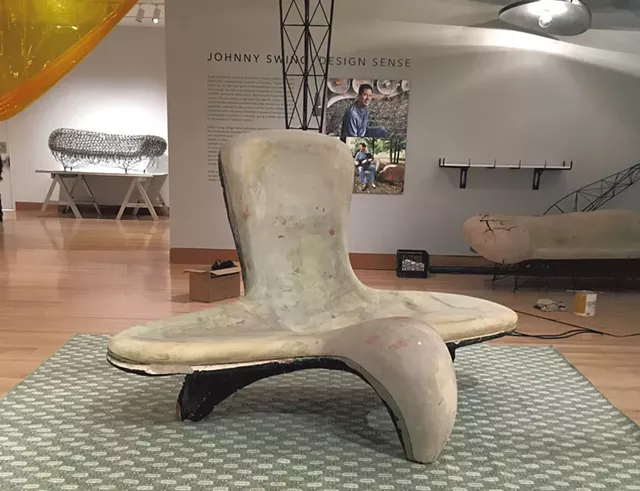 Photo Courtesy Of Shelburne Museum
Johnny Swing exhibit in the Pizzagalli Center
The front section of the Murphy Gallery, on the upper floor of the Pizzagalli Center, is presented as a more polished exhibition, Rogers explained. By contrast, the back of the gallery has been designed to look like Swing's workspace.
Among the objects on view are five of Swing's massive lamps, some of which writer David Nielsen, in the erstwhile Take Magazine, described as "ominous alien lily pads." Six of the epoxy-covered Styrofoam molds that Swing uses to fashion his celebrated coin-furniture designs are included; Rogers likened these sumptuous, rounded forms to the work of renowned Japanese American sculptor Isamu Noguchi.
Accompanying the show is exhibition text entirely in Swing's own words. The narrative was developed in an unconventional manner: Rogers asked Swing to call his cellphone and leave messages about his work and process. "You could hear the wheels turning — he was very eloquent," Rogers said, adding that he barely needed to edit the artist's words.
Those wishing to see Swing's blockbuster coin designs won't be disappointed. The Pizzagalli Center lobby showcases several of these works, allowing visitors not only to marvel but to sit on them. Imposing and somewhat futuristic, Swing's metallic forms are also astonishingly comfortable, considering they're fashioned almost entirely from tiny bits of metal.
In 1997, Swing modeled his first coin chair after Harry Bertoia's Diamond Chair — one of the most recognizable midcentury modern designs. Swing welded together 6,500 pennies, or $650. He followed that "Penny Chair" with the much larger "Nickel Couch," which became a near-instant success. Today, Swing counts among his collectors and clients the Storm King Art Center in New Windsor, N.Y., as well as fashion house Christian Dior.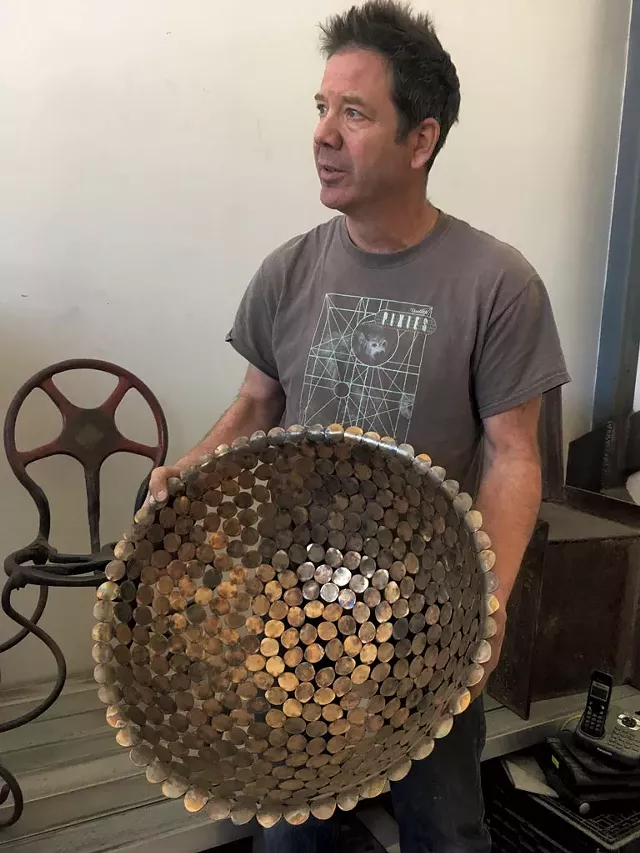 Photo Courtesy Of Shelburne Museum
Johnny Swing
Beyond the works' aesthetic appeal and their novel material are philosophical quandaries about value. When, if ever, is money just metal?
"For me, [Johnny] is like this perfect mixture of Marcel Duchamp and the TV character MacGyver," Rogers said. "He sees the potential of everyday objects, and he's very thoughtful in unexpected ways."
Though Swing moved to Vermont in 1995, "Design Sense" is his third show in the state. The first, "The Shape of Things: Johnny Swing and the Best Of Vermont Design 2009," was hosted by Helen Day Art Center. Waitsfield's midcentury modern gallery and sculpture park the Bundy Modern showed a selection of his works in 2017. The current exhibition is the first in a new series at the Shelburne Museum focusing on Vermont's creative movers and shakers.
As Rogers explained, he has long felt that the museum has "a responsibility to help promote contemporary artists and designers working in Vermont." (Glass artist Charlotte Potter — the director of Waitsfield's Yestermorrow Design/Build School and sister of Vermont-based rock star Grace Potter — is on the docket for a 2020 exhibition.)
Swing certainly deserves attention in his home state. His works are beautiful and functional, sophisticated and accessible. For those already familiar with him, "Design Sense" will reveal new depth to Swing's process and practice. Those encountering him for the first time are sure to get their money's worth.
Correction, February 26, 2019: An earlier version of this story misstated the number of times Johnny Swing has shown work in Vermont.