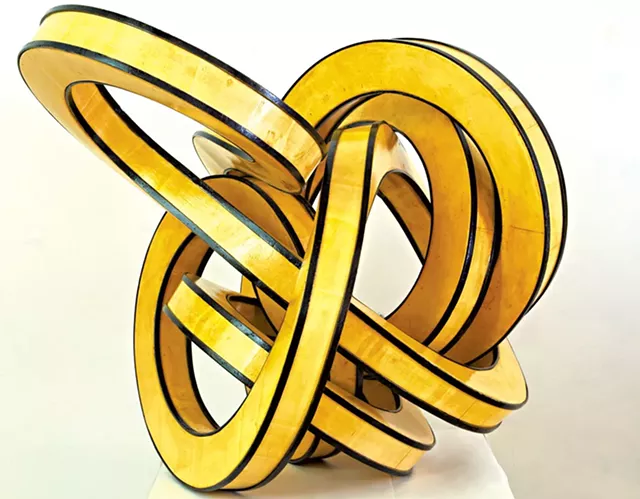 courtesy of John Rose
"Tai Chi Series: Single Whip, Classic Chanel Style" by John Rose
When metal artist Bruce MacDonald isn't bringing his work to the six major art shows he visits around the country every year, he occasionally finds time to mount one at HAVOC Gallery, his Burlington gallery-cum-studio. There he shows what might be described as his brushed-metal paintings — he calls them "light sculptures" — with select works by other sculptors and artists. MacDonald, who has worked with metal for more than 30 years, has a single criterion for those other artists: They must be inimitably adept at their craft.
That quality stands out at the current HAVOC show, "Grace Within the Contours: Sculpture by John Rose." The title is a bit misleading, because the show includes only three sculptures in wood by the Los Angeles-based Rose, two on pedestals and one wall-mounted. The rest of the show consists of MacDonald's latest in metal, works in wood by himself and Joël Urruty, and two giant mobiles by Vermont sculptor Gordon Auchincloss.
courtesy of John Rose
"Tai Chi Series: Double Dip Roundhouse Kick, Gold Style" by John Rose
In any case, one need not see more examples of Rose's work to appreciate the excellence of craft and conception that goes into it. The two pedestal-mounted sculptures at HAVOC are titled "Tai Chi Series: Single Whip, Classic Chanel Style" and "Tai Chi Series: Double Dip Round House Kick, Gold Style." Each suggests the solidified afterimages of a light trail left by a dancer leaping and twirling in the night. In fact, they are laboriously made of wood, which is a wonder.
Rose, reached by phone, explains with a trace of his native English accent that he planes poplar boards to an eighth of an inch, soaks the long, thin strips in a hot bath for an hour, then coils them tightly, clamps them and leaves them in the sun to dry. Next, in a process he calls "drawing," he winds the coils through an 8-foot-square gridded frame he built in his studio. Once a 3D form has taken shape, he builds up the curving strips with tiny, glued-on ribs and covers them in a skin of small poplar strips. Then follows "a whole lot of sanding," Rose says.
What viewers see, however, looks like a thick square cable looped into mystifying complexity. In the case of "Single Whip," the coils' four edges are black, giving an impression of calligraphic writing rising off the page. (Rose taught fine arts in Hong Kong for nine years.) The eye naturally follows the complicated curves in an effort to find where the piece ends. It doesn't; these are infinity sculptures.
Rose's third work, the wall-hung "And So It Begins Again," requires a little hunting for the infinity part. The sculpture resembles a section of curled and dangling ribbon writ large. That large form is made from poplar strips laid side by side; inside the ribbon's twisting curves lies the narrower infinity strip.
MacDonald discovered Rose's work through a friend in LA; the two showed together last month at SCOPE New York, an international art fair. When it ended, Rose agreed to MacDonald hauling what he could fit in his truck back to Burlington. While Rose has numerous corporate commissions, including a 26-foot work that hangs in Morgan Stanley's New York headquarters, his work has rarely been shown on the East Coast, and never before in Vermont.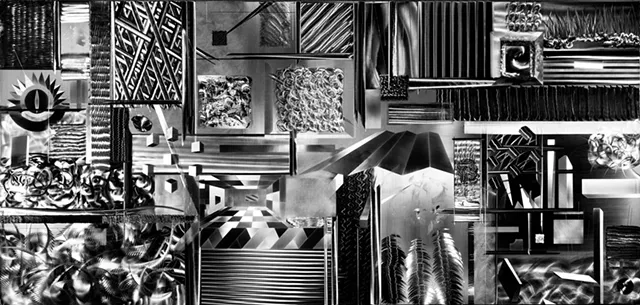 photo Courtesy of bruce macdonald
"Light Box" by Bruce MacDonald
It makes a pleasing contrast, in material and form, with MacDonald's. The metal artist uses sheets of an expensive alloy that does not tarnish or rust, so his works will always gleam as if new. After bending back a sheet's edges to create the form of a canvas, MacDonald uses an array of handheld grinders capped with the equivalent of sandpaper to achieve countless surface effects.
He can create realistic panoramas of underwater sea life, as in "Salt Whistle." He can depict a thicket of seemingly 3D tubes — layered, like those in "Warren," so that the composition appears to have depth. He can make flat geometric compositions by hand-brushing taped sections with a kind of industrial-strength Scotch-Brite pad. When adjacent shapes are brushed in different directions, the light will seem to color each differently.
"I've spent 18 years exploring the optical properties of this stuff," says MacDonald of his light sculptures. "It's all about pushing light" to refract off the surface in different ways.
photo Courtesy of bruce macdonald
"Romance" by Bruce MacDonald
Nine small, square works on display are among the last in MacDonald's series "Visible Indivisibles," based on the 118 elements. (Only seven in the series remain for sale.) After researching each element's history and uses, he conceived of a representation for each that also references art history.
"Tin," for example, depicts the best-known use of the element — a tin can — in a cubist-inspired composition. The chemical symbol, "Sn," is so precisely rendered in one corner that it seems laser-copied from a high school chemistry room chart. "Cobalt," featuring an eye-catching spiked machine cog, captures the element's most common use while also recalling Roy Lichtenstein's 1962 painting "Tire."
MacDonald's words apply equally to his own work when he says, "The crux of HAVOC as a gallery is that the artists have to be masters at what they do. They've spent years working on their hand skills and their eyes. They can do things no one else can."