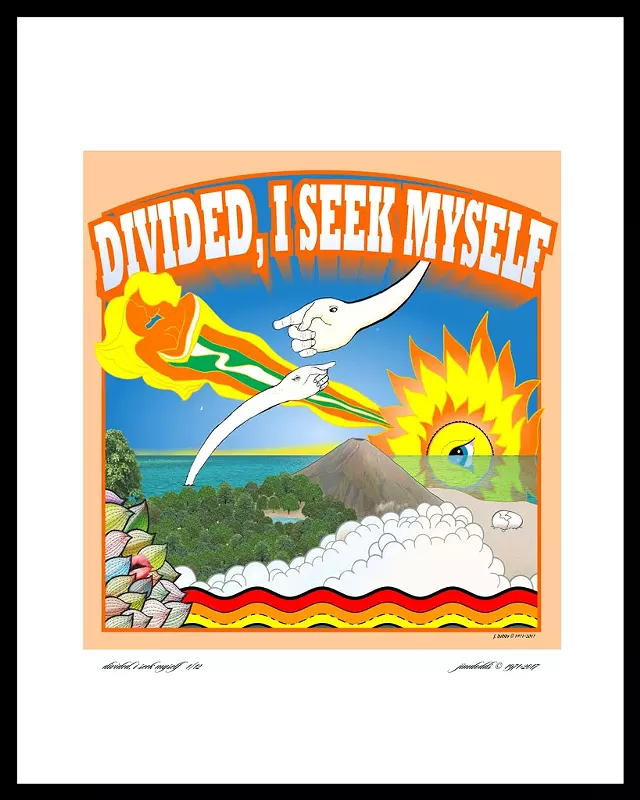 Unless you live in a monastery, under a rock or any other place without reliable internet access, memes are pretty much unavoidable. They've been weaponized by both Hillary Clinton-hating factions of the far right (see: the so-called "Great Meme War") and by self-identified misandrist feminists (see: @alexthememeconnoisseur). They've been compared to folk art by British curator Maisie Post, among others. Memes and meme-like bricolage have infiltrated IRL art spaces from London to Los Angeles.

Whether or not you consider memes art, the sticky digital oddities are widely considered the purview of millennials and younger folks. The case of Waitsfield artist and writer Jim Dodds, however, might put some wrinkles in that assumption.
At 74, Dodds, who just started using Instagram last week, has churned out a series of analog/digital hybrid works that are distinctly meme-like. The 19 small-scale, framed works, collectively titled "jimages," are on view at Three Mountain Café in Waitsfield — Dodds' first-ever solo presentation.
"The Book That Reads Itself"
Since moving to Vermont in 1968, he has dabbled in an array of creative forms, including photography, drawing, writing, guitar, keyboard and acting. He ran the print shop at Goddard College from 1968 to 1971 and received his bachelor's in transpersonal psychology from that same institution in 2001. Dodds describes that field of study as "psychology that has a spiritual base." Spirituality is also an aspect of a self-help manuscript he's penned, The Feast That Eats Itself.
Having retired in 2015, Dodds took on freelance editing work through his company It's Your Story to help fund the equipment for his new foray into computer-assisted artwork. He works on three monitors side by side, including one on which he can draw directly.
"My working dance alternates between CorelDRAW 2017 Graphics Suite and Adobe Photoshop, with an occasional excursion to the light table or back to the flat file," he writes on his website.
Perhaps it's no surprise that someone as multimodal and metaphysically minded as Dodds would experience computer-assisted artwork as a revelation; it allows him to gather a multitude of materials and influences quickly and manipulate them on the same plane.
"I feel like I've been waiting for this particular technology," Dodds told Seven Days. "About a year and a half ago, it all started coming together — I started getting cranked up again. It's just been this renaissance."
For Dodds, "getting cranked up" meant revisiting his flat file of pencil sketches and drawings, accumulated since the 1970s. Many of these serve as source material for his digital works. "Hem & Haw," for example, features two pre-Colombian-esque figures that Dodds first drew in the '70s. The completed "jimage" renders the duo in hues of red and blue that merge beneath a giant yin-yang symbol. Above this scene, Dodds has placed an original poem in a clunky yellow early-internet-style font: "Hem & Haw go 'round and 'round, like darkness follows day / Each one's Push is the other's Pull, and sweetness slips away."
Some "jimages" appear more developed than others. The most complete ones have much in common with two earlier popular art forms: album art and the concert poster. "You Can't Win, Kid" has a trippy Yellow Submarine quality, infused with countercultural spirit. What began as a tempera painting in the '70s is now a digital poster of a long-haired young man being fed into a metal contraption by an Uncle Sam figure. As Dodds writes in his exhibition text, he has updated the image to "reflect our current predicament" by replacing Uncle Sam's face with that of President Donald Trump.
A distinct visual connection to 1960s American counterculture is not the only thing that separates Dodds' digital works from those of his millennial counterparts. If one of the hallmarks of millennial humor and aesthetics is nihilism, as columnist Elizabeth Bruenig has argued in the Washington Post, Dodds veers sharply (and consistently) toward the eternal search for meaning.
Dodds claims the Hindu spiritual doctrine of Advaita Vedanta as a strong influence on his life and work. The Sanskrit term translates as "non-duality," and adherents of the path believe in the ultimate oneness of all things. Many of Dodds' stylized works of "lettersmithy," as he calls them, feature closed or nearly closed units of text that gesture toward the infinite continuity of a Möbius strip. "The Book That Reads Itself," for example, presents the titular phrase as a series of interconnected letters spiraling inward, suggesting self-containment in both content and form.
Nowhere, perhaps, is Dodds' identity as a spiritual seeker more evident than in "Divided, I Seek Myself." The outline of an entwined man and woman rockets outward from a cyclops sun, which overlooks a cartoonish, surreal landscape patched together from dated clip art. A pixelated egg hints at the origin of all things, and two hand-drawn arms curve toward each other to connect sea and sky.
From the horizon line to yin and yang, tensions between division and unity are pervasive in Dodds' digital concoctions. Indeed, he considers the works to be an expression of his hidden self: "I'm showing my shadow to everyone," he said.