Jean Luc Dushime
"My Grandmother"
Rwanda has made a remarkable recovery from the 1994 genocide that ended an estimated 800,000 lives. The central African country, almost exactly the size of Vermont with almost 20 times the population, has been resurrected as a stable — and repressive — state with a dynamic economy.
But, of course, survivors do not forget a holocaust. They bear psychic, if not physical, scars that will never heal.
"My body remembers the smell," Burlington photographer Jean Luc Dushime says of the decomposing corpses that lined the streets of Kigali, Rwanda's capital, as he fled the stricken country 21 years ago.
Most of the victims were members of the minority Tutsi tribe. Psychopaths among the Hutu majority had carried out the world's worst ethnic slaughter since Hitler's. Using machetes, they also murdered thousands of fellow Hutu they identified as "moderates." An invading Tutsi guerrilla army in turn killed an uncounted number of Hutu civilians.
Dushime, who is unusual among Rwandans in having mixed Hutu-Tutsi parentage, gently evokes memories of the genocide in his current show of 18 photos at Burlington's BCA Center. He took the pictures during his return to Rwanda last year. A 13-year-old student at the time of the butchery, Dushime lived as a refugee in two African countries before settling in Vermont in 2004.
As the sampling at BCA suggests, he works in a variety of genres: portraits, landscapes, street scenes, public spectacles. And, in the most striking shots in the exhibit, Dushime uses his camera to compose metaphors.
"Broken," for example, shows a handmade ladder leaning against a wall in a room lit through a window on the left, à la Vermeer. A rung in the middle has been snapped in half. Shadows on the wall and the lack of a human presence in this unfurnished interior enhance the image's quiet eloquence.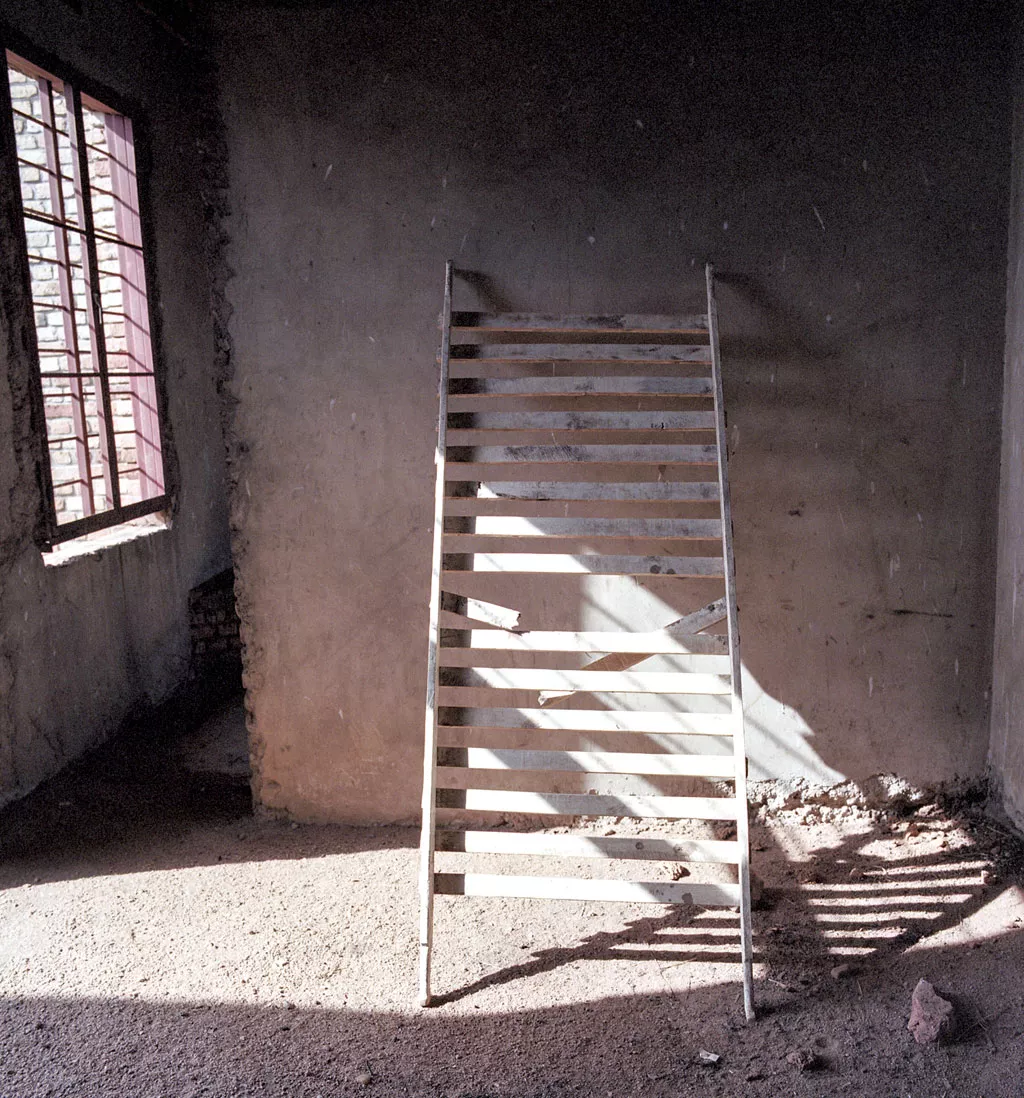 Jean Luc Dushime
"Broken"
A similar contrast of light and dark creates an even more powerful effect in "Escape, the Murambi Genocide Memorial," which Dushime shot in another empty, shadow-enshrouded space. This time the light comes from a wide-open door through which we see a sun-soaked hillside in the distance and a green field in the foreground. The site is a former technical school where several thousand Tutsi were hacked to death.
Dushime sends viewers on a journey that he hopes today's Rwandans share. From the darkness of a deathly past, we are transported toward light and life.
A couple of the photos in "Jean Luc Dushime — A Global Connection" depict an urban alienation that can be experienced anywhere. In the Rwandan setting, however, these images of apartness are fraught with connotations.
"Connected" has been given an ironic title — as has, perhaps, the entire show. In this piece, the heads and backs of two waiting pedestrians frame the image of a crowded city bus. None of the half-lit passengers' faces is clearly visible, and none of those passengers seem to interact. A sign on the side of the bus — "WiFi Onboard" — is partly obscured by the shoulder of one of the onlookers.
In "God Among Us," a nun in full religious regalia walks away from the camera, seemingly ignored by everyone around her. Dushime has cropped part of the figure of a man in the right corner of this composition, but left visible the cellphone on which he's talking and his worried expression.
Dushime is adept at subverting stereotypes. He shoots swimmers and idlers lounging beneath umbrellas at a pool framed through what may be a partly opened door. It's a sunny scene with a clear view of a shantytown climbing a hillside in the distance.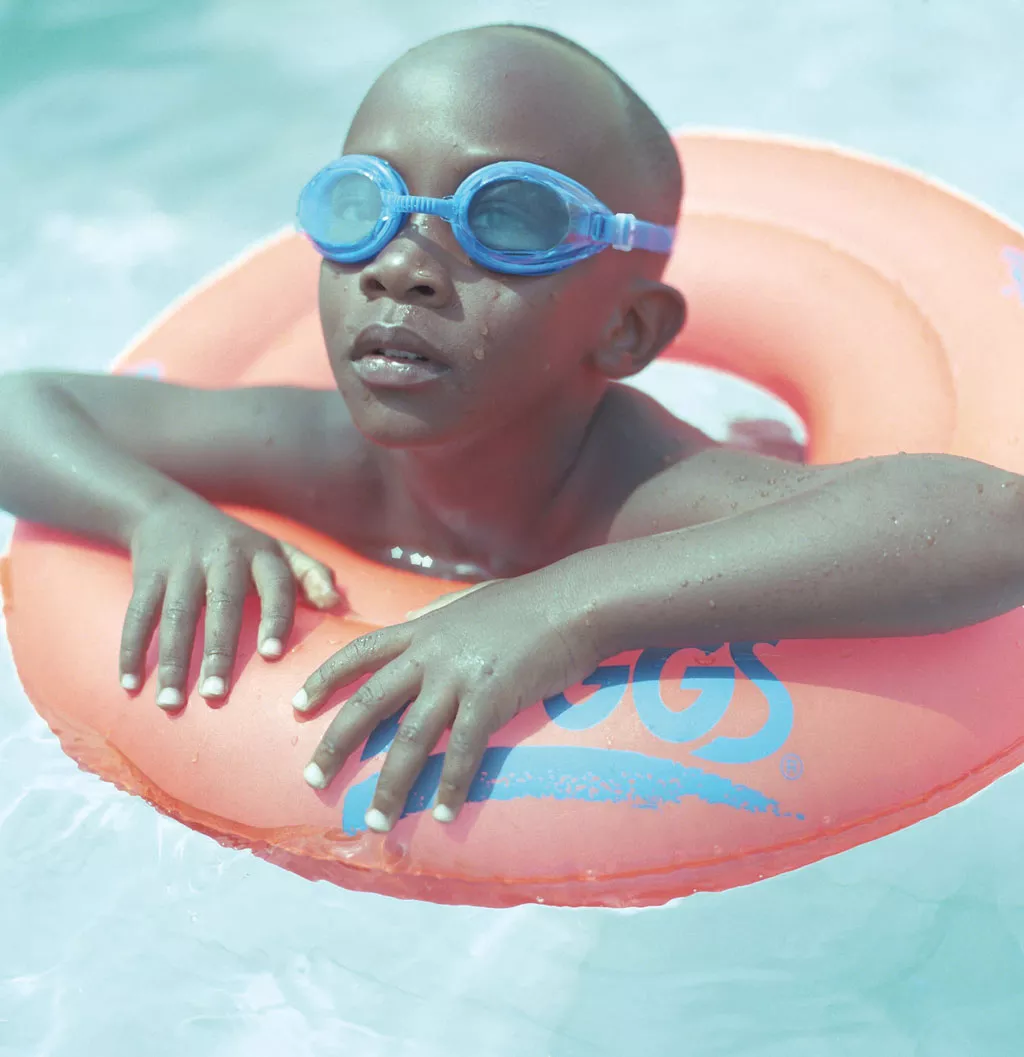 Jean Luc Dushime
"Loris"
White tourists oblivious to poverty's proximity? No, these are locals enjoying a day of cooling relaxation. But their skin color doesn't make the juxtaposition of what's surely a sweltering slum any less unsettling.
Not every photo in the show is laden with metaphorical or metaphysical significance. Dushime's pictures of Rwandan landscapes appear to be just that: Rwandan landscapes. But that may not prevent viewers from reading meanings into them.
"Mille Collines" shows a few of the thousand hills that give Rwanda its nickname, just as the Green Mountains do for Vermont. Shot from a high vantage point, this photo presents a vista of what could be a tropical version of our state. No people appear atop the hills that roll into the distance beneath a cloud-dappled sky. Look closely, though, and you'll see terraced farms carved into the hills closest to the camera.
Dushime does load the deck by giving a simple image of a pine grove the title "Standing Witnesses." Witnesses to what? we wonder, and then notice a swelling of the earth at the center of the shot. It looks like a shallow, unmarked grave.
Except it's not, as Dushime clarifies during an interview at the gallery. What we're seeing is simply a rock covered with browned pine needles. Again, though, this is Rwanda, so certain assumptions come readily.
The show's portraiture — which includes a close-up of a beautiful young woman; a shot of Dushime's aged grandmother, her chin cupped by his hand; a hip-hop-style fisherman; and a smiling boy wearing a tattered shirt — testifies to the photographer's versatility. "A Global Connection" would have been even stronger, however, if the curator had omitted the two images of jubilant native dancers performing in what has to be a kitschy tourist venue.
Although Dushime says he likes living in Vermont, Africa tugs at his heart. He says he's considering returning to his heavily policed homeland; meanwhile, he's spent time in far more dangerous corners of the continent. Dushime recently concluded an 11-month gig training photojournalists in South Sudan, another country that's giving the lie to the post-Holocaust slogan "Never again."