Courtesy Of Janet Van Fleet
"The Beginning"
Central Vermont artist Janet Van Fleet has often unabashedly referenced social, political or environmental realities in her work. Perhaps her sculptural works made of buttons do not exactly call for revolution. But her use of mundane, found materials is itself a kind of statement, and her wry sense of humor puts her in good company with creators ranging from renowned sculptor Alexander Calder to self-taught artists who assemble detritus into comical facsimiles of the human condition.
Van Fleet's current exhibition, "Vanishment," in the Vermont Supreme Court Lobby in Montpelier is all message and no LOLs. And that message, if not breaking news, is disturbing: Humans are killing off other species on planet Earth at alarming rates.
In wall text, Van Fleet quotes findings from a 2018 World Wildlife Fund for Nature report, saying that the biomass, or total aggregated weight, of non-domesticated animals has declined by 60 percent since the 1970s. In other words, nearly two thirds of animals that are not our pets or food have vanished since "The Mary Tyler Moore Show" was hot. Among terrestrial mammals, humans now account for 36 percent of biomass; their livestock and domesticated animals account for another 60 percent.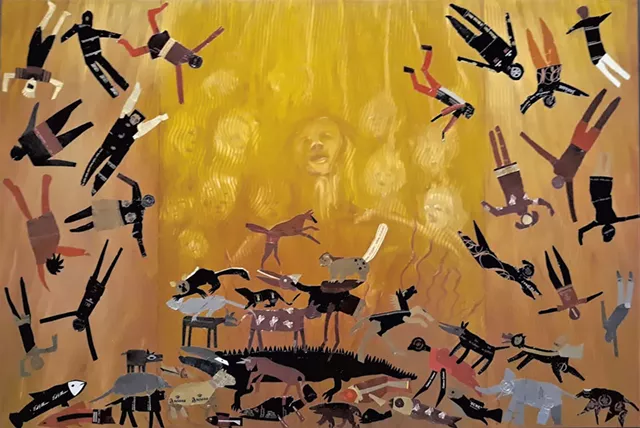 Courtesy Of Janet Van Fleet
"The End"
Perhaps aggregated weight isn't the most engaging talking point, but the numbers are distressing. Animals in the wild are being "disappeared."
In her collaged paintings and installation works here, Van Fleet addresses the sorry state of Homo sapiens' predatory entitlement and non-collaborative relationship to the rest of the natural world. Consistent with her métier, she uses found and collected materials, including foil carefully extracted from wine bottles, tiny toy-store plastic animals, a selection of her own 20-year-old paintings from a storage closet and, yes, buttons. With these repurposed materials, Van Fleet crafts an elegiac allegory.
The front room of the lobby and gallery features eight paintings — older ones reworked with foil additions — that form a sequence. They take viewers from an imagined time when humans and other species were equals ("The Beginning") to the presumed present ("The End"), when that balance has been irrevocably lost.
Van Fleet's earlier oil-on-board paintings, executed in sepia and terra-cotta tones, tend to feature ghostly faces or human figures floating — or falling? — in space. Sometimes the figure is wrapped, mummy-like, in white stripes. In "Attempted Communication," for example, the fifth painting in this series, these white stripes form the outline of a non-gendered human body, with a skeletal structure visible underneath. The figure's arms are raised in the "under arrest" pose. Eight birds made of wine foils flock around its head and shoulders. The painting's meaning is as transparent as the figure's body.
Courtesy Of Janet Van Fleet
"Digesting the Planet"
In another work in the series, "Irreconcilable Differences," nine of these mummified figures cluster together, pictured from the shoulders up, as more than a dozen foil fish swim over and past them. In the background, several of those ghostly human shapes float/fall through a sepia-toned sea.
Van Fleet has created a long, narrow wood container for her installation "Stromatolites for the Next Age," which sits at one end of a marble countertop. Within the frame arise numerous vermicular projections consisting of dark red, black and white buttons on wire, some of them topped by teensy plastic human figures. Look up the definition of "stromatolites," and you'll probably find this: "a calcareous mound built up of layers of lime-secreting cyanobacteria and trapped sediment, found in Precambrian rocks as the earliest known fossils." What Van Fleet intends with these creations is unclear, but their reaching, disorganized mass is equal parts endearing and unnerving.
In the back of the room, a long wall installation titled "Digesting the Planet" employs hundreds of buttons strung on wire, this time shaped into a twisty, extenuated intestine. This is attached to a metal grid. Inserted periodically along the colon are small lidless boxes, turned toward the viewer to form miniature stages. They hold little plastic animals such as buffalo, anteaters, wildcats, wolves, squirrels, boars, camels, rhinos, tortoises, primates and polar bears. Here, too, intent needs no interpretation.
Pamela Polston
Detail of "Digesting the Planet"
On the opposite wall, Van Fleet has installed a shorter horizontal piece called "Rivers of Blood." Originally produced for a 2004 exhibition in New York, the tripartite painting quotes from the Book of Amos: "Woe unto you that desire the day of the Lord! To what end is it for you? The day of the Lord is darkness and not light." In this river of blood, bones float beneath a black sky.
Van Fleet indicates in her artist statement that the piece was created "when the concern was war of humans against other humans." For this exhibition, however, she repurposed the work to stand for humans' war against animals. Here fish swim upstream while human remains hurtle downstream. The third, smaller panel contains a prominent word: "amen."
In "Vanishment," Van Fleet delivers a clear message via disturbing yet engaging artwork. And the location of the display is both serendipitous and ironic: Perhaps only courts of law have the power to curtail humans' worst instincts.