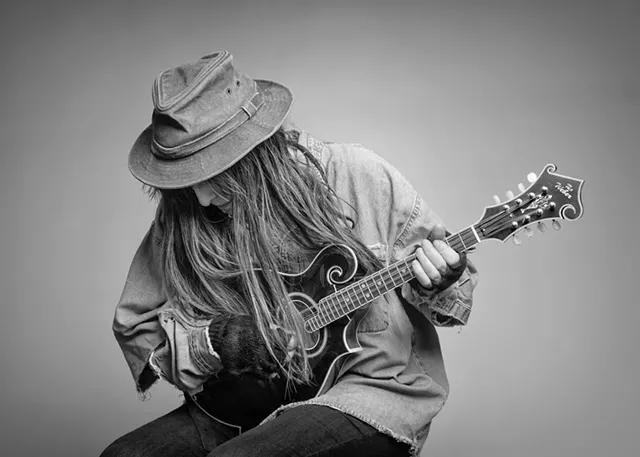 Courtesy Of Studio Place Arts
"Kristina Stykos"
If no one had shown up for a recent opening night reception at Studio Place Arts in Barre, the third-floor gallery would still have had a crowd: the 30 people looking out from the confines of their frames. The subjects of Jack Rowell's photographs on exhibit are so animated that one suspects they converse with one another — or even get rowdy — after SPA closes for the night.
"Jack Rowell, Cultural Documentarian: Portraits of Vermont People and Other Wildlife" is the Braintree photographer's first solo exhibit in a decade, spanning more than four decades of his career. "It's hard work putting [an exhibit] together. I do it all myself, from printing to framing," Rowell told Seven Days.
Maybe it's also been so long because he can be as difficult to catch as a buttered catamount. Rowell travels around the state capturing rural life on camera, from the annual Lake Champlain International Father's Day Fishing Derby to Vermont Outdoors Woman Doe Camp to a mix of musicians, politicians, farmers and tradespeople. This exhibit reveals — and revels in — the spectrum of his findings.
A visual artist's career creates a legacy of images that can also serve as a retrospective of that artist's own life. Rowell's photographs do more, recording the legacy of a culture of individuals working in Vermont. Many of his subjects are engaged in artistic pursuits, but others labor in fields such as sanitation or agriculture. A fifth-generation Vermonter from Tunbridge, Rowell is a self-described cultural documentarian. That attribution is part tongue-in-cheek and part on the money.
In the SPA exhibit, the progression from his early Tunbridge photographs of the 1970s to images of the present demonstrates a shift from location-based to studio photographs (with some exceptions). The studio images trade surrounding subject matter and context for an intense focus on the subject.
Case in point: Rowell's 2005 "Construction Worker" includes a dump truck and crane on a demolition site. A decade later, his color photo of artist and professional stone carver Heather Milne Ritchie is a nude portrait shot in his studio. Ritchie poses holding a length of etched granite, the only clue to her occupation.
Rowell's photographs don't just sing; they bleed. To be sure, some images exude joy, serenity or outright glee, but Rowell always captures a deep emotional connection and reflects it back to the viewer. For him, the eyes really are the windows to the soul.
He's not one to stick to a single technique; what may have worked with one subject may not with another. Take his 2015 black-and-white studio portrait of singer-songwriter Kristina Stykos, hunched over her instrument, her hat and hair obscuring most of her face. We can't read her expression, but her posture, the tilt of her head and the position of her hands convey her passion for music.
"Dough Boys" is quite the opposite. In this circa 1990 image taken outdoors at the Tunbridge World's Fair, far from the confines of a studio, the fried-dough vendor provides an eloquent backdrop. Here, two men in the foreground are clearly enjoying the tastes of the fair.
Courtesy Of Studio Place Arts
"Young's Rubbish Removal"
The exhibition includes images shot with both 35mm film and digital cameras, though Rowell now uses digital exclusively. In a conversation, the photographer scoffed at purists who view darkroom processing as more "valid." There's a lingering misconception about the quality of digital prints, he noted. In the medium's infancy, they were created with low-quality ink-jet printers. Now, pigment ink and high-quality cotton-rag paper make prints that will outlast silver gelatin.
"I've had to do my own processing," Rowell said, "so I learned the nuances."
He currently uses a Nikon D810 digital camera and Adobe Camera RAW. "Formerly, for film," Rowell said, "I used Canon and Nikon 35mm, Mamiya ... medium format and Sinar [large format]."
Except for a short time after high school, Rowell has always worked as a photographer. He's also something of an expert in networking, making connections among people who might otherwise never meet. He could have a sideline in politics or selling cars if he didn't prefer to work alone.
Rowell said he picks his subjects about half of the time; the rest of the time, they pick him.
"Basically, I'm known as a black-and-white portrait photographer," he said, though his reputation for color work is growing. "I shoot product and editorial. If you don't have a trust fund, it's best not to specialize."
In 2010, for the show "The Hale Street Gang," Rowell photographed 12 elderly participants in a memoir-writing workshop run by Sara Tucker at the Greater Randolph Senior Center. Rowell's large-scale, black-and-white photographs evoke their rich life stories, as revealed through excerpts from their memoirs. The exhibition traveled around the state. The SPA show includes seven photographs from that project of Margaret Egerton, which Rowell considers a single work.
The photographer was on hand opening night to add comments, tell a few stories and, of course, take more photos. His sister also wielded a camera to capture Rowell in action, bear-hugging old friends and making new ones in the throng of visitors. Those included more than a few of the subjects of Rowell's photographs, who had new photos taken alongside their images on exhibit.
"Portraits of Vermont People and Other Wildlife" is a veritable who's who of interesting individuals, though they're not necessarily widely recognized. One exception is his iconic photograph of the late Fred Tuttle, dairy farmer, star of John O'Brien's indie film Man With a Plan and 1998 candidate for the U.S. Senate. In a photo nearby, two contestants for Miss Vermont are poised to kiss a fish.
For Rowell, photography is much more than simply pushing a shutter. "I learn something new every time I shoot," he said. In turn, viewers may learn something new by looking at his images.