If it weren't for Mary Cassatt, the Shelburne Museum's current exhibit "In a New Light: French Impressionism Arrives in America" might very well not exist. The painter (1844-1926) was born in Pittsburgh but found what she called her "spiritual home" in Paris. There, she fell in with Edgar Degas and a group of outlier painters who came to be known as impressionists. And her friendship with Louisine Havemeyer, mother of Shelburne Museum founder Electra Havemeyer Webb, connected the American art-collecting family and those particular French artists.
One result: The Claude Monet painting "Le Pont, Amsterdam" (1870-71) was his first work acquired by an American and brought to the United States. In the Pizzagalli Center, that painting gets pride of place: on the wall facing viewers as they enter the gallery. Its striking composition — the dark span of a gently arching drawbridge bisects the canvas horizontally, as a spire-topped tower pierces the sky behind it — is echoed in a large-scale photograph of the same scene. This is hung on a panel to the left and further back in the room.
The interesting juxtaposition subtly underscores what the impressionists were all about. Monet depicted an ordinary city scene but did so with short, active brushstrokes that render it an impression, rather than faithful, hard-edged realism; and he was much more interested in the atmospherics. This latter obsession would result in the impressionists' habit of painting en plein air in order to better see and capture the elusive effects of light. (And, points out Shelburne Museum director Tom Denenberg, technological improvements in paint itself facilitated working outdoors, while rail transportation could whisk artists out of the city and into the countryside to paint.)
It's easy to forget, more than a century later, that all of this was groundbreaking in its day. Rejected by the academic art establishment, the impressionists formed their own group — into which an American female painter was accepted. This coterie alone offers art historians a rich trove of material, but for the Shelburne's exhibit, it's the Havemeyer connection that matters, and that relationship is the underlying theme of "In a New Light."
Collecting impressionist paintings in the latter 19th century was also fairly radical — but perhaps perfectly logical if one of your besties was Mary Cassatt. Louisine and her husband, Henry O. Havemeyer, were avid art collectors whose tastes extended to the unconventional. The family ultimately donated some 4,500 artworks to the Metropolitan Museum of Art in New York City (an exhibition of the collection in 1993 engendered a 412-page catalog). As Denenberg notes, the paintings that ended up at the Shelburne Museum are "the ones Electra inherited and kept."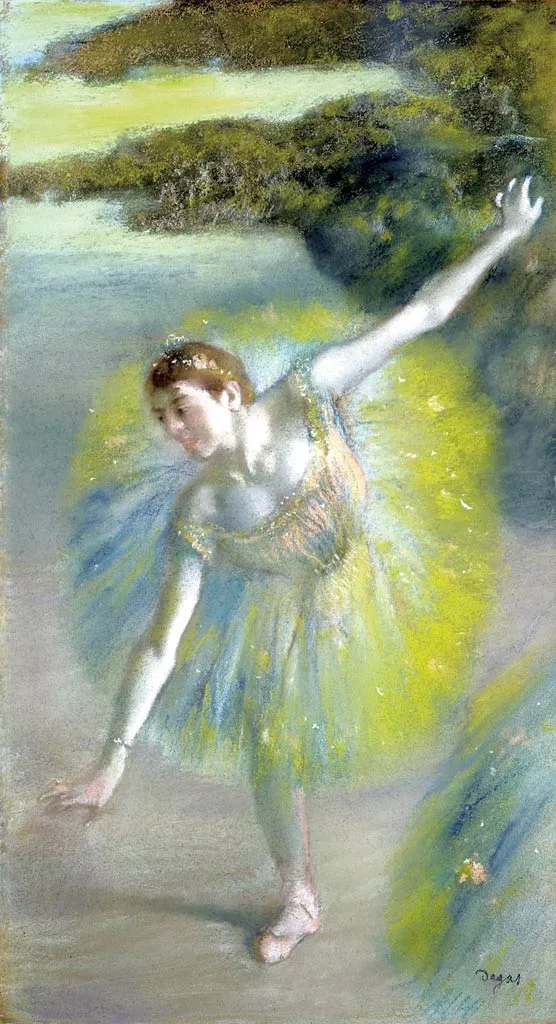 "Dancer in Green" by Edgar Degas
"In a New Light," guest curated by Margaret Burgess, presents nearly 20 works (not all of them strictly impressionist) including two borrowed paintings — from the National Gallery of Art and from a private collection. Monet is well represented, with a half dozen paintings both urban — such as the foggy London scene "The Thames at Charing Cross Bridge" (1899) — and rural. Among the latter is "Meules, effet de neige" (1891), depicting a pair of yurt-shaped haystacks in the snow; and the supremely gauzy "L'Eglise de Vernon," featuring a church not far from Monet's Giverny home.
On view also are two works by Degas picturing his beloved dancers; four by Edouard Manet, including the spectacularly composed and painted "The Grand Canal of Venice" (1875); and five by Cassatt. Though she is best known for oil portraits of women and children — including one here of Louisine and her young daughter Electra — two pieces in this exhibit are a revelation, at least to this viewer.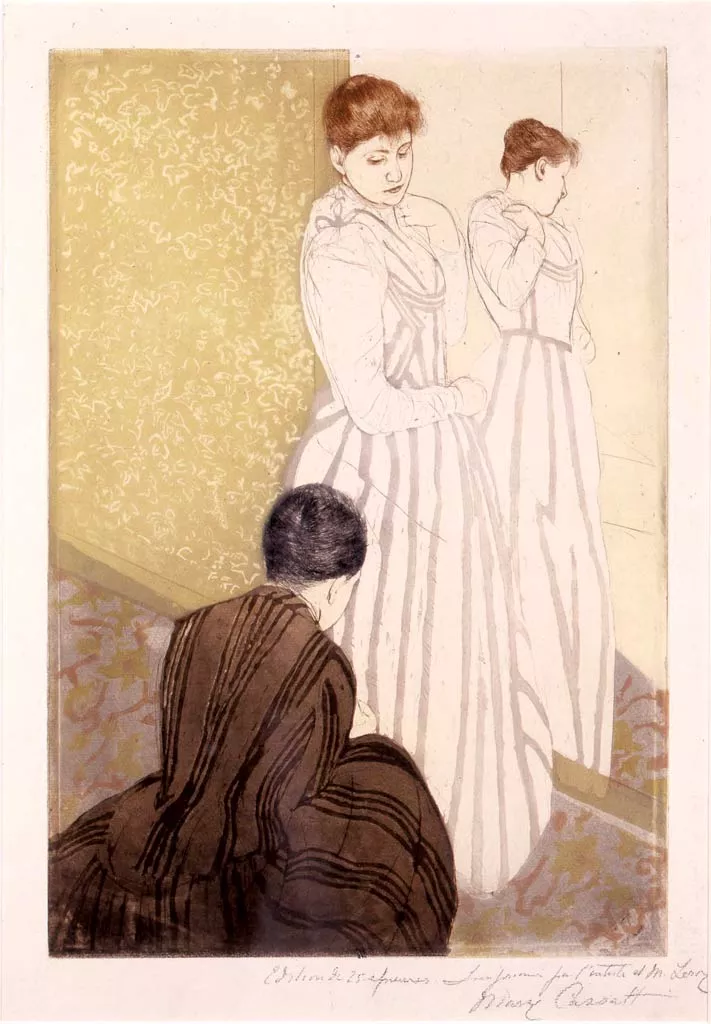 "The Fitting" by Mary Cassatt
The vertical drypoint-and-aquatint prints (c. 1890) reveal the japonais influence on Cassatt's work — minimal, delicate lines, subdued palette, multiple patterns. In "The Coiffure," a woman, who is nude above the waist, sits on a striped, upholstered chair in front of a long mirror and adjusts her bun. We see her from the side, but the mirror shows us her breasts and her down-turned face. "The Fitting," another intimate but less voyeuristic image, depicts a woman standing fully clothed before a mirror as a crouching seamstress adjusts the skirt's hem.
While her male peers rendered primarily outdoor city and country scenes, wrangling the diaspora of sunlight, Cassatt chose to paint everyday private moments, indoors, in the lives of women. She defied convention in her own way.
One luscious, richly hued painting by Gustave Courbet in this exhibit, "Still Life: Fruit" (1871), is a bridge to an artistic movement that preceded the impressionists, and which they rejected: realism.
The show's title "In a New Light" is a double entendre, referring not only to the impressionists' innovations on canvas but to the fact that these paintings were taken from the dimmer quarters of the Memorial Building into the illuminated Pizzagalli Center. "We wanted to put these in better light," says Denenberg. "LED light." It was a smart move.
Only three of these artists saw the light of the 20th century: Degas died in 1917; Cassatt and Monet in 1926. And though their paintings are no longer seen as radical, they continue to make a very good impression.
"In a New Light: French Impressionism Arrives in America," Pizzagalli Center for Arts and Education, Shelburne Museum. Through September 1.
The original print version of this article was headlined "Into the Light"