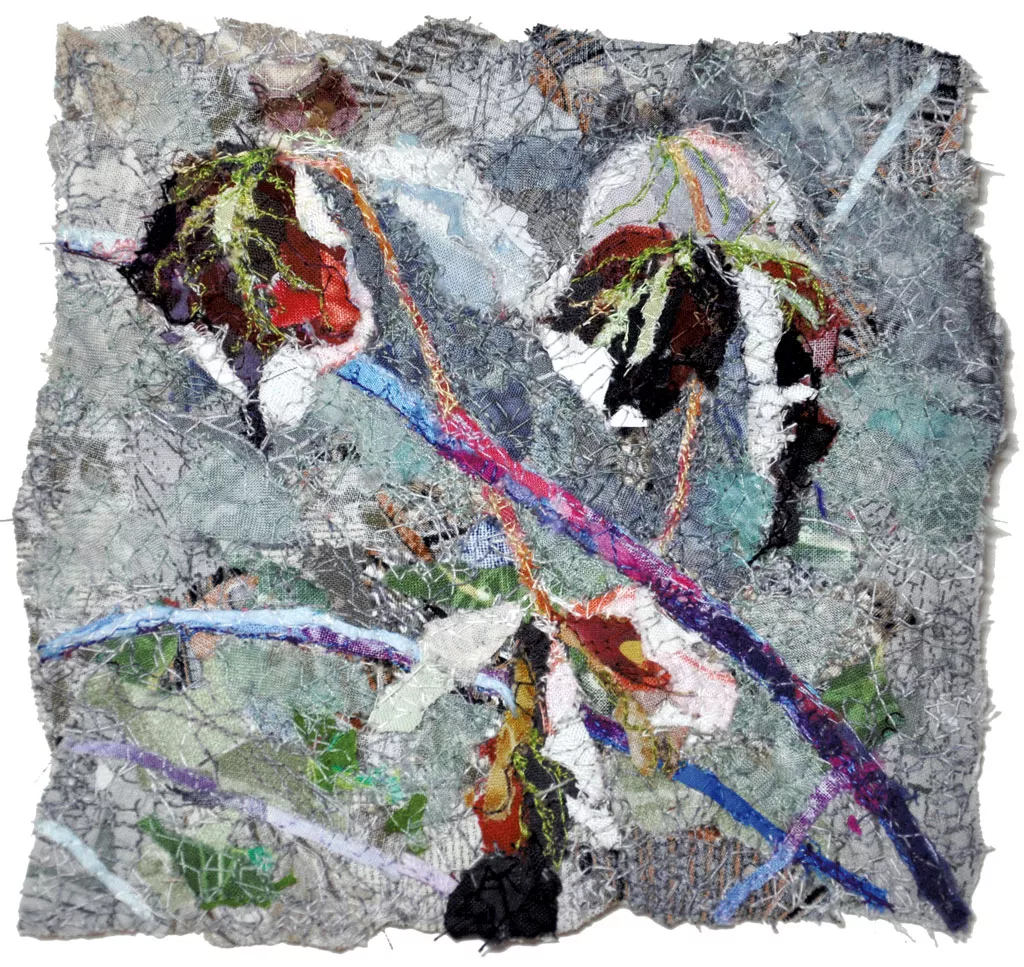 "Wild Raspberries" by Diane Schullenberger
In 1976, American fiber artists felt cornered by the emphasis on weaving in academic programs and exhibitions. The loom's grid was too restricting, too uniform, they said. They wanted recognition for the art of fabric's more fluid possibilities: embroidery, stitching, quilting, dying, printing, appliqué, rug hooking, felting and so on. So that year, a group of fiber artists formed the Surface Design Association. The Vermont chapter now has 35 members.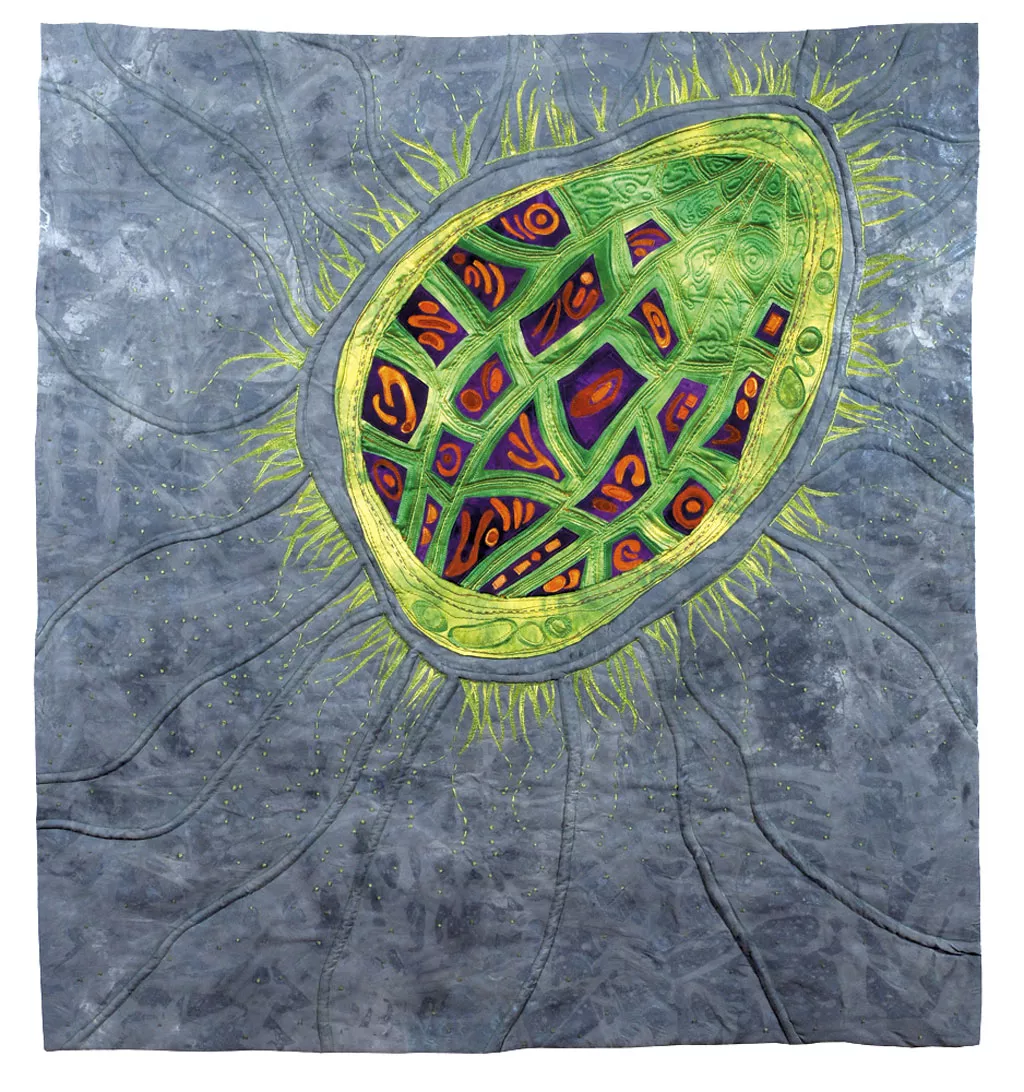 "Seed Dreaming" by Karen Kamenetzky
Eight of those members are currently showing work at the Furchgott Sourdiffe Gallery in Shelburne, in an exhibit proposed by SDA-VT called "Interpreting the Surface." The aggregate impression created by these swirling, inventive works is indeed far from that of, say, the spare, almost sublime grids that Bauhaus weaver Anni Albers created beginning in the 1920s.
These surfaces are richly varied, often in a single work. In Karen Kamenetzky's colorful "Beneath I," hand-dyed red silk stitched with jostling, circular shapes peeks from a chasm-like break in green-dyed felted wool. The wool's textures are innumerable: large twists, thin ridges, protozoan shapes, swaths of tiny knots worked in green thread. Kamenetzky finds her inspiration in microscopic cellular life, and that metaphor fits "Interpreting the Surface" as a whole: The closer the eye gets to these surfaces, the more astounding seems the amount of work that went into their creation.
Karen Henderson's delicate, semi-abstract works in a subdued palette, some of which are also on view at Burlington City Arts' Vermont Metro Gallery, require even closer inspection. Inspired by scenes of nature, Henderson weaves her own thin, almost sheer fabric, then builds up subtle alterations on her "canvas." Her largest work at Furchgott, titled "Pause," transforms cotton, linen, silk organza and vintage silk kimono fabrics with shibori (a Japanese tie-dying technique), rust print and dye painting.
A series of vertical lines, made with gathers, colored pencil and hand stitching, crosses a central horizontal line, the whole evoking a pond's reflection of bordering trees. Beneath that axis lies a scattering of pale spots achieved through color removal; above it are the misty shapes of hills. The "pause" may refer to a glance at the calming scene through a window, suggested by the center rectangle worked in tiny cream-colored stitches.
"Blue Stone Story" by Jackie Abrams
Whatever the intent, abstraction remains the dominant impression of Henderson's works. For Dianne Shullenberger, the intent seems more literal, with works such as "Dried Poppy" and "Dried Hydrangea" depicting what the titles promise. Shullenberger is an impressionist painter via the medium of fabric and thread: She manages to create light, shadow and form with tiny shreds of material and microscopic stitches, combined in patterns and colors that baffle the eye up close but work magic the farther one draws away.
Earth's surfaces make for a more abstract inspiration in other pieces. "Ulysses' Wave," by Elizabeth Fram, is a series of joined panels that recalls an unfolded topographical map. Flowing, pastel shibori patterns and graceful arcs of hand stitching suggest sections of riverbeds and mudflats, with the movement of those bodies captured in the overall composition. Marilyn Gillis' "Strata" and "Strata 2," in a long panel format, evoke Earth's topography and depth at once, with fissures of smeared gel broaching the borders between layers of airy marbled silk and crinkled, clay-colored paper.
"Rounds" by Rosalind Daniels
The works in "Surface" all hang on that other surface, the wall — except four sculptural works by Jackie Abrams. One, called "The Matriarch," is a head-size vessel made from layered ropes of black cloth interspersed with river stones and sticks. For this reviewer, the work immediately recalled writer Toni Morrison's black-and-gray dreadlocks. Another Abrams vessel, "Ancient Wisdom," is a vase shaped like a woman's shirt and torso, its opening a button-lined mandarin collar.
In her artist's statement, Abrams says her vessels "symbolically refer to women's bodies" and "speak of the importance of women in my life." That she has chosen the fiber arts to express herself points to a larger issue. All the artists in "Surface" are women, as are all the members of SDA's Vermont chapter. And one of the organization's aims is to encourage the view of traditionally female crafts as a legitimate part of the art world.
Whether that mission is successful in the long term depends in part on whether society can overcome its entrenched bias against women artists and their supposedly less "serious" work. In "Interpreting the Surface," each work's power to overturn that bias depends partly on how far it pushes the boundaries of its original craft. Rosalind Daniels' quilt "Rounds," a response to the Sandy Hook shootings that shifts and undermines expected patterns, seems best understood in relation to the centuries-old tradition of quilt making.
On the other end of the spectrum, Catherine Hall's "Unryu Fall" is among the most daring works on display, in part because it involves the least working over of materials. Held to the wall by two pins, the work is a cascading garland of squares of fibrous Unryu paper, dyed in pinks, golds and bronzes, which are attached in rows by their edges to a backing of sheer white silk. The extreme endpoint of this kind of beauty would be an installation by environmental artist Andy Goldsworthy.
Context, in other words, is everything. And a gallery exhibition in which prices are comparable to those of the paintings on offer — the most expensive is Henderson's "Pause," at $3,000 — signals that the fiber arts are every bit as serious, complex and beautiful as their surfaces appear.