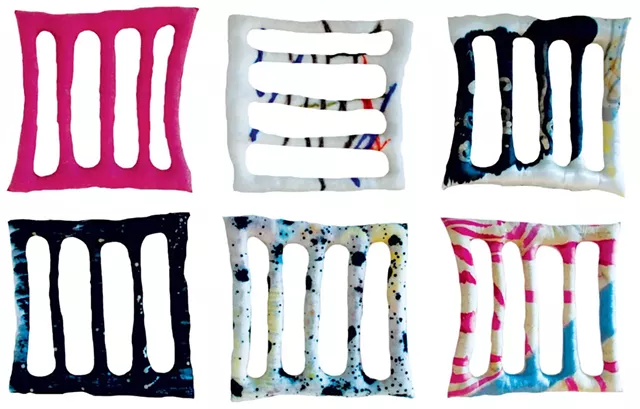 Courtesy Of Ellie Brown
"Grid" by Meg Lipke
"In a Field With No Bounds," the current exhibit at New City Galerie in Burlington, defies some boundaries of its own. It starts in the stairwell leading up to the second-floor gallery with a photograph titled "Above & Beyond." The nighttime shot, taken in 1982, captures Meg Walker's neon light and steel sculpture "Queen City Views," which she installed in 1981 above what was then a bus shelter (now Bluebird Coffee Stop) on the newly created Church Street Marketplace. In the photo, the work's multicolor neon lines trace the profiles of Camel's Hump, Mount Mansfield and other Green Mountains.
Think Vermont, that photo suggests. Sure enough, "In a Field" brings together six Vermont artists, some settled here and some scattered — that is, without bounds. Resident artists Catherine Hall, Walker and Barbara Zucker have long shaped the state's art scene, while next-generation artists Corin Hewitt, Julia Kunin and Meg Lipke grew up in Burlington and now live elsewhere. The first three suggested the show to gallery director Joseph Pensak and chose many of the works.
Hewitt's four pieces could be said to have the most direct relevance to the "fields" of the show's title. They are scans of photographs that were composted in dirt for weeks and then unearthed and captured mid-disintegration. Each is titled "Recomposed Roman Monochrome," though three titles also include a series of numbers. Hewitt, the son of Burlington artists Frank and Karen Hewitt, created the works during his 2014-15 residency at the American Academy in Rome — the result of winning the coveted Rome Prize.
Process is an important component of Hewitt's work. He started by choosing a tourism image of Rome, compressing it in Photoshop, taking its mean color and reprinting it as a monochrome photo, which he then buried. The layers of process here, encompassing both organic and digital manipulation, seem to evoke the ancient city itself in all its layered historicity. They also suggest a cycle of creation and disintegration that art only temporarily halts with its moments of beauty; these photos might themselves be buried someday.
Kunin (daughter of former Vermont governor Madeleine Kunin) got her start as a ceramics artist in high school, under the tutelage of the then-head of ceramics at the University of Vermont, Hideo Okino. Four of Kunin's recent ceramic confabulations, each consisting of piled-up forms of exquisite detail, are installed at New City. By happenstance, more of her works are simultaneously on display across the street at the BCA Center.
Kunin's two works from 2005, "Arcanum" and "Lobster Quadrille," teem with sea life — tiny crabs, octopi, shrimp and lobsters. Most were fired in monochrome green or red glazes. Two later works, "Gargantua" and "Bismuth Head," bear the proprietary opalescent, metallic eosin glazes of the Zsolnay porcelain factory in Hungary, where Brooklyn-based Kunin has transported many of her highly breakable works to be fired. For these trips she relies on grants, among them a 2013 Fulbright fellowship.
"Recomposed Roman Monochrome" by Corin Hewitt
In interviews, Kunin admits to having a baroque, "grotesque" sensibility and calls the Hungarian glazes "over the top." There is indeed something both repulsive and compelling about the fecundity of her cascades of lifelike shellfish, and about the distractingly iridescent gold finish of "Gargantua." Yet her works also have a Cubist figural quality to them, a sense of the moving figure (note that quadrille is a dance). This is best seen in "Bismuth Head." An arrangement of small, square frames within frames, the piece recalls the accumulation of half-moons that makes up Picasso's "Head of a Woman" (1909). As such, it seems to comment on the ad infinitum framing of women in Western art.
Like Kunin, Lipke has found success in New York, most recently with an exploration of fabric that she paints, stuffs and sews into what might be called flat, wall-hung pillows. She has taken some of the motifs in her abstract paintings, including a side view of a stair, and translated them into the tactile embodiments of "Blue Stairs" and "Green Stairs." Lipke's goal was to "move beyond painting on a rectangular support," according to an artist's statement, while referencing her grandparents' work in weaving and a textile factory. Lipke is the daughter of Hall, with whom she has often collaborated on shows.
If the younger artists seem radical in their pursuits, the older generation is no less boundary defying. Some of Walker's work in the show, from a series she calls "My Brain Has a Mind of Its Own," is about the uncontained nature of thought itself.
One interactive piece rife with humor, "Brain Unraveled," looks like a grounded wire nest with a long stem that continues up the wall. Beside it hangs a framed, typed poem, a rewriting of the first verse of "You Remain" by Welsh fin-de-siècle poet Arthur Symons. (Walker is from Scotland).*
Approaching the installation, visitors set off patterns of motion-sensitive blue lights in the nest. Then they can puzzle over Walker's transformation of Symons' poem, which reads as if rendered in Old English, or a pretend Welsh. ("As the permefe dtoh raiment / In the fodls werhe it htah lian" derives from "As a perfume doth remain / In the folds where it hath lain.") In the process, neurons are firing, so to speak, in both the artwork and the viewer.
Zucker has made a career of upsetting boundaries, starting with her emergence as a feminist artist in New York in the 1960s. This primarily abstract sculptor recently did a series of steel wall sculptures patterned on the facial wrinkles of her women friends. Viewed in that context, Zucker's works at New City, two groupings of "Bean Poles" from the late 1980s, may be more figurative than their spare forms suggest.
The five nearly 6-foot-tall wood poles, anchored in cylindrical cement bases, are freestanding and erect. Their tops are sheathed in lozenge-shaped forms covered with orange, brown or black flocking, recalling fuzzy microphone mufflers but with attitude. The orange- and brown-topped ones turn toward each other as if in conversation.
Hall's work seems to share a palette with her daughter's — pinks and blues, in particular — as well as an interest in texture and materiality. Both "Submerged" and "Constellation Series 1-6" were created with glass beads mixed into oil paint. The show's cover image is an 8.5-inch-square panel from that last series. Its cluster of white blooms on a muted background, rendered in stripes, swirls and grainy panels, is among the smaller marvels of "In the Field" — itself a constellation of gems.
*Correction, March 22, 2016: An earlier version of this article misidentified Meg Walker's birthplace. Walker is from Scotland.