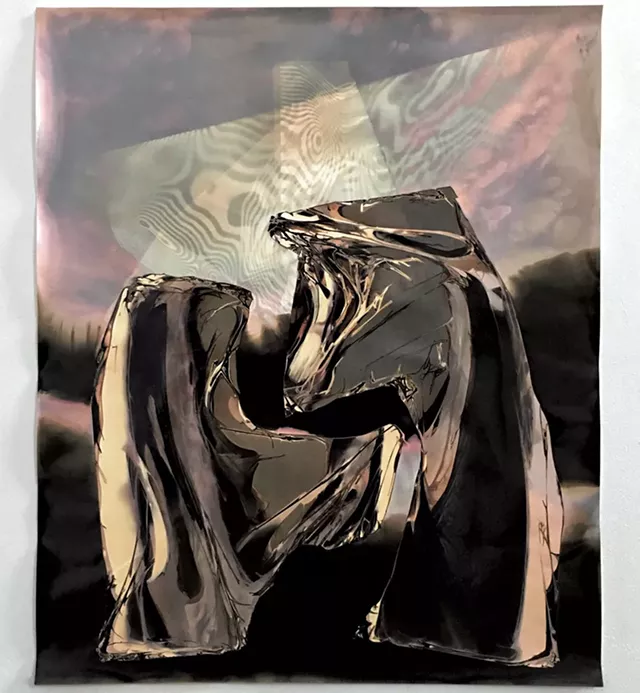 Courtesy Of Vermont Studio Center
"Chaotic Pressure" by Thomas J. Condon
The medium of photography has been ripe for subversion since its invention. The adage "seeing is believing" always requires caveats, whether one is speaking about the human eye or its mechanical extension, the camera. For Vermont Studio Center staff artist Thomas J. Condon, all the trappings of analog photography except the camera become the basis for unearthly works.
Visitors to "Homomorphism," Condon's current solo show at the Johnson residency program's Red Mill Gallery, should be prepared to work — but in a good way. Finding one's bearings among the almost 40 chemigrams — images made using darkroom processes but no camera — is a little like strolling through an enticing Upside Down.
For Condon, the experience of disorientation is visceral. When he was 13, he explained in an interview, a dangerous excess of cerebral fluid crowded his brain and began to pinch his optic nerves. The condition, called pseudotumor cerebri, caused him to lose his eyesight for almost a month; doctors told him it wouldn't return. It did, but permanent scarring of his optical nerve tissue created blind spots.
"Everyone has blind spots on their eyes — they're natural," Condon said. "I just have a lot more [than most]."
He writes in his artist statement, "Blind spots transform familiar faces into strange masks and bend simple patterns into animated optical illusions. My relationship with identification through visual perception slips between fully believing in the unreal and questioning the real."
One need not be familiar with Condon's medical history to be captivated by his chemigrams. Arranged in two constellations covering most of the gallery's southern and eastern walls, the works stand alone as discrete units while also being part of what Condon calls "a community, or a more expansive world."
"Right now," he said in the interview, "I'm not necessarily thinking of them as single prints, [though] it's a lot safer for the viewer to look at one at a time, psychologically and emotionally."
Each of the 35 images, which vary in size, is like a portrait of some kind of ephemeral, iridescent, almost chrome-like sculpture set against an eerie, unfamiliar landscape. Scale remains a fluctuating and fluid X factor. In the same image, you might as readily see a mountain as an enlarged, x-rayed butterfly wing.
Condon creates his palette — black and white, purplish grays, flaring yellows, and moody sunset pinks — using the chemicals and processes of black-and-white darkroom photography, albeit not through standard operating procedure. The vivid colors, Condon explained, come from processing the works in the daylight using experimental methods that he's been developing for the past two years.
"The paper is being pushed to its chemical breaking point," Condon said. "[The materials are] not supposed to do what [they're] doing, which is what makes it really fun."
The forms that serve as photographic puncta, or focal points, are hard-edged and distinct, yet they are fundamentally part of the ethereal planes that serve as their "backdrops." Condon describes the sharp borders of these shapes as "pen-lines." He creates them using a variety of materials as resists: vinyl, plastic, various varnishes and even tape.
In mathematics, homomorphism refers to a "map" between two algebraic structures of the same type, in which the operations of one are preserved in the second. In other words, key structural relationships maintain themselves through various changes — think of a vector image file that can be digitally altered to any size.
As a description of Condon's painterly images, homomorphism may refer to the consistency of process and outcome manifest in the works, even though each is absolutely singular. "I couldn't remake the same one again," he observed.
More broadly, the show's title suggests a commentary on perspective at large: All sighted individuals are more or less equipped with the same basic tools of vision, but this similar structure produces endless variations.
"Perception is infinitely exciting," Condon said. "None of us ever sees the same thing."
As a result of his experience with significant deviations in his own eyesight, Condon now seeks similarly to push the mechanical eye to its limit.
"I think it absolutely led me towards an enhanced relationship with the visual world," he said of his early experience with altered sight. His show poses a central question that applies to both humans and the machines they use to reproduce sight: How much can something be changed before its underlying identity is irrevocably altered?
With "Homomorphism," Condon displays a potent take on the deep-rooted urge to mess with photography's fecund existential dilemmas. In both form and origin, the works exist compellingly between the organic and the technological, between fact and fiction, in a way all their own.