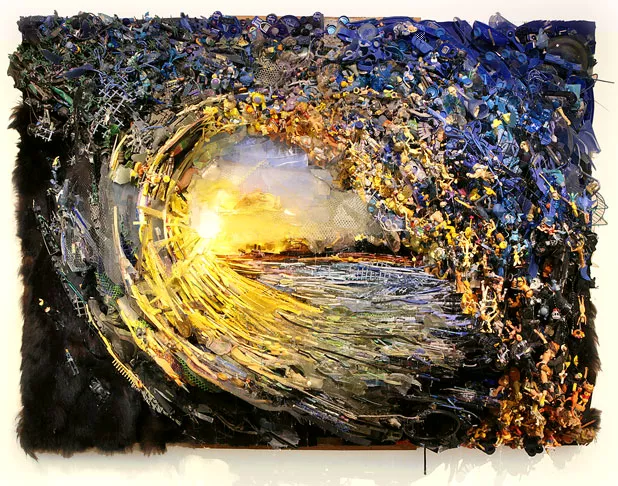 French artist Marcel Duchamp was the first to present a humble object and claim it was "high art." Signed "R. Mutt" and titled "Fountain," the urinal Duchamp submitted to a 1917 exhibition as a legitimate work incited outrage. It was dismissed as rubbish and cut from the exhibition. Now, scholars refer to "Fountain" — the most notorious in a series of Duchamp's "readymades" — as a major landmark in 20th-century art, and replicas of his porcelain throne grace important museums around the world.
"High Trash," a current exhibit at the Fleming Museum of Art, shares some elements with Duchamp's readymades, requiring the viewer to look beyond the materials to see the art. One difference: Seeing the beauty in Duchamp's work requires thumbing one's nose at established ideas about art, whereas the artists in "High Trash" have deliberately manipulated junk to make it beautiful.
The exhibit is also an obvious commentary on consumerism and waste, a theme that curator Aimee Marcereau DeGalan (now at the Dayton Art Institute) notes is not new, any more than is the concept of found-object art. But at the Fleming, she continues, "a new generation of artists" tackles the subject.
The result is an almost too-earnest exploration of environmental concerns by this crop of artists, punctuated by the University of Vermont's January launch of a student-driven ban on the sale of bottled water on campus. Plastic bottles are a repeated motif in "High Trash," as are cheap toys, crumpled food wrappers and cigarette butts. There's nothing special about this stuff, but in the hands of these artists, it becomes compelling.
Many of the works in the exhibition are intricate and almost delicate, such as "Bonsai Culture Red Pom Pom," by Cuban-born American artists Alain Guerra and Neraldo de la Paz. The Dr. Seussian tree, made of cast-off clothing and other discarded goods found in the trash bins of Miami's Little Haiti, has the unexpected elegance of a large-scale object recreated in miniature. Scraps of cheap, printed polyester dresses "flower" at the base of a bonsai tree made of fabric, the cloth shining in the gallery lights. The work is beautifully constructed, even if a closer look reveals its low-cost origins.
Burlington artist Rebecca Schwarz's "(Hex) Ring Cycle" is similarly striking, made of plastic bottles and bottle caps she has arranged in a flowing shape. A string of lights make the plastic glow cheerfully, highlighting the bottles that Schwarz notes are "at once so shiny, new and easy to acquire, and yet at the same time, so persistent and disruptive."
The underlying comment on consumerist excess is hardly subtle, but "High Trash" conveys a multivalent message that goes beyond guilt about our wastefulness. The exhibition design wisely gives its objects space to breathe (with just more than 20 works) and lets its viewers do the same.
There's a certain whimsy in the exhibit's deliberate shifts of scale and perspective: From far away, all of the works look beautiful and new. The sleek curves of Sayaka Ganz's "Fogo" — a bounding, catlike creature made of discarded plastic — highlight its motion rather than its cast-off materials. Likewise, a black, flower-like sculpture on the wall (made of old car tires) catches the eye, while a geometric shape constructed of plastic clothes hangers rotates nearby. An adorable fluffy bunny's "fur" turns out, on closer inspection, to be used cigarette filters.
The scale of these artworks can determine whether you admire them or are repulsed by their origins. Tom Deininger (responsible for the tobacco bunny) offers the most striking example of impressionistic trickery with "Wave." What looks like a large-scale beach-scene painting from the door of the gallery turns into a Bosch-worthy tableau as you approach it and make out the tiny, corrupted plastic figures Deininger has used to "paint" the scene. Mismatched body parts are grafted onto figurines from Disney movies and Happy Meal toys, creating a mashup of once-familiar characters and trash. It's almost humorous — but not quite.
This inherent irreverence lends "High Trash" a wry air; it's hard to take seriously a portrait of the allegedly tyrannical Roman emperor Caligula when his profile is rendered in candy wrappers and jelly beans and suspended in bubble wrap. From afar, his portrait does look a bit sinister, but there's a defiant duality of form and materials at play here.
The joke at the heart of the exhibit can just as easily cut both ways: Is trash turned into art still worthless? Does it become art because the artist deems it so? Duchamp would say yes.
There's no denying the beauty in this exhibition, even as the line between art and trash becomes less distinct in, for example, a meticulously constructed, ramshackle city of used tea bags and paper from New York artist Max Liboiron. She invites viewers to take home one of her tiny, beautiful shacks — as long as they leave something in its place. Do the old grocery receipts and wadded-up gum wrappers they have contributed thereby become art? If so, will Liboiron incorporate these new discards into her work — or will they be headed for the trash bin when the exhibition closes?
The exhibit walks that line carefully. On the one hand, the works are nearly all beautifully executed and visually stimulating. On the other hand, an undercurrent of environmentalist self-awareness undercuts subtler points each artist could add to the conversation.
"High Trash" is on view at the Fleming Museum, UVM, in Burlington through May 19. flemingmuseum.org
The print version of this article was headlined "Waste Matters".