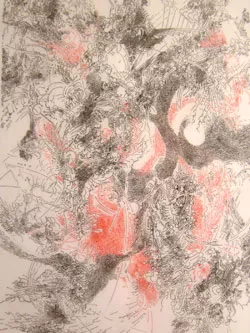 "Untitled" by Jeff Ladouceur
Vermonters seem to show artwork in just about every nook and cranny — even in the hallway and offices of a public access TV station. "Hey, They Can Really Draw a Line!" is the title of an exhibit currently at ORCA Media in Montpelier's City Center. ORCA is a nonprofit television production facility that provides public, educational and governmental programming to the residents of central Vermont. And now, it's also a gallery space for selections from the Waskowmium — that is, the extensive art collection of Barre resident Mark Waskow.
The exhibit's title hints at its focus: Each of the 18 works displays a steady hand with the drawn line, and some experiment with optical illusions. Lines seem to expand and contract in biomorphic and often intricate ways. Line strokes can also have rhythm and weight, as exemplified in the two works here by Ernst Benkert. In 1960, Benkert founded the Anonima Group in Cleveland with Frank Hewitt and Ed Mieczkowski; the artists rejected abstract expressionism and created grid-based artworks that investigated the psychology of optical perception. Hewitt and Benkert both later taught at the University of Vermont; the Fleming Museum organized a retrospective of the Anonima Group in 1971. Waskow met Benkert (who died in 2010) in Vermont and acquired the two pieces in this show.
Benkert's "Lubeck," from 1987, is a 30-by-22-inch pen-and-ink drawing on paper named for a devastating World War II battle in Germany. In this diagram, differently crosshatched blocks represent opposing sides entwined in combat. The other Benkert drawing, "Eleanor's Box," from 1985, is also pen and ink on paper. Here, two large squares are placed vertically on top of each other, each square drawn with fine lines that lace together and overlap. The piece is textural and complex; the bottom square is denser and darker than the top one. Benkert was a master at mixing order and chaos with a simple, straight line by changing its character, weight and density within a grid.
Greg Mager has a curiously compelling, three-section work here called "Untitled Orifice Drawings." The three large squares, drawn with graphite on paper, could be illustrations of other planets. The fine, spidery lines of the background contrast sharply with dark pockmarks, or dimples, as seen on flesh or the moon.
"Safety Net," by Vermont artist Miriam Adams, is a 2001 watercolor-and-graphite drawing on paper. In it, a pair of old-fashioned women's gloves are poised in midair, ready to catch four pieces of cracked robin's-egg shells. The mauve gloves, turquoise shells and pale lines against the stark white background make for a graceful, almost ethereal image.
Visual artist Daniel Zeller works from his studio in the DUMBO area of Brooklyn; his art can be found in the collections of the Museum of Modern Art, the Whitney Museum of American Art and others. Waskow includes two of Zeller's works in this show. "Microscope I" is a delicate, graphite-on-paper line drawing. Composed of three discs connected by a central pole, and tipped on its side, this strange contraption seems to be in motion, like a futuristic spinning top. "Diagram II," pen and ink on vellum, is a maze of finely etched lines meandering through pools of red and shades of gray.
Finely drawn lines can make negative space come alive. Crossing and recrossing lines give themselves movement and trick the eye. Carleen Zimbalatti's three pieces, from her series "Mapping Sector," might be diagrams of string theory; the composition of wormlike shapes seems to twist and morph into other dimensions.
Jeff Ladouceur's pen and ink on paper, "Untitled," is a cartoonish drawing showing a big-nosed cloud hoisting (with cloud arms) a big-nosed, exhausted-looking man, who himself grips a pen and an ink bottle. His scribblings below are nearly obliterated by Wite-Out.
Waskow's collection of contemporary visual art is possibly the largest in northern New England. It comprises 13,000 art objects, 35,000 books referencing art and an ever-growing archive of ephemera documenting the Vermont art scene from the 1980s to the present. The collector says he has wanted to hang a show like "Hey, They Can Really Draw a Line!" for a long time. "I am intrigued by the line," Waskow explains. "Its minimal mark can become an exquisite demonstration of art."
Certainly, the line — the basic element of all design — has unlimited possibilities. This unique exhibit explores a number of them.
"Hey, They Can Really Draw a Line!" is on view weekdays at ORCA Media, City Center in Montpelier. Through March 30. orcamedia.net
The print version of this article was headlined "Drawn Together".