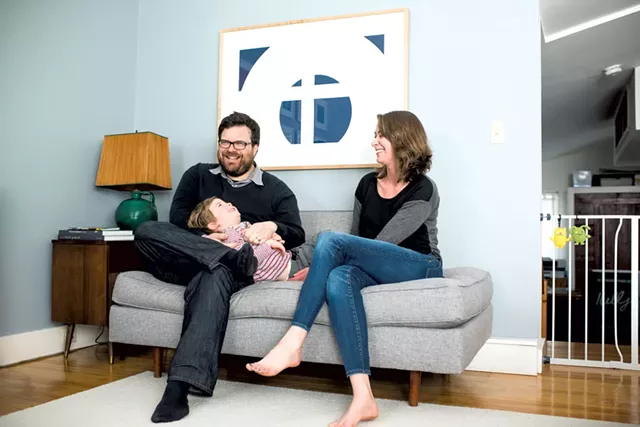 courtesy of Shelburne Museum
Jason and Dana Routhier at home; "SS K-80" by Nassos Daphnis hangs over the couch
A new exhibit at the Shelburne Museum is a far cry from the folk art for which the museum is famous, and demonstrates the broad curatorial possibilities of its contemporary Pizzagalli Center for Art and Education. "Hard-Edge Cool: The Routhier Collection of Mid-Century Prints" focuses on an aesthetic not often seen at any venue in Vermont — the pointed exploration of color and abstract, geometric form.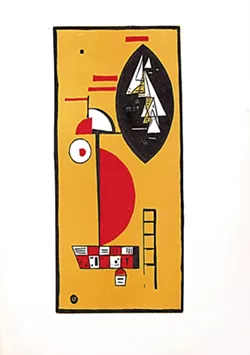 courtesy of Artists Rights Society/The Routhier Collection
"Abstract Composition from Cahiers d'Art" by Wassily Kandinsky
The show's 75 works on paper cover a longer time span than one might expect from the title — about six decades — and include some extraordinary pieces. In a 1930 print by Wassily Kandinsky, a red half-circle and black ellipsis pop against a yellow background. Ellsworth Kelly designed a white 1990 exhibition poster that features a single precisely distorted black tranche of a circle on white paper.
Many of the works are compelling studies in how colors interact when placed side by side without transition — that is, in forms with hard edges. Sophie Taeuber-Arp, an early pioneer of such work, helped retrofit the interior of a Strasbourg building called Aubette. Her 1928 wall design of diamond-shaped panels in relief, painted red, gray, blue, yellow and green, is reproduced on the back wall of this exhibition.
Sometimes color is not the point, as in a grid by Sol LeWitt called "A Square for Each Day of the Seventies" (1981). Here, form becomes the medium of exploration in an art that aims to subtract the artist's individuality from the picture.
courtesy of Artists Rights Society/The Routhier Collection
"Plate from 10 Origin" by Sophie Taeuber-Arp
The hard-edge movement proper lasted only about a decade, starting in the mid-1950s. California critic Jules Langsner coined the term in 1959 to describe art that championed austere form and an impersonal aesthetic over what was seen as the emotional and idiosyncratic output of Jackson Pollock and other "action painters."
But "hard edge," as a style, stretches back to the 1920s, exemplified by the Dutch De Stijl movement, in which Taeuber-Arp was involved, and Bauhaus in Germany. The latter pioneering school of design and craft had a profound impact in both Europe and America; its influence can be seen in this exhibition's organization by artistic school.
Curator Carolyn Bauer's labels take viewers through groups of prints representing the De Stijl, Swiss concrete art and American hard-edge, op-art and minimalist movements, tracing influences along the way. The Bauhaus' Josef Albers, for example, taught a number of people whose work appears in the show, including Max Bill and Richard Anuszkiewicz.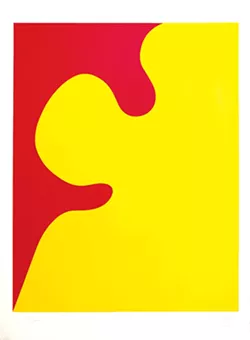 courtesy of Artists Rights Society/The Routhier Collection
"Affiche St. Gallen I" by Jean Arp
If this approach seems a bit academic, Bauer has countered that tendency with an intriguing twist. She made "Hard-Edge Cool" equally about the art and its collectors, the Routhiers. Jason, 40, is a graphic artist who grew up in Newport, Vt., and founded the design group RouthierHolmes in Burlington. Dana, 35, is a Cincinnati native who studied modern literature, holds an MFA in poetry and directs special projects for RouthierHolmes. The couple lives in Northfield with their 3-year-old son.
The Routhiers collect a range of art; Jason began the collection by acquiring works by Shepard Fairey and other contemporary street artists. But the bulk of it consists of more than 300 prints in a hard-edge style. A selection of Routhiers' Albers works was shown last March at the BCA Center.
In "Hard-Edge Cool," a freestanding gallery wall introduces the Routhiers with a photograph of the family at home. Above their couch hangs Nassos Daphnis' "SS K-80," a composition of offset concentric circles in gray, white and blue overlaid by a white cross. The same work graces the exhibition walls, which are painted a similar pale gray. Additional labels throughout the gallery offer the Routhiers' comments on what certain works mean to them or how they were acquired.
Beside Taeuber-Arp's "Plate" from the 10 Origin portfolio (1942), for example, a Routhier label declares, "This is a rare piece that was published while Taeuber-Arp was still living; we can't believe our luck in finding it."
courtesy of Artists Rights Society/The Routhier Collection
"Lithographie Originale" by Max Bill
The personal context provides an interesting counterbalance to a visual aesthetic that aimed for impersonality (albeit not always successfully). Bauer's own intention, she said while guiding a reporter around the exhibit, was to show how accessible art collecting can be — and how affordable, if one collects prints. The curator also saw the dual theme as a way to link the exhibit to Shelburne Museum's raison d'être.
"Collecting was what we were born on, with Electra [Havemeyer Webb, the museum's founder]," said Bauer.
Reached by phone, Jason Routhier estimated that the couple paid as little as $20 for some works and no more than $500 for any one piece. But affordability didn't drive him so much as a pure love of the aesthetic. Routhier discovered hard edge while attending North Country Union High School, in art books at the public library and LP covers he encountered in his job at the local record store, Tones. Later, on a senior-year trip to the Museum of Modern Art in New York, he got a first hand look.
Routhier went on to study printmaking at Johnson State College, and his professional work has been deeply influenced by the style. "If I could, I'd print squares all day," he said with a laugh.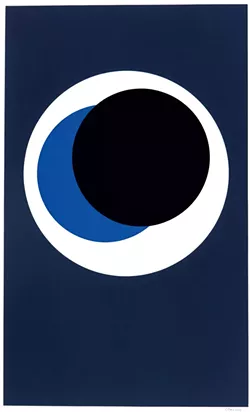 courtesy of Artists Rights Society/The Routhier Collection/ photography by andy duback
"Cercles" by Geneviéve Claisse
Dana Routhier has a particular interest in women artists who work in the male-dominated hard-edge aesthetic, and she has a flair for research. ("I'm the hoarder, and she's the organizer," Jason joked.) She has steered the couple's collecting, according to her husband, to include remarkable artists such as Tess Jaray, a British painter and printmaker; and Geneviève Claisse of France. The latter's "Cercles" from 1967, a composition of eclipsed black, bright blue and white circles on a deep blue, is one of the great pleasures of "Hard-Edge Cool."
Just how male-oriented hard edge was can be seen in three short black-and-white films looping on the gallery's back wall. One silent clip is the only known video of Albers teaching; another shows his protégé Anuszkiewicz working on a piece much like his "Silent Red" (1972) in this exhibit. The third film, a CBS news clip, was shot at the seminal 1965 op-art exhibit at MoMA titled "The Responsive Eye," which included very few works by women. Aficionados can search the footage for work by late Burlington artist Frank Hewitt, whose Anonima Group was included.
The CBS reporter captures some hilarious reactions to the MoMA show from visitors, including one indignant woman who declares that such work isn't art at all. That attitude may persist today, Jason Routhier suggested, but it has abated over the years because the hard-edge aesthetic has become so familiar.
"These artists, they really did create the blueprint for the 21st century," he said. "We're living in their world. Look at IKEA; look at the iPhone. I think this type of work is completely ingrained in the culture."