The Green Mountain Watercolor Exhibition, on view this month at the capacious Big Red Barn at Lareau Farm in Waitsfield, includes nearly 90 paintings by 66 artists. Each work passed the muster of a pair of jurors — master watercolorists Annelein Beukenkamp of Burlington and Lisa Forster Beach of Stowe — as well as a juror of awards, Perkinsville painter and in-demand judge Robert O'Brien. Then there was a judge of awards, Jeanne Carbonetti of Chester; and a curator of the show, Gary Eckhart of Warren. Eckhart also happens to be president of the Valley Arts Foundation, which mounted this exhibit.
And, oh, the awards: There are a whopping 12 of them, from the expected "Best in Show" ($500) to an assortment of prizes in varying monetary allotments ($250 to $100) named for their donor. Along with all those artists — roughly two-thirds of them from Vermont — the red barn displays exemplary works by the jurors, the curator and guest artist Harald Aksdal of Fairfax.
Despite the skill evident in his brilliant, highly detailed paintings, Aksdal did not qualify for official entry in the competition. That's because he uses a rapidograph pen, Eckhart notes, to make his signature black-ink outlines. And the sole criterion for this exhibition was rigorously purist: "The medium had to remain water-soluble after it dries," Eckhart says.
Clearly, a great deal of thought, organization and effort went into this exhibit, now in its third year. And to think it all started because, three years ago, someone didn't show up.
"We had an artist cancel at the Valley arts fest [Vermont Festival of the Arts, the area's annual event in August], so I called a few of my artist friends and put together a spontaneous show," explains Eckhart. "It was really popular — people came from across Vermont to see it." This sparked the idea that watercolor has its fans. Why not give them more?
The state has no dearth of artists who specialize in the medium; the Vermont Watercolor Society, founded in 1995, boasts more than 240 members, according to its website. Its own annual exhibits have helped to fulfill part of the organization's mission: to promote "the awareness and appreciation of watercolor" to both its membership and the public. The VWS is a newcomer compared with the august American Watercolor Society, founded in 1866; and even with that West Coast upstart, the National Watercolor Society, which began life in 1920 as the California Water Color Society. Watercolor painters, and admirers, have been at it a long time.
To be sure, plenty of national, regional and local art groups embrace other mediums, but watercolorists appear to be unusually well organized. Perhaps that reflects the discipline and forethought such painters must bring to the blank page: Corralling a runny, fast-drying pigment into recognizable images — never mind compositions we recognize as "fine art" — is no small feat.
And so, the Green Mountain Watercolor Exhibition offers a visual feast and much to admire: landscapes, still lifes, human and animal portraits, botanicals and abstractions. The styles vary dramatically, from nearly photorealist works to gauzy scenes that exploit the medium's essence: water. Some works are playful or stylized, others somber or mysterious; some are riotously colorful, others the palest pastel. Even if you think you don't love watercolor, this show is persuasive, at the very least, of the medium's possibilities.
What did the judges love? This year's Best in Show, by Colorado artist Cynthia Brabec-King, is a large-scale still life titled "Mocha Latte Espresso." The countertop in the image is stacked with ceramics and glassware, as well as with bone-handled spoons and a dish of dark jam. Each element is astutely observed and executed; Brabec-King turns her watery pigments into textures, reflections, hues and values that make this piece dynamic.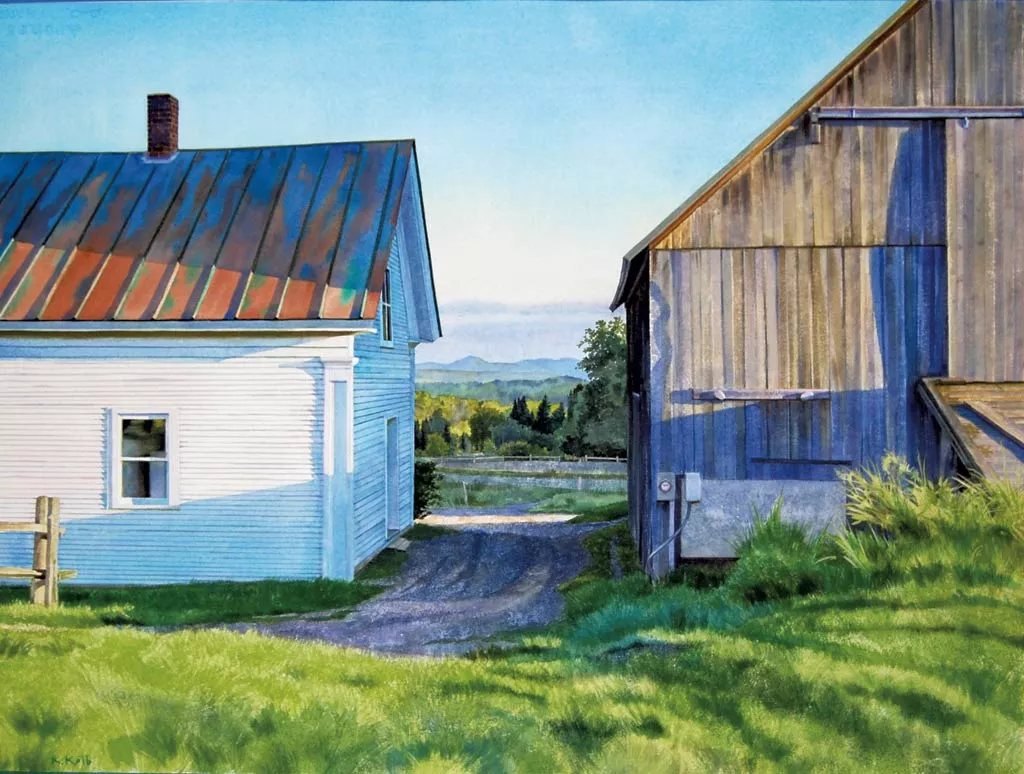 "Sunside, Early Morning" by Kathleen Kolb
Veteran watercolorist Kathleen Kolb of Lincoln, Vt., produces stunningly precise rural scenes in which nature often plays backup to the built environment. In "Sunside, Early Morning," a white clapboard farmhouse and an adjacent barn straddle a short driveway, beyond which lies a distant Green Mountain horizon. The angular composition and accurate tone of early light and shadow against the structures — particularly the red metal roof of the house and the worn, vertical barn boards — present yet another example of Kolb's unerring eye, and hand. The painting earned her the Eleanor Ahern Award for Best Use of Color.
Space does not permit describing all the award winners — the roster can be found on the Valley Arts website — much less the dozens of other works. Whether you're already enamored of watercolor or merely curious, this expansive exhibit is worth checking out. (It closes this Saturday, July 26.) As Valley Arts Foundation executive director Karen Nevin puts it, "Everyone finds a favorite that really resonates with them."
INFO
Green Mountain Watercolor Exhibition, Big Red Barn at Lareau Farm, Waitsfield. Through July 26. valleyartsfoundation.org
The original print version of this article was headlined "Water Ways"