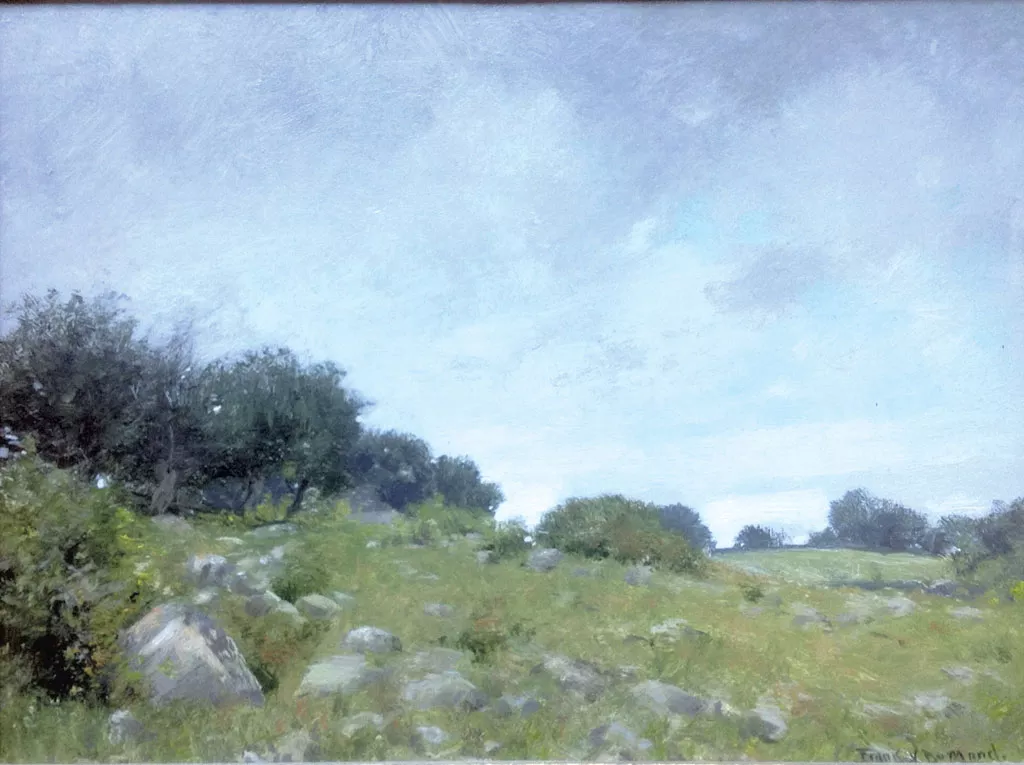 "Untitled," Frank Vincent DuMond
Self-taught painters spring up like wildflowers and get a lot of attention in today's art world. Seldom, by contrast, does a gallery or museum organize a show examining the tending and tilling of talent — a teacher passing down to a student ways of seeing and composing.
"Generations" at the Bryan Memorial Gallery in Jeffersonville is such a show. It rewards the time required to trace lineages of influence, which often span decades and can involve three or more artists. Viewers are invited to look closely as they compare the relative styles of mentors and apprentices; in some cases they are quite similar, and in others have no clear connection at all.
The show consists of 87 paintings — mainly landscapes and nearly all representational. They include works by 30 artists associated with the Bryan gallery, who in turn arranged for one of their teachers and/or students to lend a painting for the show.
One particularly close stylistic correlation in "Generations" involves a couple of striking pieces. "Mercedes," a frontal portrait of an unsmiling middle-aged woman wearing a red cap and scythe-shaped earrings, is the work of David Leffel, who was born in Brooklyn in 1931 and now lives in Taos, N.M. Just above this painting hangs "Modern Diva" by Leffel student Elizabeth Allen of Williston. Her portrait's subject is a woman of roughly the same age as the woman in "Mercedes," set against a similarly purplish background. The bare-shouldered diva's lips are slightly parted, but not in a smile, and her cascading brown hair is festooned with ribbons and bows.
While the brushwork and poses in these two works diverge — the diva is more exactingly painted in profile, with her left arm draped over a chair — their juxtaposition highlights likenesses more than differences. This student-teacher relationship might be apparent even if the two paintings were hung walls apart.
Conversely, the lines of aesthetic descent remain invisible among a trio of works: a wide-angle scene by Rett Sturman of cows crossing a road; a green-on-green painting of a woman sleeping on a sofa by Kevin Fahey; and an untitled semi-abstraction by Autumn Fahey. Sturman, a photorealist living in the Mud City section of Morrisville, taught Kevin Fahey — who lives nearby — who in turn taught his daughter Autumn. She died of cancer last year at age 31.
"Big Cloud, Vermont Fantasy," Frank Mason
Many of the pairings in "Generations" will inspire thoughts about the student-teacher dynamic in general. David Curtis, a plein air painter who lives in Gloucester, Mass., offers a perspective that speaks to the art of teaching: "Students make you think differently because you have to put what might be an instinctive thought in your own mind into words that explain the process to someone else. I have learned so much from my students!"
These artist quotes are compiled in a handout available at the gallery entrance. Some of the quotes were particularly insightful, and the show would have benefited from hanging them on the wall alongside their respective artists' works.
Bryan director Mickey Myers and cocurators Fiona Cooper Fenwick and Jim Gallugi didn't consistently arrange the paintings in teacher-mentor groupings. The artistic tree in "Generations" with the most complex branches would be easier for viewers to shinny up and down if the works of its five generations of teachers and students were all hung together.
The story starts with master teacher Frank DuMond (1865-1951), whose students included Norman Rockwell, Georgia O'Keeffe and John Marin. DuMond, represented in "Generations" by an untitled impressionist-style painting of a rocky field, also instructed Frank Mason (1921-2009) in landscape painting using the "prismatic palette" that DuMond devised. It arrays colors according to tonal values in a rainbow-like progression of prismatic light.
Mason, whose "Big Cloud, Vermont Fantasy" hangs alongside his teacher's canvas, worked as a professor at the Art Students League of New York, where he passed on DuMond's techniques to scores of younger painters. Many of them gather every summer in Vermont for working reunions.
"Red Truck," Flora Natapoff
"Generations" includes two of Mason's students. Jack Liberman's "Man Along the Water" is an early-spring scene with a treatment of clouds similar to that in Mason's adjacent painting. Karen Winslow, a resident of nearby Cambridge, composed a vivid still life of peonies that conjures the work of 17th-century Dutch or Flemish floral painters. But most visitors won't connect Winslow to Mason because "Peonies" is situated in another part of the gallery.
And next to Winslow's painting is a striking still life of strawberries by her student, Julie Y Baker Albright. Alongside that hangs "Big Marble and Little Gumdrops," a charming oil by 6-year-old Kingston Joyette, who studies with Albright. There's thus a direct artistic line running from DuMond, born 150 years ago, to Kingston, born in 2009.
Another fascinating set of influences centers on one family of painters. A poetic letter of advice written by Hoyland Bettinger (1890-1950) to his daughter and student Mary Lee Harris (1917-2011) hangs with paintings by each of them. As an indication that a student's work can surpass that of her teacher, Bettinger's "Eucalyptus Grove" looks pedestrian in comparison to Harris' "Form & Variation," a sharply rendered watercolor of a tree and barn that is among the standouts in the show. Alongside it is a pastel titled "We Take This for Granted" that depicts a multicolored field in a manner reminiscent of van Gogh's. It's the work of Wendy Harris, the student and daughter of Mary Lee Harris, and the teacher of an unrelated artist, Pamela Monaco, whose work is also sampled.
"My role as a teacher," Wendy Harris states in the handout, "is to help students grow in their own trust of their instincts, to believe in themselves, to push on, to try new things, and to do the same scene again as they get to know it so they can dare more."
That wise approach to pedagogy could serve as a fitting epigram for "Generations," which compellingly caps off a Vermont art lover's summer.