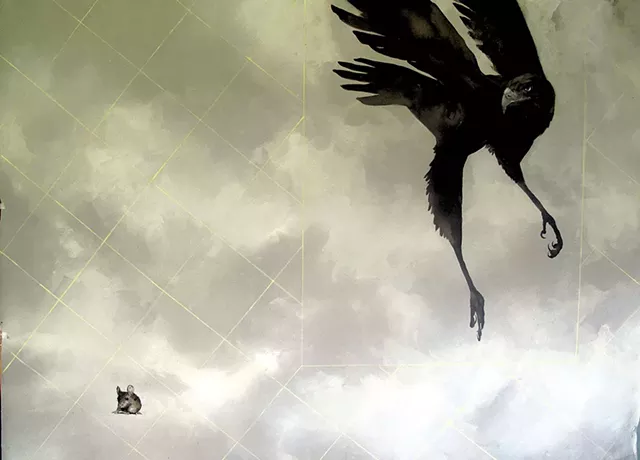 "Prey and Predator" by Adelaide Tyrol
The Great Hall in Springfield embraces its purpose as a public art space with "Feather & Fur: Portraits of Field, Forest & Farm." The exhibition by nine regional artists includes representational works depicting birds of prey, domestic fowl, farm animals and the wildness that remains in even the most domesticated beasts.
As exhibitions director Nina Jamison put it in a statement about the show, "One of the goals of this new exhibit is to renew a sense of wonder and awareness for animals and nature ... The portraits convey a poetry and beauty that are part of the animal's story."
Two acrylic paintings by Plainfield artist Adelaide Tyrol dramatically anchor the space, and the exhibit. A raptor sweeps the dawn sky and fills the 10-by-8-foot canvas in Tyrol's "Morning" at one end of the hall. At the opposite end, her 10-by-6-foot "Prey and Predator" captures a hawk in flight diving toward its prey — a mouse unaware of its imminent fate. Tyrol positioned hawk and mouse on a grid, like pieces on a chessboard.
These paintings in particular take advantage of the 14-foot-high walls in this expansive art space, which measures 150 feet long and 45 feet wide. Tyrol fills each canvas with an image and, in so doing, suggests the monumental role that even the smallest creature plays in the natural world.
Although Tyrol's works are large, they don't dominate the exhibit. Instead, they introduce a sense of calm, of natural order. These paintings, along with other works on display, speak to both the beauty and beastliness of nature — and underscore that the life cycle of every living thing is finite.
"The Boys" by Jamie Townsend
The Great Hall can be entered from either end, each option offering the viewer a different ordering of and perspective on the exhibit. Located near one entrance, Springfield artist Jamie Townsend's painted-wood sculpture "Pig" (57 by 29 by 26 inches) and his paintings are abstractions in an otherwise largely realistic show. But his subjects are sufficiently recognizable to provide an interesting counterpoint rather than a jarring anomaly.
"Pig" is roughly carved, its angles forming a 3D cubist composition. The animal stands on a painted wooden box, like a winner at the state fair. Painted in various complementary pastel colors, the sculpture has no trouble competing for attention with Townsend's paintings. Of these, "The Boys," a 43-by-42-inch oil, is the most successful. The subject, a pair of oxen, is painted in multiple expressive shades. Successive layers of paint add texture, dimension and vitality to the canvas.
The title and subject of the 18-by-36-inch oil painting "Bovine Chorus Line" make a lasting impression. The artist, Donna Ellery of McIndoe Falls, depicts nine cows in a lineup, seemingly at the ready with best hooves forward. The witty composition is endearing yet not cutesy. Ellery's strong technique is evident in the overcast sky and trampled grass, which she renders with great visual sensitivity and little fanfare.
In her artist statement, Ellery writes that she has recently returned to painting in the Dutch masters tradition, in which she was trained beginning at age 9. Her 36-by-32-inch oil "Great Horned Owl" is arresting, depicting the bird against a dark night sky. Ellery combines an impressionistic style with the rich, dark palette and quality of a 17th-century Dutch work, and she commands both.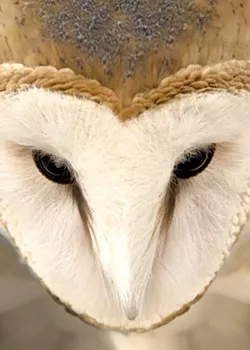 "Barn Owl Face" by Jennifer MaHarry
Another majestic bird of prey, a barn owl, appears in strikingly intimate detail in the archival giclée prints of Jennifer MaHarry, a Los Angeles-based photographer.
"Farm Boy," a 41-by-54-inch oil on canvas by Carolyn Enz Hack, brings a human onto the scene. A boy driving a small tractor through a field is central to the landscape, yet he is dwarfed by a cascade of rolling hills behind him and open farmland in the foreground. Hack articulates different aspects of the scene using, for example, a thicker brush for the clouds and scratches in the paint to evoke harvested crops.
Many smaller works in the exhibit also deserve a close look. These include Chester artist Rick Hearn's naturalistic "Egret Rising," a 25-by-37-inch acrylic painting; and the five diminutive works by Manchester Center children's book illustrator and author Christine Mix.
The Great Hall is a gallery like no other: As part of the mixed-use commercial space at 100 River Street, it is also a hub of activity, with workers coming and going all day. The facility, once home to the Fellows Gear Shaper Company, now includes a medical center, a pharmacy and other businesses. The sprawling, gritty workrooms of the former factory have become clean, well-lit spaces. Most employees, patients and visitors walk through the Great Hall on their way to and from the parking garage.
Mall-like pop music, played on a sound system, at first feels incompatible with the surrounding art. Yet the music seems to give many visitors a spring in their step. They stop to look at a few pieces, perhaps commenting on them to friends or passersby before moving on to appointments.
Signage from the Springfield Regional Development Corporation references President Franklin D. Roosevelt's New Deal, which facilitated the development of public art during the Great Depression. In that tradition, the Great Hall's programming endeavors to inspire conversations about the arts, culture and history, as well as about the environment and social issues.
"Feather & Fur" won't ruffle any feathers or rattle any cages, but it doesn't need to. Displayed in a much-used public space, it is noticed, appreciated and talked about day after day. And that's a success.