Courtesy Of Govenor's Gallery
"Wooden Bowl"
The 20 works by Stephen Schaub currently on display at the Governor's Gallery in Montpelier technically constitute a photography exhibit. But only a few of the pieces are printed on photographic paper. And the intriguingly unfocused images look more like paintings — or dreams — than photographs.
Most of the works in "From Far Away" have been printed on one of a variety of unexpected surfaces: Amate paper, handmade in Mexico from bark; richly textured Gampi and Haruki papers from Japan; translucent synthetic vellum backed with 24-karat gold leaf; "mould-made" paper, which is machine manufactured but simulates handmade qualities; and, for Schaub's most recent works, thin sheets of birch, maple and walnut.
"Wooden Bowl," on Amate paper, looks like a painted still life, its timeless handmade subject shown centered in a narrow, windowed pantry and bathed in liminal autumn light. The printed calendar in the foreground is one of the few clues that the image doesn't depict a pioneer woman's kitchen.
Courtesy Of Govenor's Gallery
"Girl in Red Cloak"
"Girl in Red Cloak" and "Girl in Blue Dress," both on maple panel, suggest the stories of "Red Riding Hood" and Alice's Adventures in Wonderland, respectively. In each, the "girls" — Schaub's teenage daughters — aren't individuals so much as story prompts, their faces too blurry or shadowed to contain features.
"By the River," shot in black and white with a pinhole camera Schaub made, is so blurry it suggests a barely recalled memory. Its subject — two figures and a dog seen from behind, seated by a river bend — seems familiar enough to be a viewer's own memory. Schaub's works are like prompts to the imagination; they seem to suggest narratives that only the viewer can complete.
To various degrees, texture is part of the content of these images. "Cloak," for example, is a black-and-white midwinter scene printed on a 20-inch-square birch panel. It features a hooded figure pausing along a path in a snowy landscape edged with forest. Trees smear into darkness at the lower left-hand corner. To the right, the wood's grain lines spreading across the snowy expanse make the latter appear windswept, creating the impression of snowdrifts encrusted with ice.
"I'm trying to break the photographic process down," says the artist, reached at his studio in Pawlet. A classically trained photographer who studied at the Rochester Institute of Technology and worked for Polaroid and Leica, among other gigs, Schaub says photography is a "creative springboard" for him; his main influence is painting. A rare Vermont-based artist to find success in New York City, Schaub is represented there by Michael Altman, a specialist in Hudson River School painting; and Peter Marcelle, who was Andrew Wyeth's dealer.
Schaub cites a number of painterly inspirations. Those include Edward Hopper and white-line woodblock printing, which was developed on Cape Cod in the 1910s. The latter influence is exemplified by "Picking Apples," the work in the show that reaches perhaps the furthest beyond photographic quality. The 44-inch-square scene approaches the mood of an impressionist painting, but with its central figure outlined in white.
That subject is a woman wearing boots and a wide-brimmed hat and holding a basket. She stands in a dark-green thicket of undergrowth that rises, seemingly uninterrupted, to a thicket of apple trees behind her. Red blossoms on the ground mirror the red apples dotting the trees above, and the woman's coat adds a splash of the same color.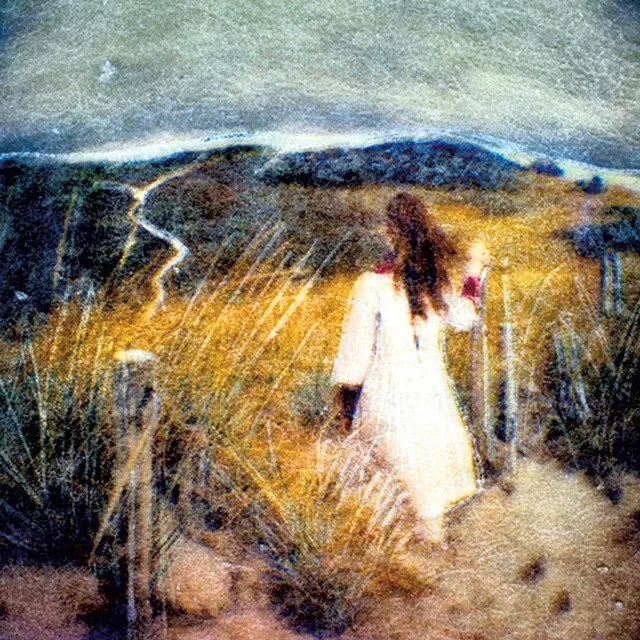 Courtesy Of Govenor's Gallery
"Girl on Dunes"
Schaub shot "Picking Apples" on a type of instant film, applied an encaustic medium, and used his fingernail to scratch white marks around the woman's figure and throughout the vegetation. He followed the same process in two other works, "Girl on Dunes" and "Barns."
Schaub says he finds digital photography "pretty soulless." He shoots exlusively on film with custom-made cameras, then digitizes the images by scanning them. Each image captured by his high-definition drum scanner is multiple gigabytes in size. Typically, he then enlarges them 60- to 100-fold.
He prints the images on a 15-foot-wide d'Vinci fine-art inkjet printer. Only two of the early-2000s model exist in the world, according to the artist. Schaub acquired his while working as a master photographer for Yellowhouse, a now-defunct early pioneer in digital printing. The machine can print up to 54 inches in width — two works in the show reach this dimension — and any length. It prints each line 128 times, feathering in the ink in a process that lasts hours.
Courtesy Of Govenor's Gallery
"Path"
Schaub spends months experimenting with each new material he uses for printing; it took him three months to perfect printing on the wood panels he sources from Michigan. Lately, he switched from printing in color to 12 dilutions of black, and he found a Vermont-made low-sheen varnish to replace the glass that protected his first framed works on wood.
The exhibit includes the results of such experimental processes going back to 2004. None will ever be repeated; the artist says he tends to move on to the next idea as soon as he has mastered one. Schaub also prints each image only once, selecting a sheet of wood or paper — his paper collection runs to the hundreds — based on its unique visual and tactile characteristics. Each work is, as he puts it, a "one of one."
While those choices clearly add monetary value to Schaub's works, they also create a singular visual experience for viewers. "From Far Away" will reshape every visitor's idea of photography, again and again.