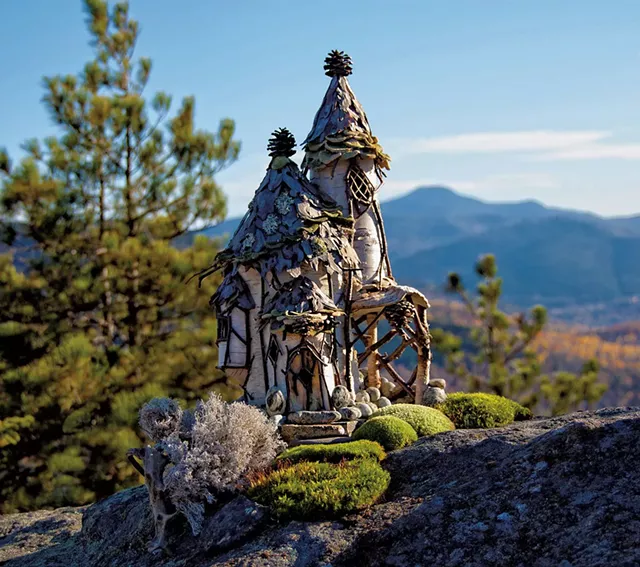 Courtesy Of Henry Sheldon Museum Of Vermont History
"Adirondack Faerie Lodge"
It may come as no surprise that Vermont is especially welcoming to fae folk — if you know where to look. From the queer-oriented Faerie Camp Destiny in Northfield to Burlington artist Emily Anderson's Bluebird Fairies to the annual Fairy House Festival in Grafton, the Green Mountain State is brimming with opportunities to peek into a smaller, and perhaps gentler, world.
With reports of family separation, incarcerated children and privileged pedophiles in the news, an escape from reality might be especially tempting. "Whimsical Wonders: Fairy Houses From Nature by Sally J. Smith," at the Henry Sheldon Museum of Vermont History in Middlebury, offers just such an opportunity.
"I love living on the fringe of what is considered 'normal,'" Smith writes in her artist's statement, "and continue to thrive in the liminal spaces between the visible and invisible realms where magic still exists..."
In a clever move, the Sheldon is showing 12 of Smith's fairy houses in conjunction with a photographic retrospective of the late Vermont-based landscape architect Dan Kiley. The pairing offers visitors an unexpected chance to meditate on architecture as a shared human impulse, as well as on distinctions of scale, gender, craft/design, art/kitsch and magic/rationality. While large, glossy prints featuring Kiley's sleek modernist landscapes occupy two exhibition spaces, Smith's crunchy handmade houses are scattered throughout the permanent collection as if part of a mystical treasure hunt.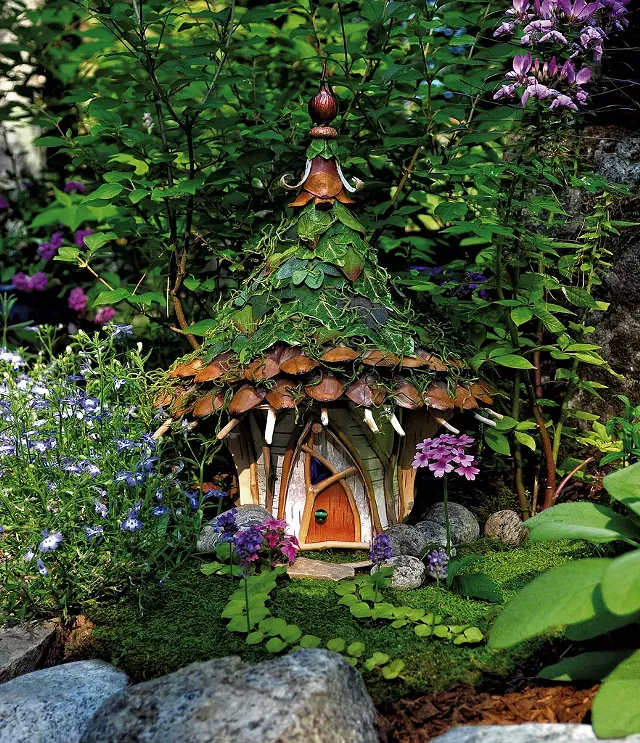 Courtesy Of Henry Sheldon Museum Of Vermont History
"Green Dreams Cottage"
Like so many kids raised near nature, Smith grew up inventing and building small structures from materials at hand — sticks, moss, leaves, rocks. Attributing her creative path to her parents — her father was an architect and nature photographer, her mother a passionate gardener — Smith claims, "I was destined to have a deep reverence for the environment."
After leaving her childhood home in Shelburne and spending more than 20 years as a professional watercolorist, Smith settled across the lake in Westport, N.Y. Her wee houses are all grown up, too.
The first sign of maturity one might notice — aside from the fact that the houses are in a museum and not the woods — is the decided blending of natural and human-made materials. Along with favorites such as birch bark, moss, fungus, pebbles and grapevine, Smith incorporates fake flowers, beads, store-bought miniatures and even tiny LED lights. These are not spontaneous and ephemeral afternoon concoctions, but premeditated and meticulously crafted studio sculptures. Whether this amount of human intervention is acceptable depends solely on a viewer's level of fairy house purism.
Courtesy Of Henry Sheldon Museum Of Vermont History
"The Golden Cottage"
Consider the "Autumn Harvest" house: At roughly a foot tall, the home appears ablaze with a sloping, wizard-hat-shaped roof of fall foliage. Upon closer inspection, one realizes the leaves cascading beneath an acorn finial are synthetic. An arched doorway is crafted from birch bark and white cedar twigs; its doorknob is a green antique glass bead shaped like a leaf — presumably glued on. Tufts of green wool "moss" grow between riverstone steps.
For her part, Smith divides her fairy house sculptures into three categories: studio works like the ones in this exhibition, nature-sited works that incorporate some materials brought from the studio, and completely ephemeral nature-sited works. When working in the last category, Smith uses thorns, porcupine quills or cotton thread to hold things together.
"These houses are left where they are made," she writes on her website, "and begin to disappear back into the landscape after the photos have been taken."
Tantalizing images of these temporary works can be found in the gallery's copy of Smith's instructional book, Fairy Houses: How to Create Whimsical Homes for Fairy Folk.
Courtesy Of Henry Sheldon Museum Of Vermont History
"Autumn Harvest"
One of Smith's more rustic structures on view is the "Adirondack Faerie Lodge." It looks like something you might stumble on in the forest, and then glance around for spritely creatures. The house's two towers are shingled with tiny fungi, each turret proudly topped with a red pine cone. Bits and bobs of dried wild grape tendrils accent the house's doors and appear to be reaching for the sky.
While children's fairy houses tend toward simplicity, Smith samples a swath of architectural influences. Houses like the relatively modest "Dove Cottage" or the Maleficent-worthy "Faerie Queen's Hermitage" are prime examples of fanciful mysticism. By contrast, the "Tyrolean Tower" and "Scandia Spirals Manor" pay tribute to traditional Austrian and Scandinavian architecture, respectively. The tiny "Zenplicity Tea House" not only celebrates the straight lines of Japanese teahouses but, as Smith writes, was "also partially inspired by the works of landscape architect Dan Kiley, who loved the use of linear forms in the landscape."
While fairy houses are not everyone's cup of tea, it's a delight to see this form of folk art embraced at the level of an institution (albeit a small one). Smith's artistry and craft are a reminder that celebrating magic and play isn't just for kids, and that we never have to grow up — at least not all the way.