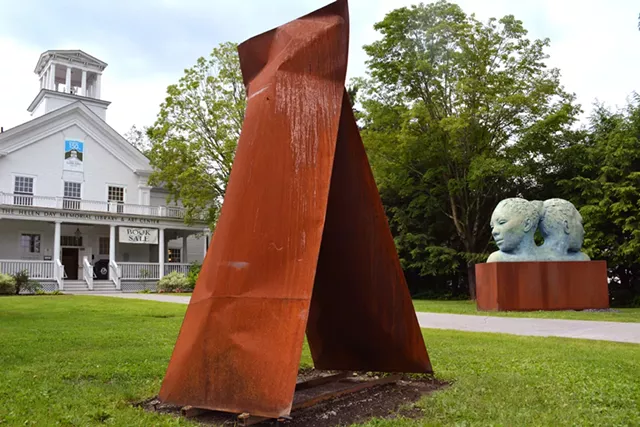 "Marker Form" by Rodrigo Nava
Public sculpture can be a catalyst for cities to generate foot traffic, walk-in business and buzz. Vermont cities and towns haven't invested in contemporary outdoor sculptures to the extent one might wish. (Indeed, the relative singularity of "Reverence," aka the whale tails by Jim Sardonis, beside Interstate 89 may help explain why the sculpture is so beloved.) But one exception is the town of Stowe, which becomes crowded with outdoor sculptures annually.
Hosted by the Helen Day Art Center, "Exposed" lasts from July well into October. And, even better than a permanent installation, the selection changes every year.
This year's 26th anniversary show features 12 sculptures by 11 artists — a collection that's a bit smaller than in previous years. Rachel Moore, who directs the Helen Day and chose the works without a jury, says that while she "condensed" the show, she also "raised the level of the work significantly."
Assistant curator Stephanie Walker of the Waitsfield gallery Walker Contemporary provided logistical and other support. Petra and Stephen Levin copresented this year's show with the Helen Day.
Moore's most impressive selections are two very different sculptures by internationally recognized American artist Mark di Suvero and one by South African Lionel Smit. The three are made from metal, as are all but one of the works in the exhibit. Otherwise, the 12 pieces vary dramatically. Some are figurative, others completely abstract; some can be climbed on and run through, while others have signs warning off interaction. The sculptures' scale ranges from the height of a human to that of a one-story structure.
"Voulez Vous" by Judith Wrend
If visitors begin at the Helen Day and follow the path designated on brochures — leading from the gallery's front lawn down each side of Main Street and then along the Stowe Recreation Path — Smit's monumental bronze, "Morphous," comes first. A double-headed bust with a blue patina, the work shows two beautiful women's faces looking over opposite shoulders, joined at their shared hair bun and proximate shoulders. The expressions on the faces differ slightly, but both gazes are calm and level.
In his audio commentary — viewers can call a recording at each stop — Smit says that his sculpture represents the past and future of his post-apartheid country. More typically a painter, he explores what he calls South Africa's "split identities" through portraits of women from the ethnic group Cape Malay, who share African, European and Malasian heritage. As in the work of Vermont painter Janet McKenzie, another white artist who chooses to portray largely non-white figures, the "Morphous" women's serene beauty and gravitas offset the sense of race being used as a symbol.
"Camp Iris" by Victoria Palermo
That 2014 piece came to Stowe from Union Square in New York City, where it had previously sat for several months. Rodrigo Nava's "Marker Form," next to it on the gallery lawn, presumably traveled only from Putney, where the metal sculptor and furniture maker has a studio.
Nava's work also appeared in the 2015 "Exposed." He uses a proprietary process involving small explosions to separate sheets of steel that are welded together at the seams. The finished works look improbably inflated and deceptively light and airy. "Marker Form," more angular than his previous work, resembles an origami shape that retains folds and wrinkles in the metal.
The figural works of Karen Petersen, Walter Horak and Colin Moore each challenge straight figuration in different ways. "Lady," an equine sculpture by Petersen, of Braintree, strips the nearly life-size horse down to its essential curves — no tail, mane or ears — leaving something akin to a human female body. Thus, the energy of a horse seemingly about to kick up its back legs simultaneously communicates feminine power.
"Lady," by Karen Petersen
"Fulcrum," by the Rhode Island sculptor Horak, shows three equally lean male dancers or acrobats in a circus-like balancing act that becomes its own abstract form: The standing figure, head down, supports the other two, which are arched horizontally into the form of a double-pointed oval.
Moore's "Emily," meanwhile, looks like a standard nude, her back facing the street, until viewers walk around to encounter her sliced-off front. The Boston-based Moore has written that he created the sculpture after his daughter moved to the West Coast. The sense of loss is powerful; so, too, is the suggestion of an unformed individual as she faces her future.
Only one work in the show, "Zipper," by Stowe artist Christopher Curtis, is carved from stone. Beautifully sited on a grassy knoll with the mountains rising beyond, the work previously sat at Stowe's nearby West Branch Gallery, of which Curtis is the former co-owner.
"Zipper" is a 4-foot-high granite boulder, left roughly formed on the outside but precisely cut with geometric wedges on two interior halves. These interlocking wedges appear to fit together, as if one could close the two halves snugly together.
Visitors familiar with di Suvero's nine steel, I-beam sculptures at the Storm King Art Center in Cornwall, N.Y., will recognize his "Gorky" at "Exposed" as their kin. This puzzle of a form doesn't include a pendulous component, as do several others by the 2010 recipient of the National Medal of Arts. Instead, the work centers a bolted assemblage of I-beams at gravity-defying angles on and through a thin vertical steel sheet, its sides circular cutouts. The whole — delicate curves supporting a top-heavy structure — seems entirely improbable, which lends it an air of elegance.
"Gorky" by Mark di Suvero
The finish on "Gorky" consists of naturally occurring rust. Di Suvero's other piece in the show, "Arcobaleno" ("rainbow" in Italian), is painted with four primary colors — red, yellow, blue and white — reminiscent of Piet Mondrian's work. Much smaller in scale, it positions two vertical steel-sheet cutouts at an angle to each other, their curves and projecting appendages appearing to suggest male and female figures.
The show's most colorful and fun sculpture is "Camp Iris," Victoria Palermo's linked A-frame structures sheathed in tinted acrylic and named for the Greek goddess of the rainbow. Sitting or standing on the carpeted interiors of the Queensbury, N.Y., artist's 1960s-inspired "camps," looking up at the changed world, brings the experience of this year's adventurous "Exposed" to a fitting end.