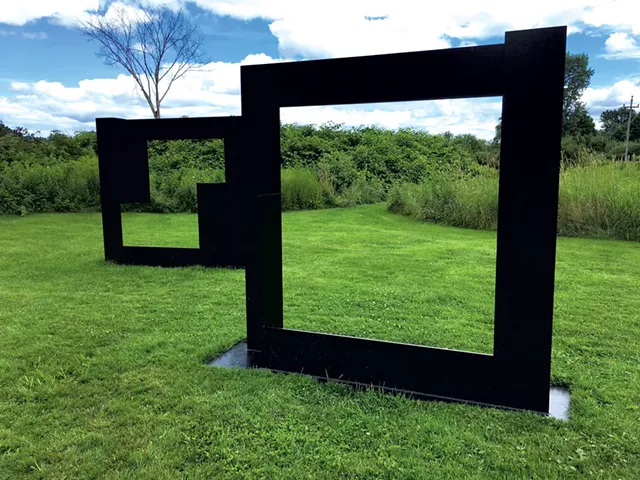 Pamela Polston
"Looking In Looking Out #1 & #2" by Jonathan Waters
Sixteen artists and one poet contribute to this year's "Exposed" exhibit, presented by the Helen Day Art Center and patrons/collectors Petra and Stephen Levin. As the outdoor sculpture show has done for the previous 24 years, this one displays works along Main Street/Route 100 in Stowe Village and for a short distance along its recreation path. At each stop, a sign offers the title of the work, the artist's name and a phone number to call for brief audio commentary on the piece.
One might expect the silver anniversary of "Exposed" to be more spectacular than previous iterations. It is not. This year's exhibition is slightly larger, with 20 sculptures by those 16 artists; by comparison, last year's show presented 17 works by 13 artists. And fewer than half of the 2016 selections could be called spectacular. Burlington poet Ryan Walsh's "The Pines" suitably speaks to our place in nature, but its presentation — vinyl lettering on store windows — is nearly obscured by the merchandise behind the glass.
That said, "Exposed" remains an engaging focus for a stroll through downtown Stowe, and this year's show is not without moments of wonderment. For accidental viewers of the exhibition, finding artwork in unexpected quarters is part of the point.
Aside from being weather-worthy, sculpture installed outdoors must satisfy two criteria: It must possess intrinsic merit as an artistic creation and be suitable or functional in its siting. Most of the pieces in "Exposed" pass the first test, having pleased the show's out-of-state jurors.
Curator Rachel Moore faced the greater challenges of the second test: Can the sculpture stand up to the inherent distractions of the outdoors, particularly on a busy street? Alternatively, does a piece "work" because it announces itself subtly, offering viewers the pleasant surprise of discovery? Ideally, a site serves the art, and vice versa, so that a dialogue of some kind emerges between the two — and, by extension, provokes the viewer to do some thinking. Collectively, "Exposed" does all these things, but some of its individual pieces do none of them.
The gently sloping lawn of Helen Day Art Center is a veritable showcase, with little visual distraction and plenty of room to walk around a work and view it from all sides. All three of David Tanych's rusted-steel pieces have the advantage of this siting. His works are ordinary bits of hardware writ large — very large. "Stack of Nails" features three of the titular items, perhaps 12 feet tall, leaning against each other tepee-style. Tanych's "Wing Nut" underscores the playfulness of this scale; just as tiny things are always cute, so the preposterous enlargement of normally small things can be hilarious.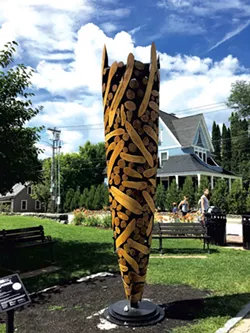 Pamela Polston
"Cone" by Jaehyo Lee
Speaking of playful — and outsize — Rob Hitzig's "Pick 'Em Up" may have the most ingenious siting of all: on the tower of the building that houses the gallery and town library. A reference to pick-up sticks, the piece consists of a dozen narrow, brightly painted lengths of wood that overlie one another in the spatter pattern of the childhood game. But the assemblage that would normally have been dropped on a table or floor is here frozen in place and attached to a highly unlikely vertical surface. It behooves visitors to remember to look up.
Across the street, Mark Chatterley's "The Watchers" commands attention both for its sheer skill and because it is slightly creepy. Made of high-fired clay, the installation includes a serene male figure in lotus position surrounded by six "stacks" of three figures each, sitting on one another's shoulders like acrobats. Chatterley readily conjures thoughts of surveillance with this enigmatic piece, but the central figure may represent stalwart protest.
Two masterful pieces that take charge of their Main Street locations — and viewers' attention — are "Cone" by Korean artist Jaehyo Lee and "Demeter" by Stowe sculptor Christopher Curtis. Both are tall and exquisitely made. "Cone" has been placed in front of I.C. Scoops but has nothing to do with ice cream. Lee sliced and chopped wood into flat paramecia shapes and end pieces, then bent, lacquered and arranged them to conform to the conical shape, which adheres to a steel armature.
Curtis, co-owner of West Branch Gallery & Sculpture Park on Mountain Road, scores once again with an astonishing assemblage of metal and stone. "Demeter" is a graceful swoop of stainless steel anchored to a granite base; it somehow holds a partially polished 900-pound boulder in its middle, as if the latter were speared. The juxtaposition of textures and defiance of gravity illustrate what Curtis calls in his artist statement "Beauty and peril — an intriguing combination."
Works on the rec path arguably have the best opportunity to engage with the environment, particularly when they invite viewers into the conversation. Three works here do that very well and in completely different ways.
Jonathan Waters' "Looking In Looking Out #1 & #2" is deceptively simple. Two large-scale steel rectangles literally frame the views behind them but also successively frame each other, then overlap, then separate as the viewer moves past. These pieces address perception and perspective in both literal and metaphorical ways — and evoke our shifting viewpoints as we move through the world.
With the simple title "Carbon," Theodore Ceraldi reveals the agenda of his striking sculpture: It addresses the destruction of Earth's forests. A dozen vertical steel rods, painted red and arranged in a tepee-style circle, both support and penetrate a thick log with a burnt surface. Ceraldi describes it best: "This piece calls attention to the destruction by elevating a 144-year-old white cedar log, cut in the Northeast Kingdom, to a sacrificial state ... indicative of omnipotent human intervention."
Pamela Polston
"The Great Earscape" by Torin Porter
Torin Porter reaches out to humanity itself with audacity and humor. "The Great Earscape," made of fiberglass, papier-mâché and PVC pipe, consists of seven gigantic ears painted Shrek green. Grouped along the rec path like so many mushrooms, the ears tilt toward the sky. Yet Porter suggests they are not listening for, say, celestial messages, but for the words of passersby. The ears "thrive on the whispers, gurgles and songs of the life forms around them," he writes in a tongue-in-cheek statement, "beckoning those within range to utter their heart's desires into the ears of these attentive fronds."
Porter's big green ears are refreshingly funny, an arresting but nonthreatening presence in an otherwise bucolic landscape. "The Great Earscape" reminds us not to take ourselves too seriously.
Historically, "Exposed" has not often confronted viewers with uncomfortable questions or big statements. Instead, it has simply taken advantage of the area's natural beauty to turn the walkable downtown into a summertime gallery. To be sure, normalizing the presence of art in everyday places elevates a quotidian experience to a more thoughtful one. Still, some viewers might like to see Helen Day push the envelope of contemporary art even further in this annual outdoor exhibition, just as it has increasingly done within the gallery walls.