courtesy of Maya Urbanowicz
"Crossing" by Kevin Donegan
Don't mind the "South Gallery" sign on the door of 27 Sears Lane in Burlington. Launched just last July, that gallery "is morphing into a looser exhibition space platform," according to co-gallerist Clark Derbes, "from the inventoried commercial gallery model of the previous year."
So what might have been unhappy news isn't. Rick Levinson, photographer and owner of RLPhoto, continues to use the white-walled, brightly lit lobby of his studio as an exhibition space. But he won't be representing the 30 or so contemporary artists that Derbes and his wife and co-gallerist, Wylie Sofia Garcia, had in their fold. Instead, the art-viewing public can likely expect more focused shows with fewer artists in each, prepared by guest curators.
Case in point: the current "Excerpts From the West Side." The title might suggest a New York connection to some, but in fact it refers to the Carving Studio & Sculpture Center in West Rutland. Each of the eight artists in this exhibit of 15 sculptures — curated by Maya Urbanowicz of Encounterworks Productions — is in some way affiliated with the nearly 30-year-old studio, which offers workshops, residencies and exhibits year-round in a wide variety of mediums and techniques.
It's not often that the Rutland County crew brings its work north. Urbanowicz, who grew up in nearby Castleton, says her mother used to take her to art shows at the Carving Studio. "I've known some of these artists since I was young," she says. Now based in Burlington, the curator says she has wanted to put a sculpture show together for some time.
"Although the exhibit is not a comprehensive examination of the activity happening there, it represents a strong cross section of artists that are connected with the area," Urbanowicz notes. "The Carving Studio & Sculpture Center has been an axis point that has connected these artists not only to each other but to a broader, international community."
All-sculpture shows are uncommon in Burlington-area galleries. This one is a welcome addition to the three-dimensional works that will punctuate Pine Street for the South End Art Hop. By necessity, though, no monumental-scale stone works — of the sort you might expect from a studio based at a historic marble quarry — are on display here. This is a modest show both in number and size of works. It is not, however, lacking in skill or diversity of style and medium.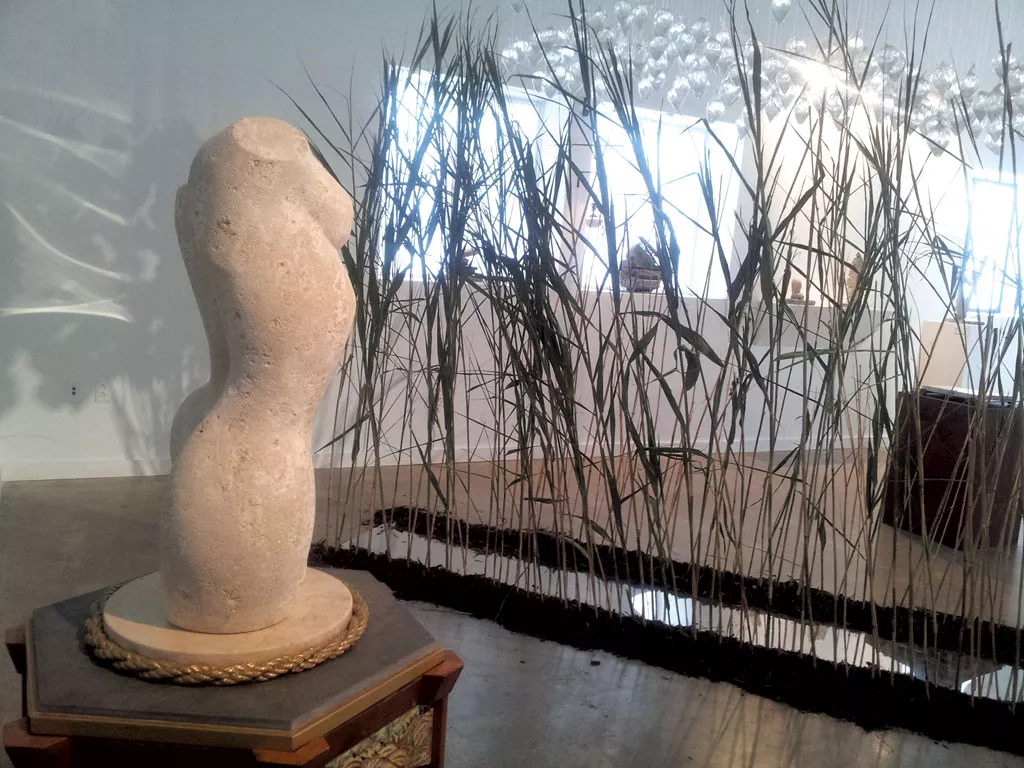 courtesy of Maya Urbanowicz
Foreground: "Eve: by Don Ramey; back: "Shifted Landscape: a passage" by Bart Shigeru Uchida
About half the pieces have been wrested from stone — limestone, alabaster, granite, marble. Three are cast bronze, and the rest fall into the camp of assemblage. Some of these works capture viewers' attention immediately upon their entry to the gallery — which, by the way, is not a "white box" but a swooping, soaring space with multiple display areas. Just inside the front door, on a warehouse-high wall, hangs one of the least conventional "excerpts" in the show.
Glenn Campbell and Jackie Kirkman Campbell have altered a presumably found metal frame. The vertically hung "Ein Netzwerk von Freunden (A Network of Friends)" suggests the infrastructure of a twin bed, but in place of box springs, the artists crafted a loose checkerboard matrix of silk and wool. From the bottom slat, a small metal piece juts out like a soap dish and holds a wad of unformed wool, as if making an offering to other "friends." Observed closely, the rough metal is off-putting, like a protective corral, yet the textile pieces invite touch. From across the room, "Ein Netzwerk" looks coolly abstract, if a bit melty.
Adjacent to this is Carol Driscoll's "Flower Dance," an assemblage of chipped slivers of red and gray stone ingeniously threaded onto six metal rods. The sextet of vertical "bodies" joins in a stone base at their "feet," then sways slightly outward; the pieces are linked "arm in arm" near their tops. Round stone "heads" complete the anthropomorphic sensibility of this 33-inch-high piece. While it would be a stretch to call the featureless faces "happy," the posture of these stone figures exudes the joy of a pagan circle dance. Whether Driscoll — current director of the Carving Studio — intends these to be stalks of flowers hardly matters. Her piece, perched on a simple wood box, made this viewer smile.
So did "Mahalo (Thank you!)" by B. Amore, but for an entirely different reason. Studio founder Amore has long included found gloves in her work, and this piece is no exception. With its pinky and index fingers raised and the other three folded down, the glove — flattened like roadkill but ennobled with bronze — assumes a familiar human gesture. The assemblage also contains a V-shaped hunk of rusted metal. The frame and backing are painted blue and red. It's an incongruous grouping of elements, but it works.
courtesy of Maya Urbanowicz
"Adam Eve I" by Don Ramey
Viewers cannot miss Bart Shigeru Uchida's "Shifted Landscape: a passage." The mixed-media installation about "an environmental conundrum" consists of a reflective metal "walkway" on the floor, tall grasses lining the sides and dozens of small, clear plastic bags filled with water suspended from a framework high overhead.
Sited in the middle of the room, the passage invites viewers to walk through it, but with the caution, "Despite our best intentions, we leave behind indelible footprints, [and] scurry to rectify the error of our doing." Uchida's gauntlet embodies an obvious yet effective message about our relation to the Earth: Just try and walk through here without messing things up.
Don Ramey's remarkable sculptures caused this viewer to give silent thanks for the Bronze Age. Two of his three cast works here are female figures: "Zoë No. 6" reclines, her body half turned, on a granite promontory; "Zoë No. 5" sits cross-legged on a serpentine base. Both their anatomy and their facial details are strikingly realistic, with hair neatly pushed back. There's just one thing: The women have cracks and chips, like ceramic figurines that have been dropped, shattered and meticulously glued back together, with some pieces lost in the process.
Ramey's signature technique elevates his figures from seriously competent to sublimely evocative. Each viewer will assign subjective meaning to those holes, but all will walk away struck by the women's composure despite them.
"Adam Eve I" is another story, and not the pre-apple one. Ramey's bronze couple, about 20 inches high, stand closely side by side, their crude faces turned up and mouths in a howling position. The tops and backs of their heads seem exploded, as if the loss of innocence were too much to bear. The piece would be at home in the living room of Hieronymus Bosch.
Kevin Donegan provides sweet relief. His three pieces here are carved from Indiana limestone and sit on slabs of polished Vermont marble. Two of the three include caterpillars, an unexpected presence on forms that are otherwise sleekly contemporary, even elegant. What comes to mind is a Richard Erdman piece with a creepy-crawly attachment.
In "Head to Toe," a plump caterpillar assumes a seriously flexible yoga pose, its back raised in an upside-down U. In "Crossing," another larval Lepidoptera navigates between two spiky botanical spears. Donegan's "Husk Is for Hopeful" is a botany-inspired abstraction that demonstrates different techniques — controlled gouging and perilously tricky carving — with smooth and burred surfaces.
Charles Austin's three mixed-media pieces round out the selection with the most unusual assortment of materials — in particular, "Burbling Concept." Suspended from a macramé-like holder, it combines a carved alabaster sphere that recalls a grenade with engine parts and tiny gumball-machine toys in a circular vitrine. From afar, it resembles an oil lamp; close up, it most definitely is something else.
The curator sums up this unusual show best: "Bringing all these artists together," says Urbanowicz, "feels like a conversation brought into the third dimension."