"When Everything Seemed So Sure"
The surreal and the playful find common currency in Erika Lawlor Schmidt's new exhibition, "Blame It on My Youth," at the Castleton Downtown Gallery in Rutland. All the works on view can be described as "collage," but a few could easily be called sculpture, while others owe more to printmaking. Many of the 35 pieces are prints. Some contain found objects such as buttons, others incorporate Victorian ephemera, and still others integrate Asian papers and references. All display an often-elegant lyricism that creates a visual journey.
Lawlor Schmidt is a performance artist as well as a visual one. Although this show does not appear to link the two disciplines, her visual artwork is filled with movement. There's a rhythm to the elements as they advance across the page or fall in a vertical descent. In her artist's statement, the Pawlet artist evokes "the reality of impermanence" and the "presence of a connective yet unseeable life force that moves, shapes and holds us together." Performance art is fleeting by nature, and Lawlor Schmidt's work here seems so delicate, so fragile, that it shares that air of impermanence.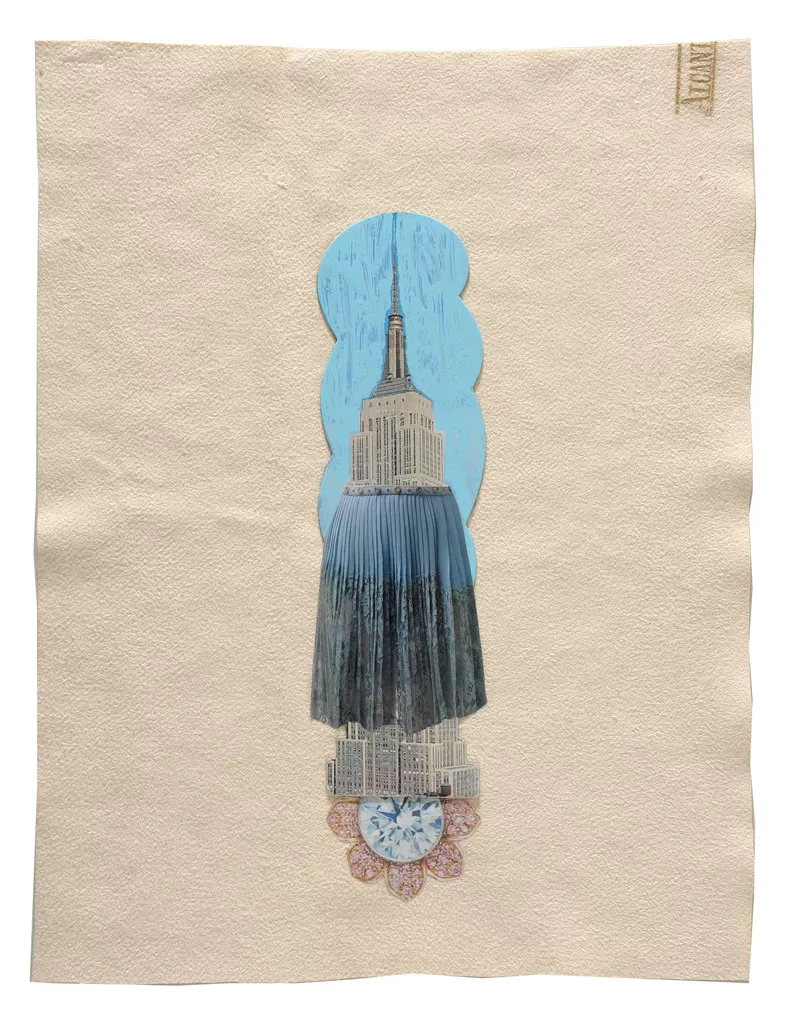 "With a Little Spring Time in Your Heart"
"Blame It on My Youth" is divided into three series: collages with refined Victorian-era imagery; modern prints that balance collage with bold shapes and colors; and surreal collages that juxtapose unrelated images in impeccable arrangements. There is sense in this artist's sensibility, order to her universe.
The works' materials and allusions draw on multiple eras, not strictly constrained by time. For example, "When Everything Seemed So Sure" (a 33-by-47-inch collagraph, monoprint and collage) incorporates what appear to be old Asian newspapers, relics of another place and time that evoke a spiritual journey over a lifetime. Closer inspection, however, reveals phone numbers and the occasional English word "co-op," suggesting a different journey altogether — into the classified-ad real estate section of a contemporary newspaper, possibly from New York's Chinatown.
In "Sugar Cane Rag," a 28-by-35-inch monoprint, Lawlor Schmidt overlaps layers of thin rice paper with silver metallic Joss paper. Traditionally burned at funerals in a number of Asian countries, Joss paper is said to ensure that the spirit of the deceased will have an abundance of good things in the afterlife. The silver paper shimmers and adds refinement to the work.

Natural fibers, perhaps sourced from trees or Vermont fields, ripple and swirl in this work. Lawlor Schmidt says that, as a child, she explored ravines and woods and became an avid beachcomber. Her interest in collecting sticks and stones, and whatever else she found along the way, grew into a practice of turning them into art — a practice evident in her current work.
Lawlor Schmidt's penchant for collecting takes a different turn in "These Foolish Things." It's an artful arrangement of 42 small images (none larger than one square inch) that were likely painstakingly clipped from magazines and brochures. Tiny pictures of a cat, a lady's shoe, a 7 Up bottle cap, a chocolate-covered candy still in its wrapper, a jewel and other objects are neatly organized in six vertical rows, with seven pictures in each. The piece comprises a vocabulary known only to the artist.
That language of images, words and shapes runs through the exhibit and adds a pervasive sense of mystery, rather than spelling out meanings. Mystery may, in fact, be this artist's muse; it enriches the work with layers of implied meaning. Birds appear regularly. So do large circles and maps; shoes, dresses and skirts; handwriting and newsprint. Lawlor Schmidt leaves us with the sense that, while chance may connect these objects, she herself leaves nothing to happenstance.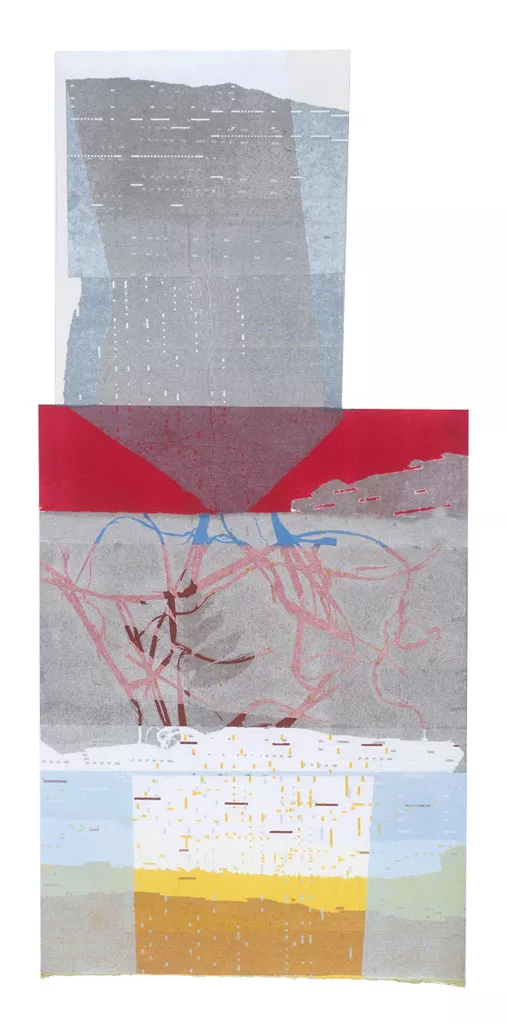 One of the enigmatic repeating images is a dot-dash pattern reminiscent of Morse code, or suggestive of a musical score. Lawlor Schmidt's husband and frequent collaborator in performance, Gary Schmidt, is a composer. The artist herself is a dancer, so music is doubtless a vital part of her life. Her artistic code could be a digitized version of a song. Or it could be the punch notation that a player piano uses to make music without the human hand. Again, Lawlor Schmidt serves up mystery with beauty, offering no logical conclusions.
"Wall Street Rag" (a 44.5-by-22-inch monoprint) is a case in point. The long horizontal work consists of four or five sections cleanly divided by straight lines. The title suggests a newspaper or a musical composition — or even a razzing of Wall Street. The delineated sections and the notation combined with color and movement suggest music. Whatever its meaning, the artist's refined use of paper and layers, code and script, bold color and neutral grays, is graceful and rhythmic. The harmonics can almost be heard as the eyes move along the painting.
Lawlor Schmidt's playfulness is also evident in many pieces, nowhere more than in "With a Little Spring Time in Your Heart" (collage on suede), in which she covers the iconic Empire State Building with a Victorian skirt from the "waist" down. The base of the skyscraper perches on jewels.
Viewers to this exhibit, too, are surrounded by little jewels — objects enveloped in code, deeply laden with humor and beauty.