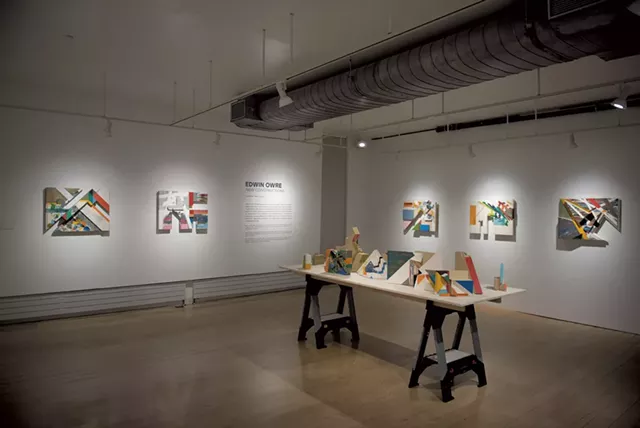 Photos Courtesy Of Sam Simon
Edwin Owre's "New Constructions" exhibit at BCA Center
Edwin Owre's "New Constructions," currently on view on the second floor of the BCA Center in Burlington, radiate a can-do exuberance. Here is 1960s hard-edged geometric abstraction made playful, accessible and nearly three-dimensional.
The constructions are made from that most democratic of materials: plywood. Picture a rectangular plywood sheet from which geometric (or, in a few instances, biomorphic) shapes have been cut with a plane saw. In each case, some of these cutouts have been used to build up other parts of the work. The result is an assemblage of voids and projections, creating a bas-relief whose different parts cast shadows of varying depth.
At BCA, 10 of these works, each measuring 22 by 30 inches, have been wall-hung on French cleats, which emphasize the shadows by setting the works off the wall another inch. Eighteen smaller, freestanding constructions fill a central worktable and occupy the room's fireplace mantel.
Four framed abstract watercolors, reminiscent of Christo's preparatory sketches and titled "Aquifer," "Pyramid," "Deluge" and "High Plains," round out the show. Owre's process of creating constructions begins with works on paper, though these watercolors did not lead to constructions.
Both the choice and application of color are striking in Owre's constructions. Bars of bright pink or purple cut through earthy greens; sponged daubs and workmanlike splashes appear among carefully edged blocks of solid color. Heavy watercolor paper, cut to fit the forms and painted or drawn on with pencil, overlays some surfaces. Elsewhere, the artist painted the plywood forms directly.
Haunting the show like revenants are the forms, colors and materials of the Prickly Mountain design/build movement. Owre came to Vermont in 1965 with that movement's cofounder, David Sellers. Owre had recently completed an MFA in sculpture at Yale University; Sellers, a student at the university's school of architecture, had become disenchanted with the sterile office practice expected of architects.
Along with Yale architecture students William Reineke and Peter Gluck, Sellers and Owre set out to design by building experimentally using cheap materials, including plywood. Their method was to create as they went along rather than adhere to a master plan.
Owre and Sellers collaborated on two early Prickly Mountain projects in 1966: the Tack House, which still stands (with additions) in the Mad River Valley; and the Bridge House, which burned in 1978. Period photos of these two structures appear in Janie Cohen's Architectural Improvisation: A History of Vermont's Design/Build Movement, 1964-1977 (University of Vermont Press and Robert Hull Fleming Museum, 2009).
The book contains a priceless 1967 shot of the Bridge House's interior, showing brightly painted angled or rectilinear geometric walls with cutouts built to accommodate bedroom lofts and cubbies reached by climbing rungs. These forms and colors are strikingly evoked in, for example, Owre's wall-hung "A Delicate Balance."
Other works in this exhibition, such as the wall-hung "Fleurs du Mal" and the small construction "Waters of March," echo the Tack House's exterior features as captured in a different photo: the steep angles of a narrow, shed-roofed structure separated from the blocky masses of another by a column of snowy landscape.
Photos Courtesy Of Sam Simon
Constructions by Edwin Owre
Early photos of the 1970 Warren Airport (now the Warren-Sugarbush Airport) — with its interplay of voids and masses, sharp angles and squares — also distill the formal essence of many of Owre's works. Though Sellers, fellow Yale architecture student Charles Hosford and builder Warren Ketchum created that Prickly Mountain structure after Owre had left in 1969 to teach drawing and sculpture at the University of Vermont, it demonstrates the influence of the era's aesthetic on the artist's current work.
Over nearly 35 years of teaching, Owre taught countless students to create experimentally. Many attended a recent conversation with the 89-year-old Owre, moderated by his former colleague Bill Lipke, a professor emeritus of art history. (Lipke also wrote the exhibition brochure's riveting essay.) The event was presented in part by the BCA Center and UVM's Mollie Ruprecht Fund for Visual Arts.
Stories of Owre's teaching abounded in that conversation. His students once made working violins and violas out of scrap material. They were asked to dismantle an engine, draw the parts and reassemble it. One class spent months making a sculpture installation at Shelburne Farms using 90 donated hay bales and a pile of two-by-fours.
During the talk, however, Owre seemed most interested in revisiting his Prickly Mountain days. "I'd like to hear a little more from Dave [Sellers] about design/build — that was such an influence on me," he said at one point. Sellers was in the audience.
How do these new constructions move beyond that influence? Whether because the pieces are not required to serve a practical purpose, unlike the houses, or because a lifetime of democratic art practice has freed Owre from any sense of constraint, the works at BCA seem to have been built purely for fun. There is a devil-may-care quality to their final appearance, as if their essential raison d'être was to allow Owre to work out some problem of form, building or design.
Viewers of this show can delve further into the artist's process on Vimeo, where retired UVM photography professor Dan Higgins has uploaded an 18-minute video he made in 2011 of Owre at work in his South Hero studio. Then 83, the artist was building some of the pieces that appear at BCA, including "Cross Talk" and "Gravity Undone." (The BCA labels, all indicating 2016 or 2017, refer to dates of completion.)
In the video, Owre explains to Higgins that, though each piece starts as a "contemporary American landscape" on paper, he eschews matting and framing in favor of low-relief-construction mounting "to have it animated as people walk by it."
That sense of animation vibrates through this small exhibit, creating new perspectives from every angle and leaving viewers with a sense of limitless possibility.