Courtesy Of Bigtown Gallery
Money bank by Liz Quackenbush
In an article called "Art Escapes: Four Galleries Worth the Trip," Art New England recently named BigTown Gallery in Rochester the must-see gallery in Vermont.
The decidedly small-town gallery, bordering the edge of the Green Mountain National Forest along Vermont Route 100, is indeed a trip from local population centers: an hour from Dartmouth College, an hour and 10 minutes from Stowe, an hour and a half from Burlington. But the latest offering from owner and director Anni Mackay is, as usual, a show of compelling artists that Vermonters are not likely to see elsewhere.
It's a ceramics show featuring three artists with very different practices, of whom only one has a tie to Vermont. "East to West: A Ceramic Dialogue with Liz Quackenbush, Mark Pharis & Cappy Thompson" moves geographically across the U.S. Quackenbush, based in the East, is a retired Penn State University art professor who spends part of her summers in Vermont. Pharis is a longtime University of Minnesota faculty member, and Thompson lives and works in Seattle.
Most of the ceramics on show are functional: teapots and cups, plates, butter dishes, vases, candle and tea-light holders. In addition to being useful, though, they are beautiful art objects. Or as Mackay puts it, "ceramics of a certain caliber I don't think of as craft, even though I know it is."
Pharis' geometrically oriented pieces are almost sculptural in their presence. One very large vase recalls the rusty color and slightly twisting curve of a Richard Serra sculpture. The vase's long, textured, earthenware surface sports two or three crescent-shaped bands of glazed color — green, black — in a minimalist vein. Though the opening would hold only a few flowers, the entire interior is glazed.
Courtesy Of Bigtown Gallery
Vase by Mark Pharis
In several trays and plates, Pharis plays with form by disassembling expected shapes and reconnecting them in unexpected ways. Four rectangular plates have been sliced lengthwise, their rejoined halves now several millimeters off. The artist has painted them with geometric forms that accentuate the split on one end and mask it on the other.
Color appears to be of particular interest to Pharis. That reddish-brown earthenware color becomes a perfect foil for his yellow, peach, mint green and other glazes, particularly in his octagonal teacups. He uses color with a certain economy, though: No one piece has more than three. Often, one is black, as in some trays painted with boldly architectural forms.
Quackenbush's work couldn't be more different. With white porcelain as a base, her works exhibit minute attention to detail in carved textures and glaze-painted decoration. Her French vase, an unusual form mimicking a tree stump beside a steep hill, is carved with a pattern of tiny suns, leaves, flowing water and wood grain. Unlike Pharis' vase, this one, with its three glazed openings, would not intimidate the flowers it holds.
In an online artist statement, Quackenbush writes that she seeks "to develop my own 'garden of earthly delights' motif." Her work — here, 42 pieces arranged on two tabletops and some pedestals — achieves this with a profusion of references to nature. A butter dish is capped with the compact body of a frog; syrup pitchers resemble small, cute rodents; tiny tree stumps project from the sides of vases; colorfully painted hens sit atop round dishes. Golden details blaze out from the hen covers, and the warm color of egg yolk reveals itself as the glaze inside a white teapot.
Quackenbush's unusual money banks draw the eye. Each is formed from three intricately carved porcelain spheres stacked on a pedestal, with slots cut into each sphere. The slots are big enough for the insertion of coins and folded paper money but too small for their retrieval. As if in acknowledgment of these works' sculptural rather than functional presence, one bank is topped by a windowed gallery with a circular peaked roof.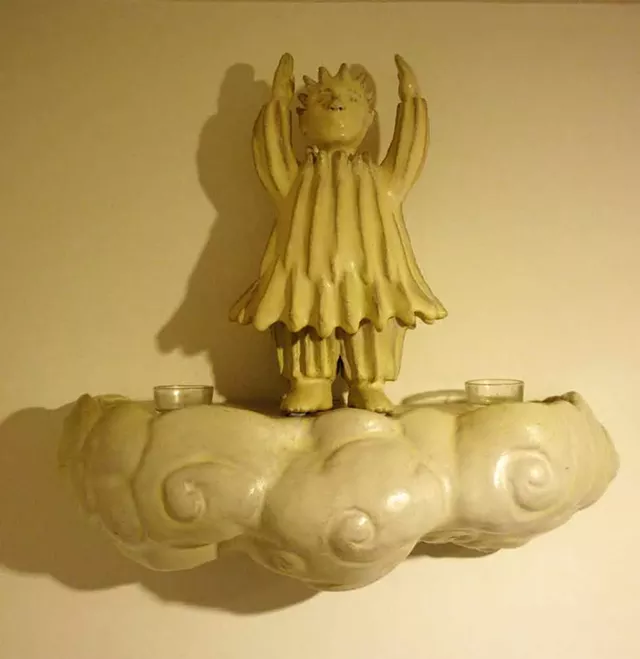 Courtesy Of Bigtown Gallery
Detail of "Heavenscape" by Cappy Thompson
Thompson, an artist with an interest in folk forms across cultures, has created a wall installation of 36 pieces made from earthenware glazed in muted colors using yellow salt, white and blue celadon. With its figure-bearing, cloud-shaped shelves and star and sunburst elements, "Heavenscape" suggests a reimagining of a medieval depiction of Heaven, though it's not so crowded with figures. Instead of having gold-leaf halos that reflect the light, Thompson's angels stand beside tea lights; nearly every piece has a place for a candle.
Thompson's figures — crowned angels, fawns, beehives, a donkey — echo forms from South American, Western medieval and Indian cultures. What ties them together, she writes in a statement, is that "My expression focuses on the human experience of goodness, of hope, and of love."
Gallerygoers who make the trip to BigTown will most likely find all three in perusing the work of these experienced ceramic artists.