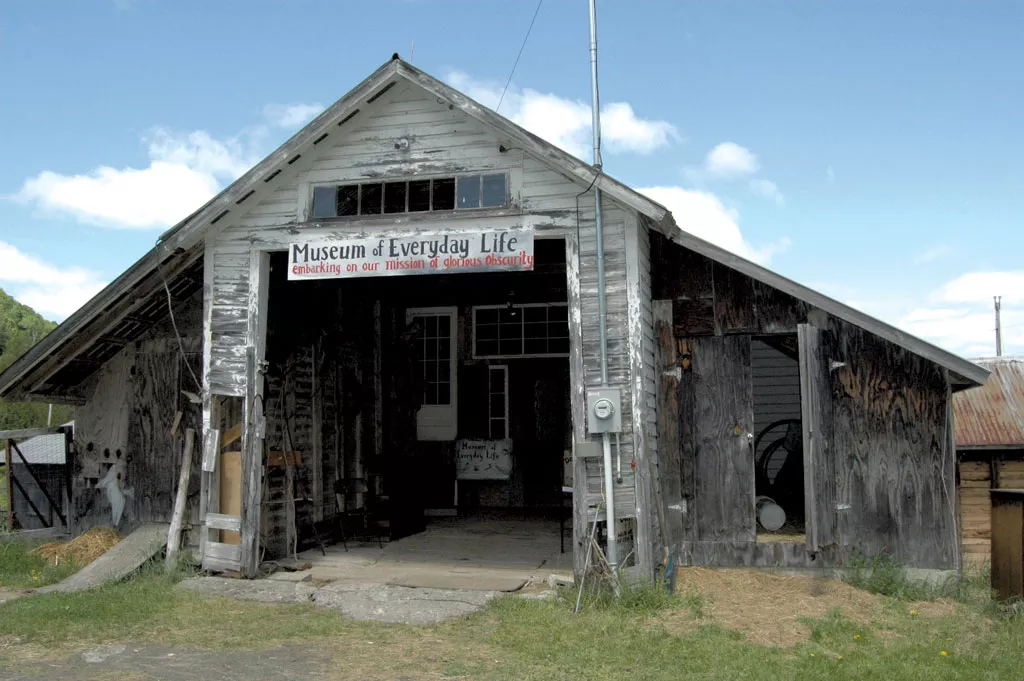 Something unnamed and lifelike resides behind a black curtain in the Museum of Everyday Life. No sign explains the display at the rear of this museum outside Glover, and only curiosity encourages visitors to part the curtains and partake in a contemplative pause. Three large glass cloches stand on black pedestals with fans on a dimmer at their bases. Inside the heavy glass swirl fine particles of ash, chalk and sawdust, dancing like miniature, encased dust storms.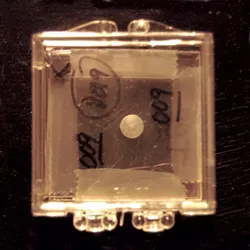 Molly Zapp
Cosmic dust from NASA
Spinning particulate matter may be an unusual choice for a museum display. But then, the museum's entire seasonal exhibit, dedicated to and titled "Dust," blows conventional ideas of "art" out the barn window.
While most museums focus on rare objects or formal visual art pieces, MOEL's creator and "chief operating philosopher," Clare Dolan, takes a different approach. In an interview in her kitchen, she explains that she designs her exhibits "to encourage a closer look at everyday life, to glorify and celebrate ordinariness."
All MOEL's exhibits start with Dolan's personal response to an object. By now, her associates are used to her unconventional choices. "Whenever she says the theme, I feel like almost everybody's reaction is a big chuckle, and then kind of a thoughtful pause," says Rose Friedman of Modern Times Theater, a Bread and Puppet Theater alumna who has crafted songs for the museum's openings with her partner, Justin Lander.
MOEL displays often function as visual tools to encourage museumgoers to consider the ingenuity, labor and brutality underlying the comforts and conveniences that we might take for granted. Sometimes the descriptions of the objects, all written by Dolan, are more engrossing than the objects themselves.
As a curator, she draws connections without being didactic. In "Dust," Dolan uses a display of tiny coal-dust particles to acknowledge Big Coal anti-union efforts and black lung disease, which killed thousands of miners in Appalachia. Next to the coal dust, a pile of grain dust comes with text noting that more than 1,000 severe dust explosions killed hundreds in the U.S. during the first half of the industrializing 20th century. In Richford, Vt., a 1905 explosion at a grain elevator killed 13 people.
Dust itself is the ultimate connector, an emblem of the eventual decay of our bodies. In the show's opening statement, Dolan describes it as the substance that "the Bible places ... at the start of everything, and science agrees: It is now understood that without a thick cloud of dust stars cannot form."
"I appreciate that it has a different angle from some museums and that it's more aware of the true history of things, and that there's a lot of humor in it," says Leah Frost, MOEL's master carpenter.
The idea of MOEL was born from Dolan's study of cabinets of curiosity while she was attending bookbinding school in the '90s. Drawn to the practice of what she calls "sense making via juxtapositions of one thing next to another," she dreamed of one day opening a museum of her own.
In 2004, Dolan bought an old, run-down house with five acres right off Highway 16 near Glover. She describes herself then as "one of those high-risk candidates" who, with student loans and no full-time employment, ended up with a subprime, adjustable-rate mortgage. (She managed to refinance it.) The property came with a large, old milking barn — which, after years of cleaning, became the museum. Dolan officially opened it in 2011 with the exhibit "Locofocos, Lucifers and Phillumeny: A Celebration of the Match."
"And then my house burned down," she says matter-of-factly.
It was just after the New Year in 2012 when Dolan awoke to her house on fire. She grabbed her accordion, a box of photos and journals, a computer, a doll and a book, and got away safely. The fire, which likely started from the chimney or a faulty electrical system, consumed her entire house, but it spared the museum and her donkey, Nikolai.
Dolan expresses regret at some of her losses — for instance, a banjo made from matchsticks crafted by a man in prison, which she'd moved to the house to protect it from the cold of the unheated museum. (A surviving matchstick violin by the same musician is the most powerful display in the museum's permanent collection.) Yet she also speaks at length about the wondrous power of the fire — "the most spectacular thing I've seen" — and the surreal beauty of the ice fragments that settled on the firefighters' sleeves as they battled the flames in the minus-10-degree night.
Molly Zapp
Dust from the Grassy Knoll, Dallas, Texas
Rather than closing the museum and moving, Dolan found that the fire gave her reasons to remain. "I was showered with support and kindness from the Bread and Puppet community that was far and above what the situation deserved," she says. (Dolan began performing with Bread and Puppet in 1990 and now serves on its board of directors.) Her friends put on a benefit for her and the museum that supplemented her dweller's insurance coverage. "With a community like this around me, why would you want to leave?" she asks.
That spring, MOEL opened with a new exhibit: "Healing Engine of Emergency: The Incredible Story of the Safety Pin."
Dolan knows many of the people who contribute to her displays. For the current exhibit, Bread and Puppet founder Peter Schumann contributed an illustrated pamphlet, "6 Billion Specks of Dust." Another local resident gave Dolan a seriously gross Mason jar filled with dusty cat-hair clumps and a handwritten note that reads, "In support of this exhibit I have not cleaned my house for 4 months. Linda Elbow."
Dolan and area volunteers created the Dust-a-Sketch, an interactive exhibit in which museumgoers can sprinkle barn dust from a jar onto a hard, clear, backlit plastic top, then "sketch" in the dust with their fingers.
Some contents of the MOEL originate far beyond Vermont — even beyond the Earth. "Dust" includes a piece of orange brick from the May earthquake in Kathmandu; a black film canister filled with dust from the World Trade Center attacks; dust from the Sistine Chapel; volcanic dust from Mount St. Helens; a photo display with text about the Oklahoma Dust Bowl; and a tiny sample of cosmic dust sent by Michael E. Zolensky, NASA's curator of the same. (Yes, your tax dollars do help employ a curator of cosmic dust.)
Dolan says that, while attending a recent museum conference, she found herself wondering if MOEL was really a museum at all. In some ways, she reflects now, it's not. Unlike most museum directors, Dolan is not concerned with developing a permanent collection or securing relationships with philanthropists. "It's an anarchic new hybrid piece, part personal art project, but also deeply community collaborative," she says.
Friedman, by contrast, sees the MOEL as "definitely" a museum. "I think in one way you can see it from the angle of contemporary art, very experimental," she says. "In another, you can see it as this very humble, down-to-earth, local, rural museum. I see it from both angles — to me it's the most cutting-edge New York scene, while at the same time it so perfectly catches the small-town Vermont spirit."
The barn museum certainly lacks the sleekness and formality of most contemporary art museums. Even the door of the unisex composting toilet holds a display: a Japanese bicyclist's dust mask.
Entrance to the museum is by donation, and Dolan only suggests prices for the sundries she sells. Nor has she pursued much outside funding. In 2014, the she says, MOEL received $5,064 in donations, or about $1,000 in excess of that year's expenses. She doesn't count her mortgage, insurance or utilities.
Dolan is considering seeking nonprofit tax status so she can pursue other funding sources and pay some of her volunteers, including Frost. This year, the museum received a grant from the Vermont Community Foundation to develop a curriculum for middle and high schoolers seeking to create their own museums.
To support herself and MOEL, Dolan works as an RN in the intensive care unit of St. Johnsbury's Northeastern Vermont Regional Hospital and is certified as a sexual assault nurse examiner. Many of her display descriptions consider bodies, health and physical decay.
Dolan says she hopes the humbleness of her setup encourages others to create art, collections or "a compelling anything," with or without funding or expertise. Her aim with MOEL is simple, she says: "I make the museum to glorify the gleeful wish to be driving down the road and see some strange sign, and go in and find something wonderful."