Pamela Polston
Detail of the installation
You probably know your zodiac (sun) sign, and you may even know your rising and moon signs. You might identify strongly with one of the four houses of Hogwarts; perhaps you have taken the Myers-Briggs Type Indicator personality inventory. But do you know if you are a boat, rocket, camper, car, utility trailer or airplane?
With the sleek directive trappings of, say, a Scientology outpost, current BCA Center exhibition "Tectonic Industries: Dreams Can Come True (If It's Not Working for You, You're Not Doing It Right)" pokes and prods at the cultural construction of archetypes — and at our collective hunger to "solve" ourselves through them.
Created by Portland, Maine-based Tectonic Industries — a collaboration of Lars Boye Jerlach and Helen Stringfellow — the show is a re-presentation of their installation "This Notion Is Only Temporary," hosted by Minneapolis' Soap Factory in 2004. Through video, diagrams and installation, "Dreams Can Come True" combines the format of the arbitrary-but-irresistible quiz with participatory craft and basic principles of magic. There is also, incidentally, a gift shop.
Pamela Polston
Detail of the installation
The word "interactive" gets thrown around a lot in art, but "Dreams Can Come True" is, unarguably, interactive. In other words, there's not a lot to see (or feel) here without playing along. Upon entering the gallery, visitors are invited to "Follow the Dreams Can Come True process to change your life." For Step One, a rack proffers clipboards of washable forms, which look suspiciously like standardized test fill-in-the-bubble answer sheets, and accompanying markers.
As elsewhere throughout the exhibition, there are giggles and snorts to be had in reading the fine print. The answer form, for example, facetiously asks, "Are you looking for answers to the problems in your life? Are you searching for happiness, for meaning, for joy and ease in all that you do?" You know it, bucko.
Nearby, a mounted screen circulates slides of text. One warns, "By following the instructions given throughout the gallery, this process could, quite possibly, change your life forever." Are you ready?
Around the corner, the fun begins in earnest with Step Two: questions about yourself. Three wall-mounted monitors cycle through seemingly endless multiple-choice questions; instructions explain that the more questions one answers, the more accurate one's final results will be. With six lettered response options, A through F, guests are invited to self-evaluate by answering such inquiries as, "If you were a seagull, which of the following would you love the most?" and, "Weirdly you get to choose the carpet for your worst enemy. What pattern do you choose?" and, perhaps most apropos for today's news cycle, "The world is ending in three days. What do you do?"
Pamela Polston
Detail of the installation
One could, theoretically, sit answering questions for at least an hour: There is space on the form's front to answer 110 multiple-choice questions and more space on the back. This visitor answered 27 questions. Whatever the threshold, once the need to personally respond to very specific hypothetical questions has been sated, it's time for Step Three: tallying the results.
As any curious adolescent who's ever read Cosmopolitan knows, your type (and customized advice) is determined by the letter you most frequently choose. So it is with the "Dreams Can Come True" process: If mostly A, you're a boat; mostly B, you're a rocket, and so on. After your self type is determined, Step Four asks you to pick out a corresponding "project": a sheaf of paper to transform into a model of said vessel using provided scissors and tape. Actually making the model is Step Five.
Each assignment comes with observations about personality — too lengthy to reveal here — and, most importantly, an invitation to reflect. For example: "Write down any self-doubting feelings you've ever had on the rectangular box on the body of the rocket so you can be rid of them once and for all."
Finally, Step Six is to place one's finished, inscribed vessel on the appropriate table with other structures of its kind. Herein lies one of the exhibition's most fruitful components, at least from an anthropological standpoint: By observing this evolving and literally socially constructed sculpture, it's easy (albeit unscientific) to gauge how many people have participated and how numerous the different "types" are. (At the time of this visit, it appeared boats and planes were most common.)
Closer inspection gives insight into the hopes, plans and doubts — with varying degrees of magnitude — of so many strangers.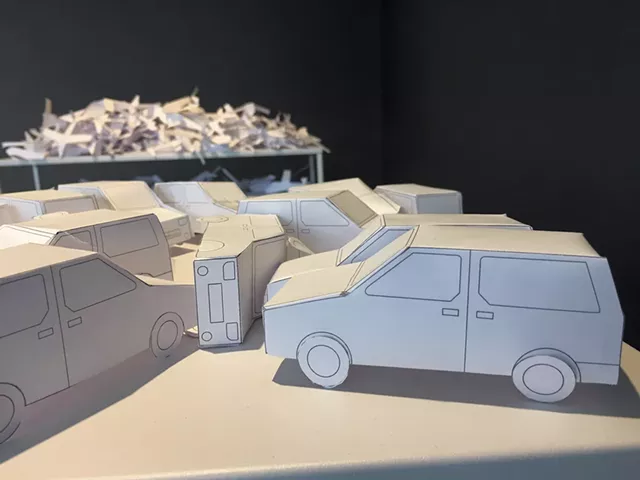 Pamela Polston
Detail of the installation
Beyond the general novelty of this whole ordeal is a rather pervasive and presumably intentional sense of melancholy under neoliberal late capitalism. After all, exhibition text notes, "Tectonic Industries create mixed-media installations that scrutinize our all-encompassing desire for instant gratification and immediate satisfaction."
The over-the-top cheekiness of the various and ample text materials cast an inherent film of doubt upon the efficacy of the tasks performed and intentions set by visitors. This is not an entirely earnest effort at individual and collective uplift — but it's not a completely nihilistic dismissal of wishful thinking, either.
This peculiar middle space points to several simultaneous truths: Most everyone has both dreams for and doubts about themselves; many of us are willing to believe in the impact of intention-setting; and both of these facts leave us open to manipulation by external actors promising fulfillment. From all sides, it reveals how we have learned to think of ourselves as DIY fixer-uppers, as independent, maintenance-hungry vessels traveling through time.
"Dreams Do Come True" opens the floodgates for unsettling reflections on self, culture and desperation, both public and private. Whether or not it works is up to you.