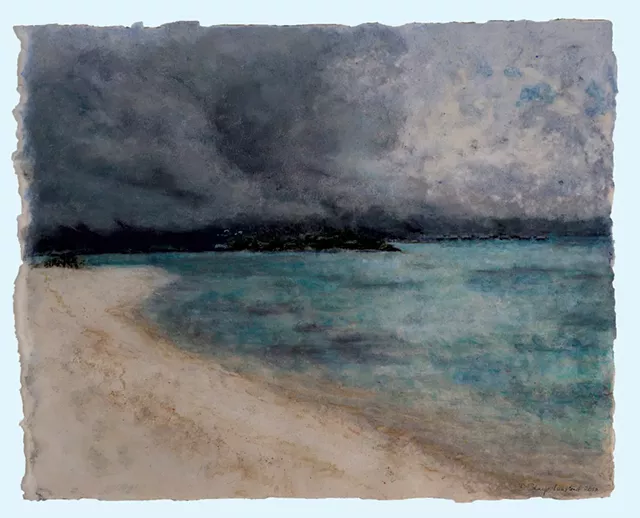 The term "fiber art" most frequently denotes textiles: felting, soft sculpture, weaving, knitting, crochet. But it's easy to forget that paper is also made from plant fibers. Galleries tend to draw a distinction between fiber arts and paper works, but certain artists challenge that line. Middlebury-based "pulp painter" Deborah Sharpe-Lunstead is one of them. Her works manipulate natural fibers to create highly textured, cloth-like paper landscapes.
Sharpe-Lunstead's pulp paintings are currently on view at Jackson Gallery at Town Hall Theater in Middlebury; the show was curated by Margaret Coleman of Burlington's ONE Arts Center, working closely with gallery director Elinor Steele Friml. "Full Circle: Emerging Landscapes Within Handmade Paper" presents 22 of the artist's landscapes, many of which have never been exhibited. They range in content from a local scene of Middlebury Falls to romantic seascapes on Prince Edward Island and Block Island; from sunflower fields in Tuscany to whitewashed New England squalls.
What's remarkable about these works is less their natural scenery than how that scenery is rendered. As in historical fresco techniques, Sharpe-Lunstead uses a selection of liquid pigments to paint on a wet surface, fusing surface and color — painting not onto, but into. Both her surface and her medium are hand-processed paper pulp. As an exhibition label explains, "A pulp painting is not painted on the surface of the paper, but lies within the sheet of paper itself."
Sometimes Sharpe-Lunstead makes the pulp from plants or other materials gathered at the location being painted, creating a poetic holism of artist, material and artwork. The coastal rocks of "Victoria by the Sea (Prince Edward Island)" are made with P.E.I. red sand; rather than the artist's approximation or interpretation of that landscape's hue, it is the landscape.
"Cape Sable Island, Nova Scotia"
This is not the only cyclical relationship the show embodies, since, like many landscape artists, Sharpe-Lunstead is enraptured by the changing of the seasons. Spring and summer scenes, such as "Causeway," make use of relatively saturated blues (made from shredded blue jeans) and greens; "Autumn Symphony" is fiery with yellow, oranges and purple. In a series of three works, "Storm's End," "Snowy Fields" and "After the Storm," a tiny red barn emerges against muted blue-green mountains set on a field of white.
Though an experienced weaver and felter, Sharpe-Lunstead is self-taught as a papermaker. She explained during a studio visit, "Originally, [papermaking] was something to do with the kids." In those days, she used a kitchen blender to make pulp.
The artist's husband, Jeff Lunstead, is a member of the Foreign Service and former ambassador to Sri Lanka and Maldives. While her family traveled and lived in tropical environments, Sharpe-Lunstead began to experiment with boiling down available plants such as banana and ginger. "That's when I started really understanding how paper worked," she said.
In 2002, Sharpe-Lunstead enrolled in a papermaking course with artist Lynn Sures at the Corcoran School of the Arts & Design in Washington, D.C. There she encountered her first fully equipped papermaking studio. While living in Sri Lanka from 2004 to 2006, Sharpe-Lunstead studied drawing and painting — partly out of boredom. "I was desperate to find something to do," she said, "as the ambassador's wife, which was not something I felt cut out for." Her entire first year she drew only in pencil.
Now, Sharpe-Lunstead's instruments of choice are a turkey baster, syringes and even dental tools. When her family moved to Middlebury in 2008, she built her own papermaking studio above the adjacent garage and fully immersed herself in combining drawing and painting with papermaking.
"Victoria by the Sea (Prince Edward Island)"
A short film by Jackson Whelan accompanies the exhibition and leads curious viewers through the intricacies of pulp painting, from start to finish — including the crucial Hollander beater. This tabletop contraption uses a series of blades and moving water to make pulp, one pound of fiber at a time.
Some of Sharpe-Lunstead's most frequently used fibers are abaca, cotton and flax. Like the earliest human papermakers, she also makes use of papyrus fiber. Hibiscus, seaweed, gampi and hydrangea are employed, as well, among other flora. "Each plant is a unique color and will reflect light differently in a painting," the artist says in the film.
Sharpe-Lunstead's landscapes are also frequently populated with plant elements that have not been pulped. Some of the works' most exquisite and exciting elements are visible only on close inspection: The delicate skeleton of a tomatillo husk may appear embedded in a forest or field, or one may find a fragment of a wasp's nest — "nature's papermaker," Sharpe-Lunstead called the insects.
"The beauty of what's naturally there speaks to me, in a way," she said. Through her patience, careful hand and thoughtful dialogue with nature, Sharpe-Lunstead's landscapes emerge as a unique meditation on fiber itself.