Image Courtesy Of 77 Gallery
"Aimless Pilgrimage II"
A visit to see "Aimless Pilgrimage," an exhibit of paintings by Danielle Klebes at 77 Gallery in Rutland, becomes a pilgrimage itself. Minus any religious connotation, it is a pilgrimage in the sense of a journey worth making.
The gallery, located in the former Central Vermont Public Service building at 77 Grove Street, is now Rutland's largest. Klebes' work looks as if it were made specifically for the 3,000-square-foot gallery, which opened in November 2017. The vibrancy of her palette and the crowds of people in many of her paintings animate this erstwhile office space.
Klebes' 30 oil-on-canvas paintings are sizable; the average work is about 60 by 54 inches. The largest, a 58-by-80-inch diptych titled "Florida Boys," portrays two young men duking it out with boxing gloves, surrounded by a semicircle of other young men. The gallery is large enough to accommodate this work without crowding it, which is important because each painting offers much to absorb.
The colors immediately impress the viewer. Klebes' paintings are vibrant portrayals of people in contemporary environments such as music festivals, fairs and other gatherings. More mundane locations appear, too: Her subjects hang out in a clearing in the woods, lounge on the hood of an automobile or curl up in a chair. Her hues, however, make the mundane anything but ordinary.
All these works were painted in 2017 and 2018. The settings suggest places where Klebes has spent time, such as Florida, where she recently attended college; or Croatia, where she studied abroad. Yet they bear a sense of sameness; none of the paintings is necessarily remarkable because of place.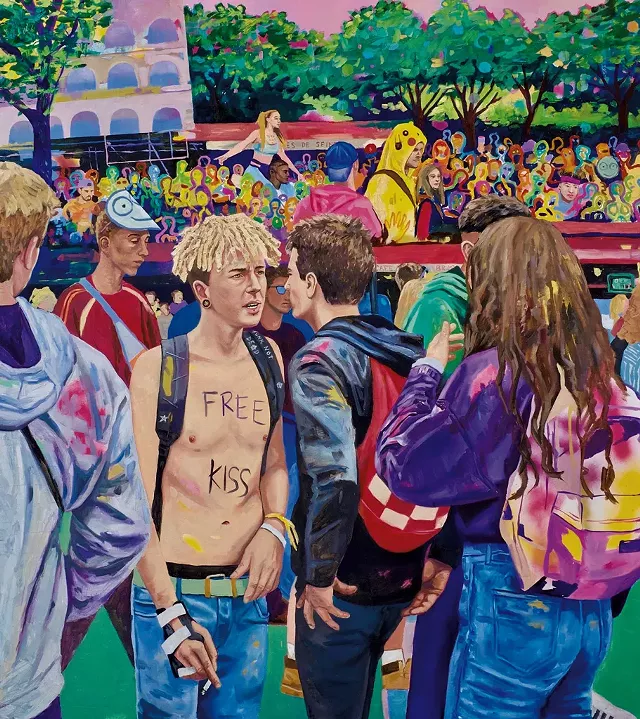 Image Courtesy Of 77 Gallery
"Techno Parade"
Rather, they're remarkable for their evocation of being alone in a crowd, or simply alone. Klebes also captures a feeling of transition — the time between the end of school and the unknown future that young adults are inevitably approaching.
In "Techno Parade," for example, the subjects appear to be strolling without purpose at a music festival. In the background of "Techno Parade" and "Techno Parade II," non-English-language words appear subtly as graffiti, while English phrases such as "Free Kiss," "Punk Not Dead" and "Love Me" are prominent.
Techno Parade is an annual event in Paris, intended to promote electronic music culture; more than 350,000 fans parade through the streets accompanied by a dozen or so floats with DJs and music. Interestingly, the people in these paintings seem almost to be outside of the event rather than participants in it; Klebes may be remarking on the similarities of all such tribal events and the alienation one can experience in a crowd.
Image Courtesy Of 77 Gallery
"Techno Parade II"
"I take liberty in creating the environments for my figures, sometimes completely removing them, sometimes abstracting them, and sometimes adding surreal elements," Klebes writes in an artist statement. "The paintings are not specifically narrative, but they include pictorial clues to the experience of the subjects." An excellent example of this approach is "Water Balloons Prohibited Due to Safety Concerns," in which she places herself on par with the players in her theater of paint.
The paintings are very much representative of contemporary culture, and one has the sense that the individuals who inhabit Klebes' works are her contemporaries. Whether or not she knows them personally, she's giving an understated but sympathetic nod to her peeps. Is she preserving that culture, or casting it off? Most likely, she's simply presenting it. In that sense, Klebes' body of work itself is an "aimless pilgrimage" — painting as wandering and discovering.
According to Bill Ramage, who curated the exhibit, Klebes "photographs people from all over the place. Then she takes these individual people and puts them into a sort of collage." An artist and professor emeritus of art at Castleton University, Ramage is responsible for bringing art to a variety of spaces in Rutland, especially the 77 Gallery, working with developer Mark Foley. Ramage discovered Klebes' paintings through a connection at the college: Klebes' mom, president Karen Scolforo, had her daughter's paintings hanging in her office.
Image Courtesy Of 77 Gallery
"Water Balloons Prohibited Due to Safety Concerns"
Klebes, based in North Adams, Mass., received an MFA in visual arts from Lesley University College of Art & Design in Cambridge in 2017. Her work has been exhibited at galleries and museums in Croatia, Pennsylvania, West Virginia, Massachusetts, Colorado, Vermont and Florida. Klebes is currently an artist-in-residence at MASS MoCA and will be in residence at the Vermont Studio Center in March.
While her works focus on people, Klebes' landscapes are also intriguing; some paintings might seem complete even if the human subjects were removed.
In a piece titled "Aimless Pilgrimage," seven people sit, stand or wander through what looks like a vast field of short grass. It's the end of the day, and darkness, possibly accompanied by a storm, is encroaching. Still, the last light burnishes the yellowed grasses, and the horizon seems illuminated with colors à la the northern lights. A large tree appears to be filled with birds, fruit or flowers.
In this setting, two figures approach the painting's horizon line and seem to dissolve into it. The line literally passes through them; distant trees and grass grow over them, and their faces become blurs of paint.
Image Courtesy Of 77 Gallery
"Funboy"
In her artist statement, Klebes explains, "I employ a cool, colorful and unnatural palette to highlight disconnection and lack of intimacy."
Ramage notes that Klebes goes from "an almost photorealistic aspect where she wants you to focus, and then into where the paint is like it's just slapped on. She kind of manipulates the whole business of the focus, but she does it in such an interesting way."
Her work also recalls the writings of British author J.G. Ballard: "Deep End," for instance, in which a lone figure climbs out of a drained swimming pool in an abandoned amusement park. Klebes offers a vision of loneliness and alienation, perhaps ignited by disillusionment. That may be what she sees among her peers, but Klebes seems to be aimed in the right direction.