Courtesy of Craig Mooney
"Sunset Serenade"
Craig Mooney's large landscape paintings are a bright antidote to Vermont's November skies and the leafless branches of stick season. Many of the 21 oil paintings in his solo exhibit at the Vermont Supreme Court Gallery recall the long days of summer and the vagaries of light from dawn to dusk that accompany them.
Most are landscapes with no structures or people to interrupt the view of distant mountains or distract from the rivers snaking across the canvas. Mooney also includes a few cityscapes and figurative paintings to mix it up and give the show a bit more range.
In "Green Mountain State of Mind," the Stowe artist reflects back to us our own states of mind, as well as places we've been in Vermont — even right out the back door. We see in his work whatever we bring to it, and that's exactly how Mooney wants it to be. He is not a plein air painter, sketching and painting on-site, nor does he work from photographs. The "state of mind" the artist refers to is one of his own imagination, and the viewer's.
For all their familiarity, the scenes on Mooney's canvases do not depict real locations. While memory plays a role in creating them, his paintings are more about the feeling of being in Vermont, or returning to it from somewhere else, than about reproducing actual locales.
"[It's] the sigh of relief when you're back in Vermont. It's like a huge burden comes off your shoulders," Mooney said in a phone conversation.
Courtesy of Craig Mooney
"Big City"
Although Mooney is a New York native, he spent time in Vermont as a child; when he began his art career in earnest, Vermont was his proving ground. Now Mooney's paintings are exhibited across the U.S. and, more recently, in London and Milan. Being able to return to his Vermont home is reassuring, he said, as well as a source of inspiration.
Born in 1969 in New York City, Mooney received his first training from his father, an amateur artist, who taught him how to work with oil paint. Though he took academic art courses over the years, according to his artist statement, Mooney considers this early exposure the truest form of training.
Midtown Manhattan was an endless source of inspiration, and his cityscapes reflect that to this day. Mooney's paintings are infused with a sense of confidence that may stem from his early exposure to art making and from his deep familiarity with his subjects, be they Vermont, New York or elsewhere.
"Where the Current Takes You," a 47-by-94-inch diptych, is the focal piece of the exhibit, hung at the far end of the gallery. The work's light-filled sky immediately draws the attention of visitors as they enter. A broad river winds through the lower part of the painting, split in half by the diptych's two panels. That division might seem to disrupt the river's flow, yet it has the opposite effect. The pull of the river's current is almost palpable, as if the panels exert a magnetic pull on each other.
The title of this large piece speaks to travel of the mind and spirit rather than of the purely physical kind. In art and literature, water often serves as a metaphor for change or a spiritual journey. In this case, the phrase may also refer to how the river guides the viewer through the painting.
Mooney often uses a square format. In this exhibit, 16 of the 21 paintings have that shape, ranging from the 15-inch-square "Lifting Clouds" to the 48-inch-square "Violet Ridge." The aforementioned diptych consists of two 47-inch-square panels.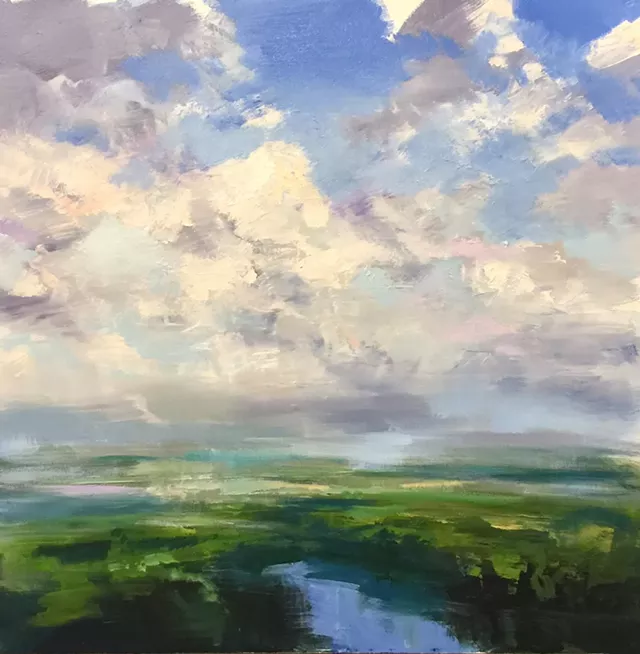 Courtesy of Craig Mooney
"Terra Verde"
The artist's rural landscapes emphasize the sky, using as much as two-thirds of the canvas to depict it. His palette has a calming effect, largely employing green, blue and white. A closer look, however, reveals an extensive range of other earthy colors throughout the paintings. Bright stabs of white — or stand-ins for white, such as light violet — are reminiscent of John Singer Sargent, whose white emphasized the subjects of his portraits.
Mooney's inclusion of cityscapes amid his bucolic scenes may be surprising, but the works are compatible in this exhibition. New York's concrete corridors come alive on the canvas as surely as if he were portraying the Appalachian Gap in Buels Gore.
Mooney's paintings subtly straddle representation and abstraction; he's not wholly in one camp or the other. Some scenes clearly depict a place. In "Stone Wall," for example, the titular wall runs perpendicular to a line of trees along a ridge. Beyond the wall, a rock-filled meadow fills the canvas. In "Distant Winter Barn," a classic red barn anchors the familiar rural image.
Courtesy of Craig Mooney
"Winter Squall"
Other paintings are more amorphous. In the resplendent "Violet Ridge," for example, a blurry horizon of blues, whites and violets erupts in pyrotechnics of color, cloud and mist. In this and similar works, Mooney becomes moody, and abstraction trumps representation.
While his summer and fall paintings are evocative of those seasons, his winter scenes remain in the mind's eye long after we view them. "Winter Cascade," a 30-inch-square tour de force of snow-filled woods, pulls the eye through a path toward the light beyond the trees. Viewers may pause as they work through the image, trying to gain a firm footing and orientation in this snowy world. It's an abstraction of an experience familiar to most Vermonters: a winter walk in the woods.
"Vermont has always been that incubator place, that safe place where I could get my ideas together," Mooney said. "For this show, [Vermont is] not always the subject matter. When I did this show, it was more about all that Vermont has given me."
Visitors to the Supreme Court Gallery may feel that his show is about what Mooney has given us.