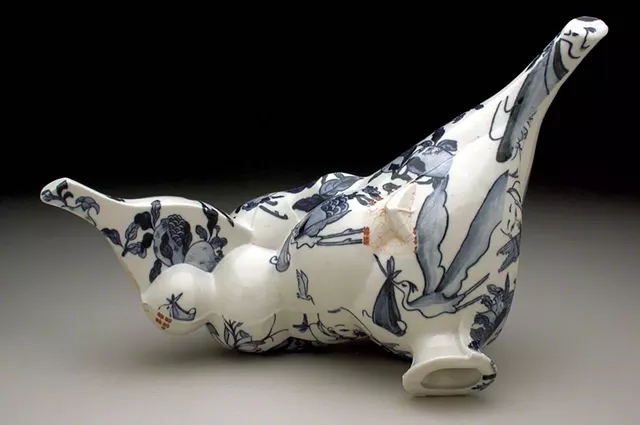 Courtesy Of Hdac
"Wedlock" by Sin-ying Ho
Human beings tend to be clumsy; art and craft allow us to work toward amending those shortcomings. Featuring seven contemporary artists working in ceramics, "Composing Form" at the Helen Day Art Center in Stowe presents a family of intricate objects that collectively ruminate on the human body and human history — and the drive to make meaning from chaos. Walking among them, you may feel as if you might break something.
Curated by artist and Helen Day executive director Rachel Moore, the 24 sculptures assembled play with tensions between the decorative and so-called high art. Five of the show's seven artists are affiliated with Ferrin Contemporary, the North Adams, Mass., gallery dedicated to fine art ceramics. It's worth noting that each of these five — Robin Best, Cristina Córdova, Sin-ying Ho, Sergei Isupov and Kadri Pärnamets — employs representational elements, while Vermont-based artists Tara Thacker and Jerilyn Virden do not.
If any singular artist could be said to dominate the show, it might be Isupov. The Russian-born, Massachusetts-based sculptor renders human heads and bodies in porcelain and stoneware with richly detailed narrative surfaces. His work contains bodies within bodies, with undertones of both violence and emotional strife. In the small porcelain head "FB - Eye," a face is glaze-painted with a mysterious ménage à trois of sorts: A naked woman sprawls on the ground, across the face's lips, while two male bodies in business suits appear to trample the ground above her. The face's eyes replace their respective heads. The surface of the sculpture is dotted with tiny white bumps, like chicken skin, and dashed red lines make it appear ready for dissection.
Like Isupov's, two works by Córdova engage the human head. Mounted on the wall, "Cabeza IV" and ""Cabeza V" look so lifelike that you might expect their eyes to follow you across the gallery.
Courtesy Of Hdac
"Horsepower" by Sergei Isupov
Gendered tensions appear in Isupov's much larger pair of ceramic heads: "Horsepower" and "Bullseye." Two parts of the same narrative, these male and female faces depict a fairy-tale-esque story of an ambivalently charged encounter and pregnancy. Along the back of the man's neck, a pregnant woman rides a horse; painted on the underside of the sculpture (shown with a photo), the woman and her partner lie together against a background of red polka dots. Fragments of the same tale, perhaps from a different viewpoint, are painted on the neck and underside of the female sculptural counterpart.
Fraught archetypal convergences form the basis of Isupov's five other works on view: "Vernal" and a series of four small sculptures of couples dancing in various degrees of harmony.
Storied surfaces similarly appear in the works of Best, Ho and Pärnamets. Unlike Isupov, who claims to represent no fixed individual, each of these artists' works reference history in acts of cultural hybridity. Best's "The Knight of Lions" is a tabletop porcelain monkey — an animal, the artist's statement explains, that was central to French 18th- and 19th-century interior décor. Using the Chinese art of Xin Cai, oil painting on porcelain, Best has rendered scenes from Miguel de Cervantes' Don Quixote in French toile motif across the monkey's body and his perch.
Best and Ho have both studied in Jingdezhen, China, renowned for its history of porcelain production. Born in Hong Kong and raised in Canada, New York-based Ho addresses globalization head-on with multivalent vessels that combine ancient Chinese motifs with contemporary illustrations and symbols. The largest of Ho's three works on view is "World Garden No. 2," a four-foot-tall vase hand-painted with cobalt blue florals interspersed with world heritage sites in red, including the Taj Mahal and the Eiffel Tower. Ho's other two works, "Histogram No. 2" and "Wedlock," are less legible as objects, and deliberately so — their shapes are abstract, their orifices placed oddly, like traditional Chinese vases rendered through a transmogrifier.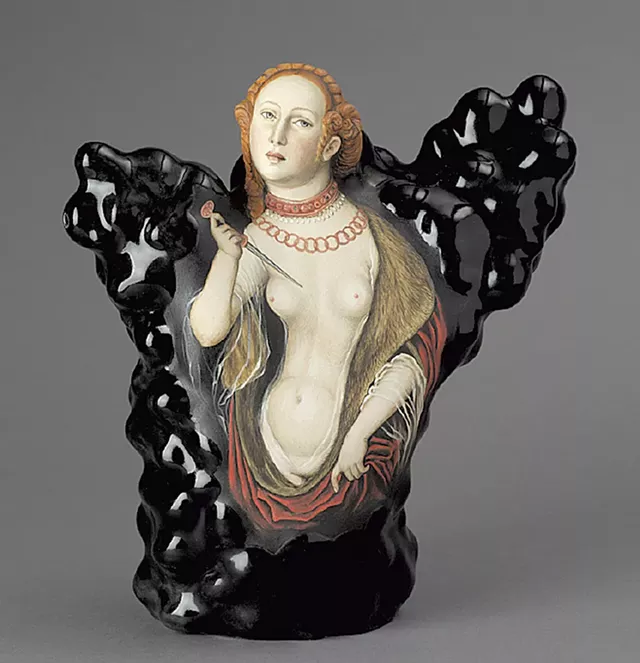 Courtesy Of Hdac
"Question of Honor — Lucretia, After Lucas Cranach the Elder" by Kadri Pärnamets
More so than any others, works by Pärnamets effectively straddle biology, abstraction and historical narrative. Two tabletop sculptures, "Past in Present" and "Question of Honor — Lucretia, After Lucas Cranach the Elder," place the tragedy of Lucretia on amorphous, tumor-like configurations of black-glazed porcelain. Lucretia, the wife of a Roman nobleman, is said to have killed herself after being raped by the son of an Etruscan king, setting the stage for the transition of the Roman monarchy to the Roman republic.
In "Past in Present," Pärnamets places Lucretia and sex goddess Venus on either side of a bulbous form, bringing into question the virgin/whore paradox. In the context of the exhibition, this work makes explicit how the human body can shape history.
Courtesy Of Hdac
"Ellipses" by Tara Thacker
Like Pärnamets, Vermont-based Thacker uses a vocabulary of repeating forms: She affixes hundreds of small, simple components of either black or white porcelain to canvas. From a distance, these wall-hung banners appear to be made from fiber, not clay. In a show loaded to the brim with symbols and sharp perfectionism, Thacker's repetitive, tactile works are a soothing reprieve and welcome antidote to overthinking.
Ditto for Virden's "Shift," a rollicking shape of hollow earthenware that appears as if it were recently excavated from the ground.
Anyone who's seen Moore's own work is likely to recognize her sensibilities in "Composing Form." She gravitates toward delicacy, shrine-like arrangements, black-white contrast, and the use of fine craftsmanship to create quiet objects with subdued social and political messages. Here, even blobs are finely wrought. The preciousness at play may be a turnoff to some, but those interested in contemporary clay and excited by technical finesse will not be disappointed.