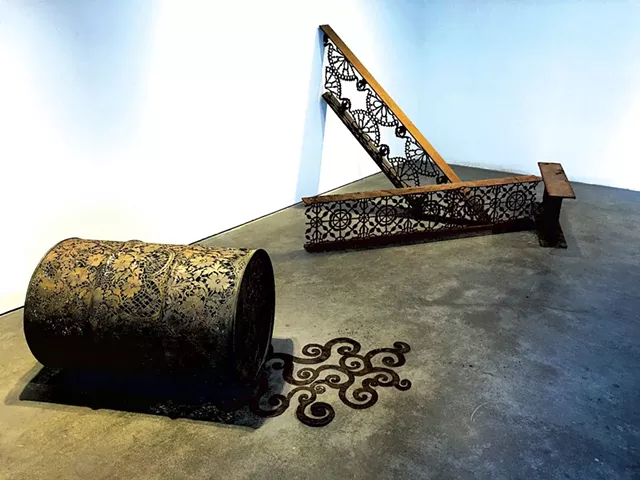 Pamela Polston
"Sweet Spill" (left) and "Fabricate"
Cal Lane's art is all about dichotomy — in fact, multiple dichotomies. She invites the contemplation of opposites, even what it means to oppose. An exhibition of Lane's work in plasma-cut steel and mixed media leaves the mind reeling, as most visitors to her current show at the BCA Center would attest.
Recently departed curator DJ Hellerman made the wise decision to include just a few pieces — five sculptural works and an installation — in order to give each of them breathing room. That is, visitors have the necessary physical space in which to contemplate, digest and reflect upon what these works convey.
Masculine and feminine is the most obvious binary in Lane's creations. While that's an easy target, the Canadian-born artist addresses it in her unique way: by cutting doily-like patterns into heavy, once-utilitarian pieces of steel. The process has got to be harder than she makes it look.
In "Sweet Spill" (2010), an oil drum lies horizontally in the gallery, a floral motif excised nearly all the way around its perimeter. The pattern continues on the bottom, and a splash appears on the top. In front of the drum, the "spill" is manifested in curlicues of two-dimensional steel on the floor — in fact it resembles the tendrils of unfurling ferns. Lane conflates blossoming nature with the implied ruination of an oil spill, subtly introducing another contrast.
Next to this, "Fabricate" (2001) presents three sections of rusted I-beams cut through with repetitive circular patterns — a different one in each piece. The beams are set at intriguing proximity, two on the floor angled away from each other, the third leaning casually against the wall, as if left behind by workmen at a construction site.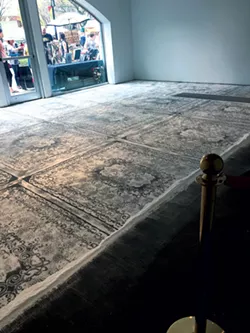 Pamela Polston
Laced (As Pure as New York Snow)"
Though the materiality of these pieces is clearly weighty, the fussy decorations give them an unexpected, almost preposterous delicacy. To anthropomorphize, they are both obdurate and yielding. Domesticity and industry is also contrasted in these works — though that interpretation, too, distills into inescapable gender stereotypes.
Lane provokes us to think more deeply with her two wall-hung works, "Infrared Illumination" (20 by 38 inches) and "Mortar Horses" (20 by 32 inches). Both were crafted in 2011 from former ammunition boxes — one still retains an orange, diamond-shaped label that reads, "EXPLOSIVE 1.2 G." Again, the artist incorporates floral motifs, and avian ones, as well, in her metal cutouts. But "Infrared" also presents within this backdrop a figure with a cudgel, seemingly in the act of beating a crouched figure before him. That primal representation of aggression is consistent with the source material yet contrasts with the dainty filigree effect. Lane's title for the piece is enigmatic.
"Mortar Horses," also cut from an ammo box, depicts a central figure, ostensibly male, with arms outstretched, each hand gripping the reins of a winged horse. It gives the sense simultaneously of awful power and wild rebellion, barely contained.
A mythological theme is fully embraced in "Gutter Snipe" (2011). At 82 by 238 inches, this is the largest of the exhibition's metal works, made of cut steel and corrugated pipe. Essentially a long, gently curved shape set against a wall, it forms a passage that gallery-goers can enter, minding the "Sharp" warning sign.
Lane has covered the piece with negative tattoos; that is, cutouts of figures including a satyr, winged cherubs and a shepherd-like character with a staff. There are creatures, too: mean-faced dogs, raptors with wings spread wide, unicorns and ... rats? Definitely some unattractive rodents. The overall appearance of this piece is pretty, like a giant pierced-tin candleholder. But a closer look suggests a cross between medieval armor and geomancy. The archetypes on its surface are off-putting, but step inside the structure and it offers a sense of protection, a shield.
Unlike the artist's "Filigree Car Bombing" — a 2007 commentary on terrorism not included in this exhibit — the import of "Gutter Snipe" is less obvious. But given its title, Lane has perhaps created an elaborate homeless shelter.
In the back room of the BCA Center, Lane dispenses with steel altogether. "Laced (as Pure as New York Snow)" is all pattern — 15 nearly identical patterns laid side-by-side on the floor. In previous exhibitions the artist has used dirt for similar installations, but here her medium is powdered sugar — mixed with borax to discourage insects.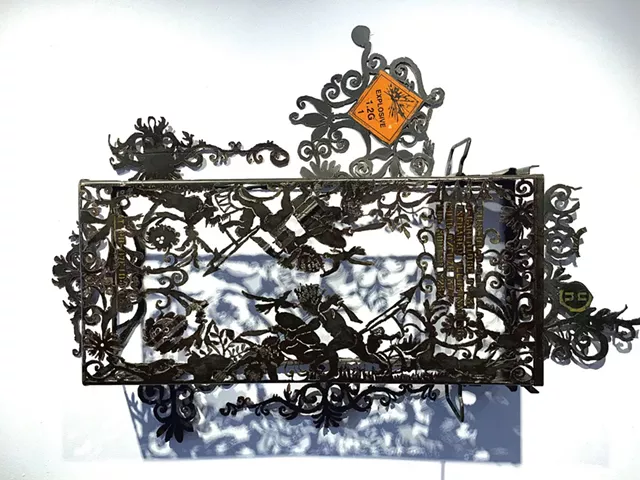 Pamela Polston
"Infrared Illumination"
Lane's template was a lace tablecloth, through which she sifted the powder to create the impression of, well, 15 white tablecloths lying on the floor. Knowing this, however, only partially answers the question How did she do it? Trying to figure that out is an absorbing conundrum for viewers.
Into one side of the pattern, Lane pushed a sharp-edged swoosh. Visually, the disruption creates intriguing tension. Conceptually, "Laced" suggests domesticity, and the civilized ritual of setting an elegant table (never mind that euphemism for cocaine in the title). It's startling to find this elegance on a floor; it's bittersweet to realize it will be swept up and discarded at exhibition's end. This impermanence, after all, speaks to an altogether different order of contrast: life and death.
Lane's skill in her creations is extraordinary, but "Traditional Culprits" is, in the end, an object lesson in how we see, and think about, the dichotomies around and within us.