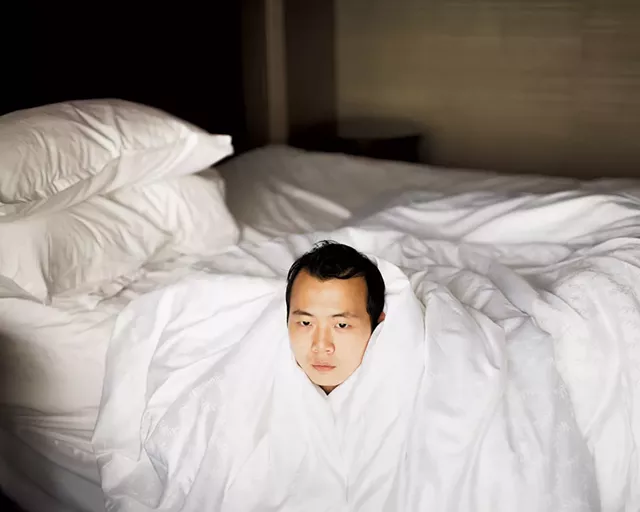 Courtesy Of Fleming Museum Of Art/light Work
"Cloud" by Tommy Kha
The title of the Fleming Museum of Art's major exhibition this semester, "Be Strong and Do Not Betray Your Soul: Selections From the Light Work Collection," seems to promise a stable, uplifting and unified message. Yet what lingers after viewing these 47 photographers' works is how fraught with ambiguity they are, and how they complicate and expose the triangulation of photographer, subject and viewer. This seems an invaluable takeaway at a moment when the photograph-as-documentation saturates visual culture.
The photos belong to Light Work, a nonprofit founded in 1973 and located on the campus of Syracuse University that supports photographers with a lab, residencies and exhibitions. Eric Gottesman and Hank Willis Thomas, the artist-founders of For Freedoms, curated the exhibition, choosing the images and title. Their nonprofit outdoor-art project, developed in 2016, partners with organizations across the country to facilitate civic engagement through art.
"Be Strong" showed at Light Work last year and was not intended to travel. Until, that is, Fleming curator Andrea Rosen decided it would be a perfect complement to the concurrent student-curated photography exhibit, "Resist! Insist! Persist!", which draws work primarily from the museum's collection. For "Be Strong," Rosen and her intern, Mo Quigg, wrote labels, which the original show did not include.
Their introductory wall text for "Be Strong" points out that the photographers intend "to express their humanity and that of their subjects [and] to subtly comment on the social, economic, and historical forces that oppress us all, but especially women, queer people, and people of color."
Courtesy Of Fleming Museum Of Art/light Work
"Jordan Raising His Hand (Encounter)" by John Edmonds
The exhibition's powerful opening image, "Jordan Raising His Hand (Encounter)," by John Edmonds, captures an action the photographer asked his subject to perform. (It's surprising how many of the works in the show are staged shots.) The subject, a young African American man — like Edmonds himself, who gave a talk at the Fleming in early October — holds a bag in one hand and gazes straight down, head bent, while raising his other hand high. The gesture could signal surrender in an attempt to avoid harm, or solidarity with others, or silent protest. The ambiguity forces the viewer to contemplate how he or she "reads" young black men.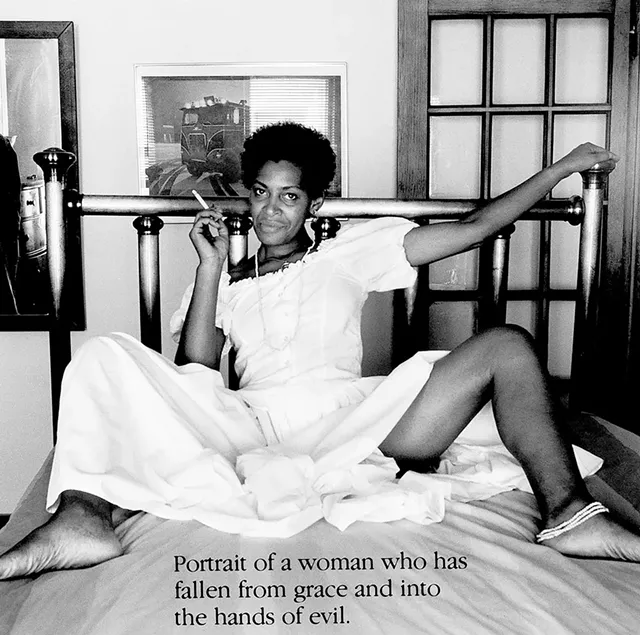 Courtesy Of Fleming Museum Of Art/light Work
"Portrait of a Fallen Woman" by Carrie Mae Weems
Carrie Mae Weems' "Portrait of a Fallen Woman" presents a stereotype in order to complicate it. The photo is a staged vignette depicting Weems in the title role, sitting on a bed and glaring sullenly at the viewer, toward whom she defiantly spreads her legs. Centered between her feet, on the photo itself, a typed message identifies the woman as fallen "into the hands of evil." The image evokes the history of African American female slaves' forced sexual service and the even longer history of patriarchy's enforcement of the angel-whore dichotomy.
Is the subject unapologetically asserting her sexuality to reject those histories or to embrace and defiantly illustrate them? The burden of interpretation is again placed on viewers, who might find their vantage spot uncomfortable.
In "Cloud," Tommy Kha, a queer Chinese American photographer from Tennessee, caricatures the ways in which American visual culture has typically represented his community: as invisible or, if pictured, as asexual. A self-portrait solely of his expressionless face, the image wraps the rest of Kha in white bedding, which fills the frame. The photo suggests that even in the most private of spaces — their beds — queer Chinese Americans are invisible. Kha welcomes conflicting responses, according to an interview in Aperture, including the accusation that he is perpetuating stereotypes.
Among the most confrontational works is Amy Stein's "Peri, Route 64, Outside Lexington, Kentucky." The photo shows a girl of about 10 with her arms crossed inside her pink, short-sleeve shirt, standing beside a highway a few feet from the open door of a pulled-over vehicle. With her matching pink pants and hair carefully pulled back with a pink flower clip, she appears on her way to a special event. While she stares down the viewer with an accusatory glare, her hidden arms and apparent chill communicate vulnerability.
The work looks staged but is actually part of Stein's "Stranded" series, for which she traveled the country recording scenes of roadside car breakdowns. The photographer's intention is to draw parallels between the American dream (the car) and its failure; she sees the government's inability to help its citizens — especially following Hurricane Katrina — mirrored in individuals' reluctance to stop and help people who are clearly in trouble.
One wonders if Stein herself helped all the stranded people she stopped to photograph. But the work, like the girl's gaze, is aimed at viewers, who are forced to consider whether or not they would respond with generosity.
Courtesy Of Fleming Museum Of Art/light Work
"Be Strong and Do Not Betray Your Soul" by Charles Biasiny-Rivera
The curators derived the exhibition's title from a photo by Charles Biasiny-Rivera that captures an unstaged moment on a city sidewalk. In it, an older man leans over a child wearing a Batman-like mask and cape, perhaps to adjust the latter. Over the man's right shoulder, we see two strolling figures whose faces have been carved out, leaving small black holes.
Biasiny-Rivera used hand-applied color to create a frame around the image and encircle the child's masked face with a halo of yellow rays, creating a Latin American saint's holy card out of an insignificant urban moment. A handwritten message below the photo reads, "Be strong and do not betray your soul. Carry your light to illuminate your destiny. Rejoice, for you are part of the mystery."
In a Light Work video, the curators say the text is "an exhortation to artists to stay true, to think expansively, and to imagine ... that they are truly shaping the world around them." Meanwhile, it's hard not to wonder about those missing faces: Are the cutouts meant to protect the individuals' identities? Does the artist think they don't qualify to be included in a holy card?
The only sure thing is that the world these artists have shaped, like the real world, is complex. m