"Revnisfjara Beach II" by Elizabeth Nelson
With the third annual juried exhibition at Catamount Arts, juror John R. Stomberg had his work cut out for him. The St. Johnsbury arts center opened its exhibition call to any artist in the U.S., in any medium. Most of the 600 artists who responded live and work in New England, but the bar was raised with the high number of entries and juried works selected.
Stomberg is director of the Hood Museum of Art at Dartmouth College and a distinguished curator and writer. Before joining Dartmouth, he was director of the Mount Holyoke College Art Museum, and held leadership positions at the Williams College Museum of Art and the Boston University Art Galleries. For this exhibition, he chose 77 works in sculpture, painting, drawing, collage, woodcut, fiber arts, digital prints and mixed media.
"The Artist (With Dracula)" by Leslie Sills
Catamount's gallery director, Katherine French, also an acclaimed New England curator, has been working to expand professional opportunities for artists in Vermont's Northeast Kingdom and beyond. In a conversation about "Arts Connect," she said her team chose no theme for this show, but several emerged nonetheless. One was landscape and the natural world; another, surrealism.
Though Stomberg juried the art, it was up to French to determine where to place it. To give adequate attention to each piece, she hung work throughout the first floor of the center, creating small, intimate viewing spaces at either end of the building. The remainder, including sculptures, large-scale paintings and photographs, was installed in the main gallery. Taking advantage of the soaring ceilings in this former Masonic Temple, French hung much of the work salon style. A number of larger pieces help draw viewers to different areas of the space.
One such work is Wally Gilbert's "Trees — Blue," a digital print on aluminum. At 60 by 40 inches, the photograph commands attention. An image of a tree or trees appears to be superimposed on another; different layers of colors emerge, beautifully dominated by orange and blues. Patterns appear as the colors, images and layers interact.
Gilbert's work guides the viewer to the quieter, enduring "Cloud Mountains," a 33-by-40-inch oil painting by Burlington artist Valerie Hird. She was awarded the $500 Robert Manning First Prize.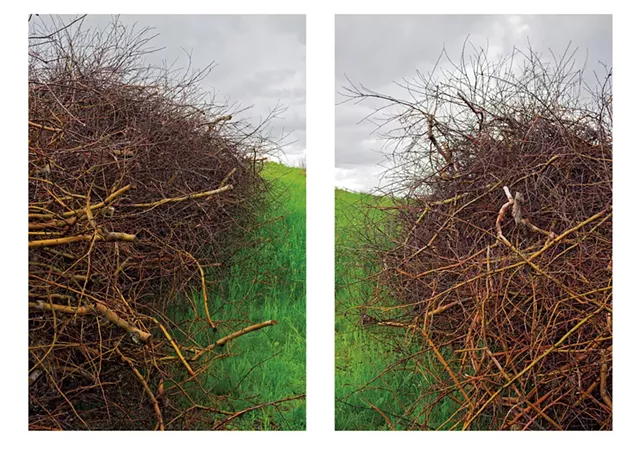 "Apple Pruning Brush Piles in Spring Rain, Putney, VT" by Brent Seabrook
In an exhibit of this size and range, it's not surprising to discover diverse backgrounds, training and career paths among the artists. Gilbert, who is based in Cambridge, Mass., comes to photography from a career in science. He shared a Nobel Prize in chemistry, cofounded a Fortune 500 company and ran a laboratory at Harvard University. In 2001, he retired from Harvard and launched an artistic career centered on digital photography, which had long been his passion.
The photos on exhibit explore a range of styles, territory and emotions. Also from Cambridge, Mass., Susan Lewinnek offers "Breakfast Preparation" (20.25 by 114.25 inches), a work that illuminates the mystery of foreign travel, the thin veil that obstructs true connection and, symbolically, how women's work is taken for granted. "Linens," by photographer Richard Perry of Lowell, Mass., also references the subtle mystery and beauty of foreign places. In "Outline of the Future," Astrid Reischwitz, of Germany and Bedford, Mass., seems to show the uncertain future for girls and young women bound by tradition.
William BetcherA reckoning with the past occurs in William Betcher's wet-plate collodion tintypes. The Needham, Mass., artist reworked Civil War tintypes, mounting them in unique frames in a chillingly familiar reimagining. The sons of war seem to be born and die again in these works. Like Betcher, Rachel Portesi of Saxtons River experiments with antique methods of tintype or wet-plate collodion. She received an honorable mention for her compelling square-format photograph.
Marlboro photographer Brent Seabrook's 24-by-33-inch color diptych, "Apple Pruning Brush Piles in Spring Rain, Putney, VT," pairs two views of cut branches in a field of vivid green against a gray sky. The simplicity of the images harnesses the chaos of the piles of brush in this provocative outdoor still life.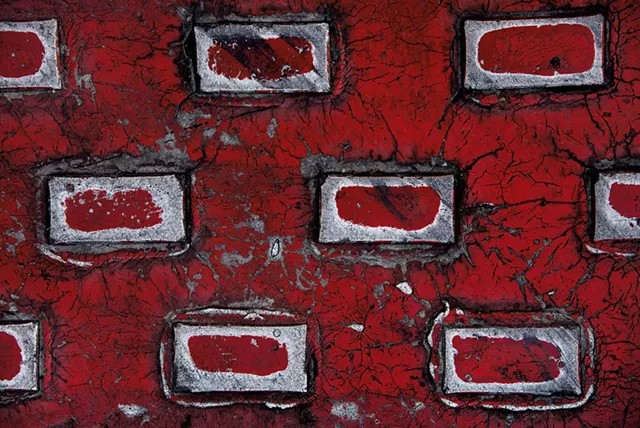 "Road Paint" by Steve Edson
Photographers Esther Pullman of Cambridge, Mass., and Keith Chamberlin of St. Johnsbury use the light of day to reveal line, form and color in architecture and objects. Others make use of techniques that render the results more like paintings. Belmont, Mass., photographer Steve Edson's 30-by-20-inch digital photograph "Road Paint" and Newton, Mass.-based Ellen Fisher's "No One You Know: Study Cards for Artificial Flower Assembly #24" are two absorbing and very different examples.
"Stargrid," by printmaker and conceptual artist Ted Ollier of Medford, Mass., is a 34-by-40-inch giclée print and one of the few fully abstract works on exhibit. The work is one of a series that uses a grid to represent a year of Ollier's digital images, shot daily.
Throughout the exhibit, French has created pairings and groupings, making good use of the salon-style arrangement. Johnson artist Kathy Black's 24-by-16-inch oil on canvas, "Kohara," depicts a smiling woman (a self-portrait, perhaps) holding a large, freshly caught fish. While the fish is more likely a brown trout, the title refers to the goddess of tuna in Polynesian mythology. An alternative meaning offered by The Maori-Polynesian Comparative Dictionary, "to throw a flash of lightning, as a deity," is underscored by Black's thick, confident brush strokes and her subject's broad smile.
Directly below "Kohara" hangs Leslie Sills' "The Artist (With Dracula)," a 36-by-24-inch oil on panel that depicts a child in a wide stance holding a small Dracula figure in her hand. Paintings and objects on the walls and in the rooms behind her conjure a surreal environment. Sills, of Brookline, Mass., writes on her website that she is drawn to "images of children, in particular, whose expressions of joy, playfulness, vulnerability, sadness or fear are on the surface." She keeps a file of newspaper images that resonate with her and uses them to spark her imagination.
"Breakfast Preparation" by Susan Lewinnek
Sills' painting captured Stomberg, too. She tied with Jamie Young of Ashfield, Mass., for the second-place prize, which came with a $250 award.
Space does not permit a description of every work in an exhibit of this size, but three others deserve a mention. Lynn Peterfreund of Leverett, Mass., sequenced 206 monotype prints of crows to create a 62-second animation with sound. She painted and pulled the one-of-a-kind prints by hand; together, they show the bird strutting, stalking and then taking flight through field and forest. Peterfreund has captured movement and mythology in this captivating sequence.
"Cloud Mountain" by Valerie Hird
In just one painting, "Reynisfjara Beach," Glover artist Elizabeth Nelson reveals — and revels in — the beauty of Iceland, where she spent a five-month residency. The 24-by-36-inch acrylic is painted on paper with a wood-panel backing. Nelson gives a sense of the turbulent splendor of the place, and her nuanced colors shift the image from realistic to abstract and back. The mesmerizing work received an honorable mention.
Visitors entering or exiting the main gallery should be sure to take note of "Meltdown in Blue" by Brookline, Mass., artist Karen Moss. She repurposes simple, wholesome images that look naïve to a contemporary audience, often referencing her own childhood. A young boy sits by a rushing river, perhaps during a spring snowmelt. The entire scene is shrouded in light blue, like an architectural blueprint for an imaginary past.
Catamount Arts deserves to be commended for this no-holds-barred call to artists and the resulting exhibition of great depth, style and achievement.