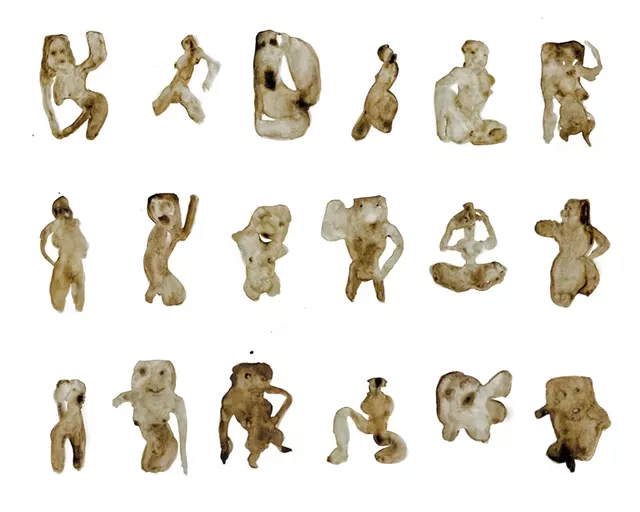 "The Divine Stain" by Sarana Mehra
The Oxford Dictionaries define a selfie as a "photograph that one has taken of oneself, typically one taken with a smartphone or webcam and uploaded to a social media website." But most of us don't need Oxford to know what selfies are — at, well, face value, anyway. Seeing people take their own picture in public — documenting a special moment, creating "I was here" evidence of a vacation — is commonplace, and the resulting images are ubiquitous online.
Naturally, the new entanglement of self-portraiture and the internet has spurred a whole micro-genre of art and scholarly studies. The first book dedicated to the selfie phenomenon, cultural critic Alicia Eler's The Selfie Generation: How Our Self Images Are Changing Our Notions of Privacy, Property, Sex, Consent and Culture, will be released in November.
Installation view of Michael Rocco Ruglio-Misurell's "Enough to Divide a Room"
Independent Montréal-based curator Sarah McCutcheon Greiche is contributing to this growing body of work. Her show "Art of the Selfie" is currently on view at the Helen Day Art Center in Stowe. The tantalizingly sparse exhibition occupies two of the center's galleries; in the adjoining third space is a separate show, "Enough to Divide a Room" by Berlin artist Michael Rocco Ruglio-Misurell. Though the two are distinct, Ruglio-Misurell's sculptural investigation of screens, barriers and grids seems to be in provocative dialogue with Greiche's inquiry.
A critical element in "Art of the Selfie" is the division of its 11 artists into "Historical Selfies" and "Contemporary Selfies." In this sense, Greiche acknowledges the severe break in how we think of self-portraiture practices pre- and post-internet. Within the gallery space, though, the works intermingle.
In the west gallery, for example, an iconic 1990 photograph from Carrie Mae Weems' "Kitchen Table Series" is sandwiched between recent small-scale sculpture and painting by Los Angeles artist Sarana Mehra. None of the works is a selfie in the traditional sense. In Weems' black-and-white photo, the artist poses herself as a mother "putting her face on" at the kitchen table while her young daughter also applies makeup nearby.
"Untitled (from the 'Kitchen Table Series')" by Carrie Mae Weems
In contrast to Weems' faux-voyeurism, Mehra addresses the performance of femininity using tropes of the ancient female archetype. "The Divine Stain" series features 50 small-scale gouache paintings of watery female figures arranged in a grid. It's no accident that their rusty brown color could be interpreted as dried menstrual blood.
Exhibition text tells us that the totemic figures are modeled after images of women that Mehra appropriated from the internet. Many occupy sexual and/or sexually explicit poses. The silhouettes of arms raised, holding the phone at the most flattering angles, are unmistakable. Nearby, these feminine apparitions seem to blossom into three dimensions in Mehra's "Selfigurines" — unprecious, pocket-size sculptures in clay that reference the Venus de Willendorf.
On the whole, this exhibition is slanted toward the feminine, not least because seven of the 11 artists represented are women. Even portrait king Andy Warhol appears in drag, in a photograph taken by Christopher Makos. Performative portrait godmother Cindy Sherman is present in the 1983 photograph "Cindy Sherman in Turban," in which the notorious chameleon is browned and bronzed and ... wearing a turban. "The Current" features performance icon Marina Abramović in the context of her 2012 Museum of Modern Art exhibition "The Artist Is Present." Her eyes are closed; if she can't see us, can we see her?
The weight given to women artists suggests a particular link between the construction of identity and the performance of gender. As John Berger wrote in Ways of Seeing, "A woman ... is almost continually accompanied by her own image of herself ... From earliest childhood she has been taught and persuaded to survey herself continually."
Surveillance is a critical theme here. We survey ourselves and facets of our identity with a self-portrait. We survey the internet for information about other people's identities. With the selfie, the two functions collide.
From "Inspired by Real Events" by Rafael Lozano-Hemmer
During a recent gallery visit, first graders from Stowe Elementary School sat on the floor looking up at a monitor that was screening work by Montréal artist Rafael Lozano-Hemmer. "Have you guys heard of a surveillance camera?" the teacher asked. Nods, a round of yeses. The teacher went on to discuss Lozano-Hemmer's 2004 video "Inspired by Real Events," in which participants climb a ladder to turn off a surveillance camera. Next to the mounted monitor are three video stills of outstretched hands, captured just prior to the camera's switch-off.
"Art of the Selfie" works to expand our understanding of the space between one side of the screen and the other. The selfie is not as simple as snapping a picture of oneself; the paradox of the internet is that even the most intimate forms of sharing are mediated by a screen.
Ruglio-Misurell's ethereal sculpture and installation act like an abstract foil to Greiche's query. Ten works fill the gallery. Mounted on the southern wall is "Grid 1," a simple rectangular grid made of rope. "Impressions," a series of 18 monoprints, is laid out in two neat rows directly over this grid. Like Mehra's "The Divine Stain," this layering of artwork and image evokes the dominating grid form of Instagram.
The layering is advanced by three sculptures titled "Mesh 1," "Mesh 2" and "Mesh 3." These constructions of synthetic mesh are patterned with the outline of spray-painted objects and adorned with everyday items and detritus, like rocks and rusted pieces of metal. The works appear impermanent and fleeting — like a Snapchat video, and memory itself.