Courtesy Of Seaba
"Rivermouth" by John Douglas
Judging the relative aesthetic quality of works of art is not a pain-free process, Joy Glidden acknowledges in her wall-text intro to the South End Art Hop's juried show. "There is an initial dread coupled with the looming thought — what if all the work SUCKS!" writes Glidden, a New York City art consultant who served as the Hop's one-woman jury.
All the work did not suck, she assures. But as a juror, Glidden had the job of deeming some pieces more or less successful than others. And she duly omitted from the juried show works by about 80 percent of the 300-plus artists represented in this year's Hop.
How does an arbiter of artistic worth go about separating the best from the rest?
First, Glidden explains in her opening statement, she established the general aesthetic level of works on display at a score of venues. Skill of execution, she adds, was a key determinant in choosing, first, the 50 or so pieces included in the show at the South End Arts and Business Association and, ultimately, the three prize winners. Those were John Douglas' image "Rivermouth"; Paige Berg Rizvi's mixed-media painting "Circle City"; and "Drill, Baby, Drill," a mixed-media work by John Brickels.
Matthew thorsen
"Circle City" by Paige Berg Rizvi
Glidden also selected three sculptures as the finest from an outdoor group that included only a few new pieces. She awarded first prize to Aaron Stein for "Big Hit," a 1995 Buick Century that he recently wrecked in a demolition derby at the Champlain Valley Fair. Stein's mud-spattered smash-up can be viewed just to the south of SEABA's gallery at 404 Pine Street.
Second prize in sculpture went to Gerald Stoner's "Charismatic," an assemblage of clunky, wiry metal parts welded into the shape of a horse. It's pastured in front of the South End Kitchen. Forrest White was also recognized for "Kniv," a framed stone sculpture affixed to the Pine Street wall of the Soda Plant. It consists of fitted blocks of rocks punctuated toward its right corner by a sun-like yellow disc.
Some viewers will disagree with Glidden's choice of winners, but she cannot be said to have a narrow range of tastes. The works selected for the juried show vary in scale, medium and genre. Included are two enormous abstract paintings by Seb Sweatman — "World Cup Footballer" and "World Cup Spectator" — as well as some small representational oils and watercolors. And no one can ignore Meg Cox's cardboard installation of two nearly lifesize nude women. They might be unevenly matched wrestlers, or members of a yoga class gone horribly wrong.
Art Hoppers themselves picked a winner different from Glidden's. This year's People's Choice Award — decided on the basis of votes cast by visitors — went to a photo by Stephen Beattie taken at first light in Aspen, Colo. It shows symmetrical sides of a hilly valley as it narrows toward a pinkish mountain range, with the whole setting exquisitely mirrored in a lake. It's the sort of picture National Geographic might publish — if it didn't look as though it had been Photoshopped to the point of impossible perfection.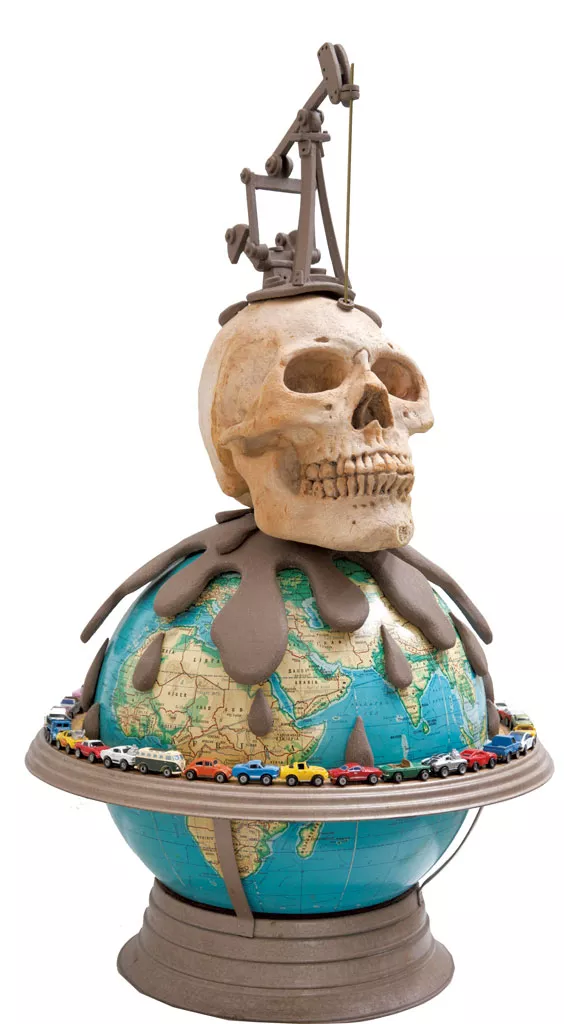 Matthew thorsen
"Drill, Baby, Drill" by John Brickels
Glidden clearly has an eye for art that's topical. Each of her three prize winners alludes to either climate change or militarism.
Douglas' deceptive work — not a photograph as it first appears but a 3-D modeled image using Vue Infinite software — was Glidden's top pick. It situates a line of wind turbines in a lake with oil derricks dimming in the haze behind them. In Berg Rizvi's encaustic-on-wood painting, which ranked second, four white-silhouetted and shadowed airplanes circle a map collage outlined with target coordinates. Brickels' mordant "Drill, Baby, Drill" consists of an oil pump atop a human skull, which has in turn been mounted on a globe that's being covered by an ooze made of Brickels' characteristic brown clay. A bumper-to-bumper array of toy cars rings the Equator in this third-prize piece.
Because she was beckoned to Burlington, the juror may have felt compelled to favor politically hip art — in tune with local trends — over traditional work that transmits messages solely on aesthetic wavelengths. A different referee — one with more conservative tastes — might have made Frankie Gardiner's painting "Forward Bend" the No. 1 choice, followed perhaps by Sandra Reese's oil painting "White Peonies " and "Spring Day," a fiber piece by Claire Graham-Smith.
In a watercolor reminiscent of a Degas painting of a model drying her hair, Gardiner fills most of a smallish paper surface with the image of a woman in a yellow skirt and bluish top who's doubled over, her red arm dragging beneath her head. It's hard to understand why no one has paid the requested $200 to become the owner of this simple but captivating work.
Graham-Smith combines pieces of fiber in a wall hanging that persuasively suggests the burbling Earth's muddy, flowery awakening beneath a turbulent, streaked sky.
"White Peonies" is an old-fashioned floral in the best sense. Reese covers her canvas with full-petaled flowers, pinkish-purple buds and, as a deft counterpoint, dark-green stems flecked with white. That's all there is to this oil painting — and it's plenty.
INFO
"The Original Juried Show of 2014," SEABA Gallery in Burlington. Through September 30. seaba.com/art-hop/juried-show
The original print version of this article was headlined "Best of the Rest"