Courtesy Of Paul Rogers Photogrphay
"4th Avenue"
If you stand at a distance and squint, Ann Young's paintings might appear to consist of gemstones. Her pigments are jewellike, rich and earthy. But the merit of these works does not reside in sensuous color alone, because, of course, content cannot be ignored. Nor can technique. Young has a mastery of her medium — oil — and the additional skill of mixing mystery and metaphor into the paint.
"Fellow Travelers," Young's solo exhibit at the Vermont Supreme Court Gallery, consists of 26 paintings of people who are literal or figurative travelers in life. The sizes vary, and so do the themes. Some are relatively straightforward, if moody, portraits. Some are contemporary genre scenes in seemingly mundane settings, such as a subway platform. Other paintings are surreal, even apocalyptic. All of Young's works invite viewers to study them, as one would tea leaves or a looking glass, to extract meaning.
Each of the portraits is compelling, the subjects primarily female. Aside from a quartet of guileless blond children, most are women looking down or to the side, with expressions ranging from preoccupied to resigned. No smiling, faux-cheerful faces here.
One portrait of an old woman, "Speak to Me of Time Gone By," is utterly arresting. The subject's silver hair is drawn back in a bun. Intriguingly, her lined face is warmly illuminated on her left, as if by firelight, while a softer, whiter light falls on it from the right. Behind wire-rim glasses, her eyes are open wide, perhaps in surprise. Her gnarled hand is raised almost to her slightly open mouth. Is she lost in the fog of forgetting, or is she remembering something?
Either or both might be true. Young has painted into the sepia-toned background a shadowy swirl of faces and things — house, apron, airplane, piano — that we assume are shards of memories. Any viewer who has lost a loved one to dementia or Alzheimer's disease is likely to find emotional resonance in this moving work.
On her website, Young places some of her paintings in a category she calls "In a Dangerous Time." Her explanation reads in part, "These works reflect my personal feelings of distress and hope about the situation that we and previous generations have left for our children."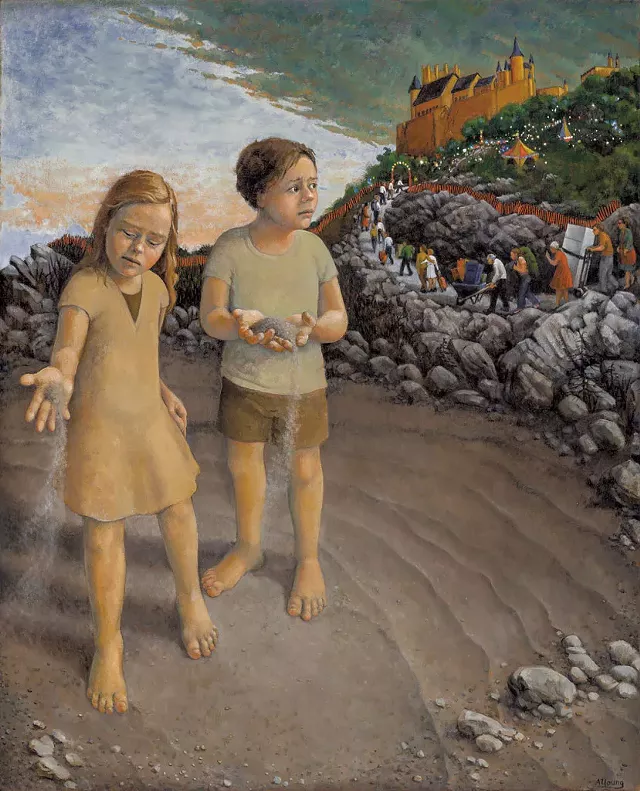 Courtesy Of Paul Rogers Photogrphay
"Legacy"
One of those works, "Legacy," is among the more disturbing images on view in the Supreme Court Gallery. A young boy and girl stand on a beach, large in the foreground, each letting a handful of sand sift through their fingers. They look unhappy. Behind them, Young has painted a steep hill topped by a medieval-era fortress. Adults walk upward on a path, most ferrying possessions in backpacks or suitcases or wheelbarrows. One man even pushes a refrigerator-size box on a dolly. They pass through a gateway from which an orange-slatted storm fence stretches out in both directions, bisecting the hill. A tree-covered section just below the fortress is dotted with colored lights and a couple of circusy tents.
"Legacy" is rich in symbolism that might evoke different interpretations, but it's hard not to see "caravan" in that stream of fleeing people, their eyes on an assumed source of protection at the end of the road. It's impossible not to read sadness in the children's eyes as the very earth slips from their hands.
Young's parable is even more pronounced in "State & Main," in which a barefoot girl clad in a sunny yellow dress and red jacket stands at the titular intersection — which is about to be submerged. The water lapping at her feet stretches into the horizon — an iceberg bobs in the distance. Buildings at the other end of the city block are sinking. Above the street signs, another sign reads "No exit." While the indicators of disaster here are perhaps too obvious, Young's composition and strong coloration give the painting a sense of urgency.
Pamela Polston
"Pulling My Selves Together," detail
It's hard to know what to make of "Pulling My Selves Together." Easily the largest painting here, the long horizontal triptych presents clusters of people scattered across a verdant landscape, with mountains in the distance. In the closest group to the right, men and women sing or play instruments, conducted by a woman in a bright red dress. One man, with hand to head, seems distraught; a woman pursues a small girl who clutches the leash of a large black dog; several cats and tiny, prehistoric-looking creatures romp in the foreground. Another assembly of men, women and children stands on a more distant hillside for no apparent reason, while several individuals with orange backpacks head toward a peak.
Young implies momentum toward something unseen on the left — where the little girl and dog are headed — while depicting most of the people in the scene as oblivious. The ambiguity of this sumptuously painted tableau makes it all the more captivating.
The works Young categorizes under the rubric of "Mass Transit" show people coming and going or waiting to do so. The settings are New York City subway cars or platforms, and the paintings benefit from strong graphic lines, the geometry of architecture and the familiarity of commuter postures.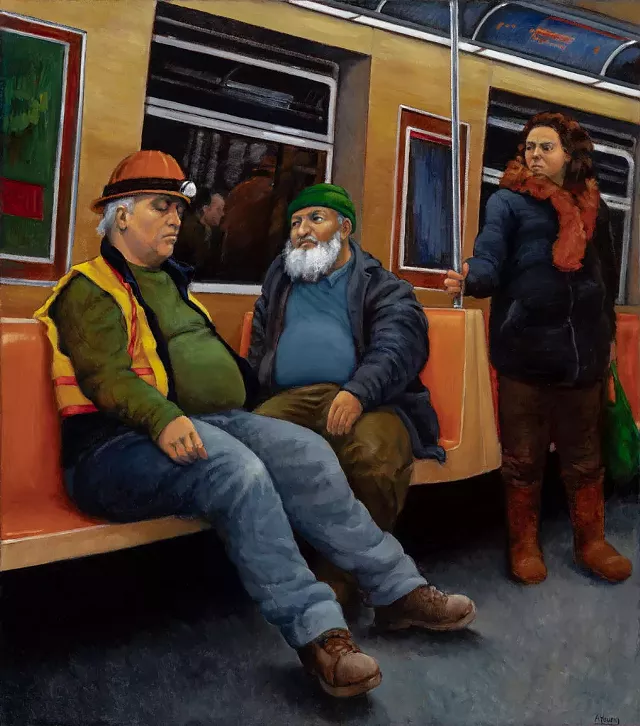 Courtesy Of Paul Rogers Photogrphay
"Thank God It's Friday"
A sense of relief is palpable in "Thank God It's Friday," in which two heavy-set working-class men sit in the quiet reverie of the weary. In "After School," an earnest mother and young daughter are perhaps reviewing the day's events.
In "Subway Car," three strangers sit side by side, isolated in their own thoughts: a young man reading a book, a young woman holding a floral bag, and an older woman with eyes closed and hands clasped, in meditation or a catnap. Their clothing and glistening skin indicate summer heat. Young's scenes are so vivid, all that's missing is the roar of the train, the squeal of brakes, the conductor's mumbled announcements.
Whether traversing the here and now or anticipating a dystopian future, Young's travelers easily take viewers along for the journey.