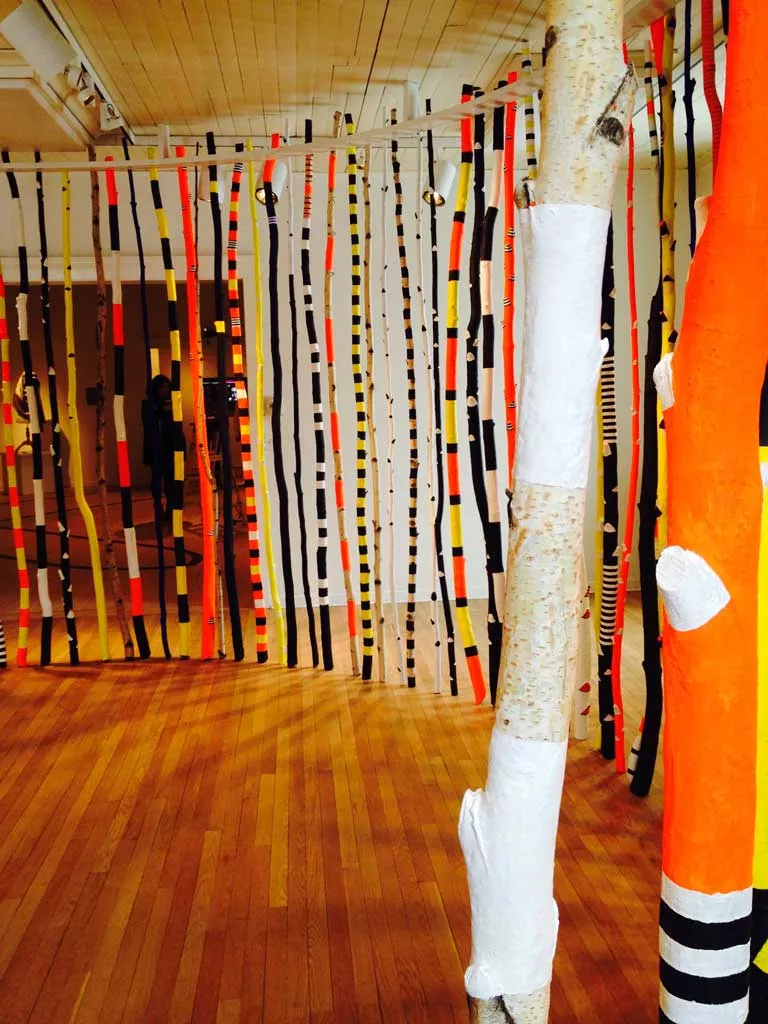 Photos Courtesy Of Pamela Polston
Stowe's Helen Day Art Center is a study in contrasts. From the outside, only a modest sign indicates the presence of a gallery on the second floor over the town's library. The 1863 Greek Revival building is tucked a block from the touristy path of Route 100; ensconced on a broad lawn with a gazebo in its middle, it looks like classic New England.
Step inside the gallery, though, and you'll often see artwork that is edgy, urban and socially relevant. While the BCA Center has raised the bar for contemporary exhibits in Vermont — recently joined in that mission by the Shelburne Museum's Pizzagalli Center for Art and Education — visitors might not expect to see a similar aesthetic on display in a ski-resort town. Unless, of course, they arrive in August, when the Helen Day sites contemporary sculptures downtown and along the bike path for its annual "Exposed" show.
Were the weather more clement, Andrea Lilienthal's current installation would fit companionably in such an exhibit. Instead, her sculptural piece made of painted birch saplings and titled "Roundabout" fills the Helen Day's East Gallery, all by its lonesome. Yes, a single work in a single room, and that presentation alone is more typical in a big-city setting. In this case, the artist herself is urban — San Francisco-born, Lilienthal now lives in Brooklyn — and her work would be right at home in a high-ceilinged, postindustrial loft.
At Helen Day, "Roundabout" just fits. And if it's initially surprising to find a single-installation exhibit, it quickly becomes clear that one — this one — is enough. To encounter any other pieces in the room would be distracting.
"Roundabout" consists of 120 nine-foot-tall saplings, stripped of branches and sometimes bark, and generally painted in stripes or solid colors. Anchored to a white-painted armature on the ceiling, the saplings stand in a circle some dozen feet in diameter. The piece has a commanding presence, rather like a barricade. But an opening in the circle on the side opposite the gallery's entrance lures a visitor to walk around it and step inside. And, as enclosures always do, this one instantly transforms the viewer's experience.
How that feels to an individual is subjective, but some universal verities do apply: Being outside looking in differs radically from being inside looking out, for starters. Artwork that invites viewers to enter it physically elicits emotional responses that more static work simply cannot. To this viewer, being inside "Roundabout" is more like being in a playhouse than a prison cell. As Rachel Moore puts it in her curator's statement, "the experience immediately shifts from feeling excluded to welcomed in an expansive, yet intimate space."
Lilienthal's work, while seemingly simple, calls up other complexities. She works exclusively with found, natural materials, yet paints them in decorative, tribal-looking stripes with acrylic; her palette in "Roundabout" consists of black, white, vivid yellow, cobalt blue and an almost blinding orange-red. The contrast invites us to contemplate our relationship with nature — so central here, and yet overlaid by starkly graphic patterning. "Roundabout," with its powerful circle-within-a-rectangle transformation of space, also evokes consideration of the built environment. With nonlinear materials, Lilienthal addresses ancient human responses to geometry.
Not least, her piece inspired this viewer to look closely at the literal trees inside this manufactured grove, to ponder and enumerate Lilienthal's aesthetic choices: the stripes, from skinny to wide; the colors. Seven saplings left unpainted, nine painted in solid colors — cobalt blue, orange, white. Is there a discernible code here?
Either way, there's a lot to think about in this lone piece. "Roundabout" facilitates a compelling art experience, as visceral as it is visual.
The original print version of this article was headlined "The Power of One"