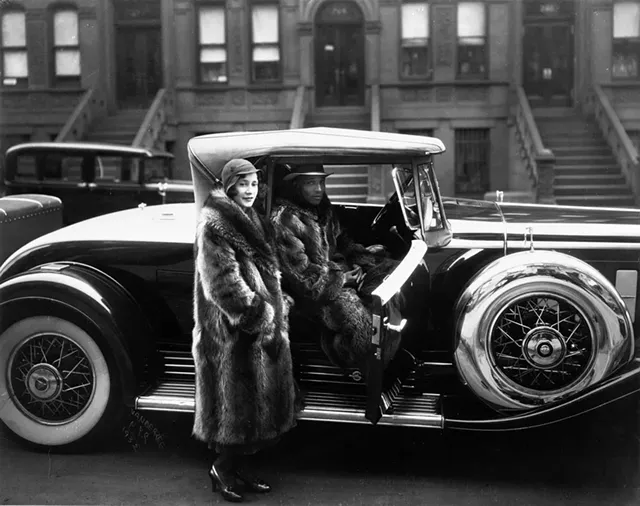 Courtesy of Middlebury College of Art
"A Harlem Couple Wearing Raccoon Coats Standing Next to a Cadillac on West 127th Street," photograph by James Van Der Zee
In the Instagram profile of Estefania Puerta, a visual artist with strong ties to Vermont, she asks, "How am I not my selfie?" It's a funny and layered question, and it speaks to the complicated process of defining oneself and others through portraiture — particularly in the hyper-fast pace of the digital era.
For Middlebury College Museum of Art director Richard Saunders, though, the selfie phenomenon is but the latest chapter within a monumental tradition. Years in the making and now on view, "American Faces: A Cultural History of Portraiture and Identity" traces the myriad forms and uses of portraiture specifically in the United States. It incorporates more than 90 objects, from stately oil paintings of wealthy European colonists to a Fathead decal of LeBron James — and nearly everything in between.
Courtesy of Middlebury College of Art
"American Flag of Faces" exhibit, Ellis Island, N.Y., circa 1990-2011
What quickly becomes clear is that this most intimate type of image contains enough insight into the workings of history and power to induce vertigo. Luckily, Saunders has sorted his "rudimentary taxonomy of portraiture," as he calls it in exhibition text, into broad thematic categories. The exhibition comes in conjunction with Saunders' newly published, image-laden book of the same name. Both are divided into seven categories: "The Rich," "Portraits for Everyone," "Fame," "Propaganda," "Self and Audience," "Rituals, Power, and Memory" and "The Gallery."
From its outset in the so-called New World, portraiture was inextricably linked to money, class and power. From the 1700s to the 1850s, we learn, the vast majority of successful artists were commissioned to do "society paintings." In a pre-photography era, this practice was a primary way to commit one's likeness to history — though certainly not always accurately. A medium-size oil painting of 19th-century stage actress Charlotte Saunders Cushman is hung next to a daguerreotype of her; in the former she appears very youthful, rosy-cheeked and full of life. In the photo, she is plain and severe.
While arguably all personal portraiture demonstrates a certain wish to immortalize oneself, many of the works on view within "Rituals, Power, and Memory" address death and memorialization head-on. Among the most striking examples are seven small post-mortem photographs — a practice that was once commonplace. In Edwin Romanzo Elmer's 1890 painting "Mourning Picture," the artist realistically depicts his young daughter, who had died months earlier, in front of his and his wife's home with some of the girl's favorite things.
Saunders presents public forms of commemoration under the auspices of mourning, as well. On view is a miniature study for Frederick Hart's "Three Soldiers," a traditional bronze monument commissioned to soothe the uproar over Maya Lin's controversial Vietnam Veterans Memorial in Washington, D.C. In a similar but more socially significant vein is a study from the Robert Gould Shaw and Massachusetts 54th Regiment Memorial, celebrated for its acknowledgment of African American soldiers in the Civil War and designed by Augustus Saint-Gaudens in the late 1800s. William Walcutt's 1854 painting "Pulling Down the Statue of King George III at Bowling Green, July 9, 1776" gestures toward the symbolic value of public memorials, showing early American rebels tearing down the statue of the monarch, as aghast Loyalists looked on.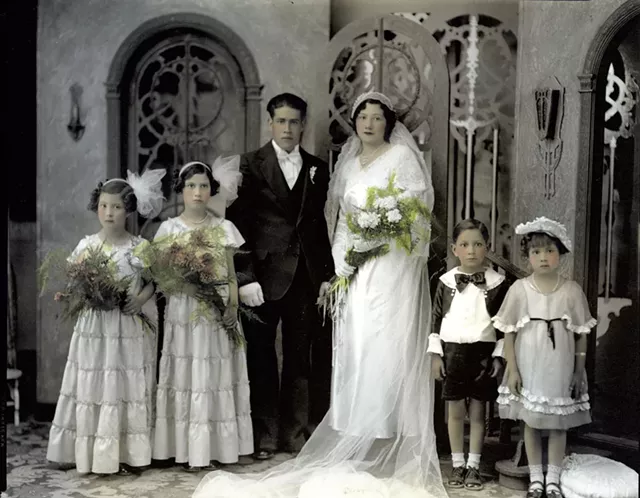 Courtesy of Middlebury College of Art
"Wedding of Caroline Pedregon and Jesus Jose Urquidi," photograph by Alfonso Casasola
The majority of works in the exhibition reflect America's historical project to construct an Anglo identity, but a selection of images and objects points to the country's diverse populations and fraught histories of colonization, slavery and racism. These include an Indian Peace Medal featuring the silhouette of second president John Quincy Adams, a 1924 panoramic class-portrait-style photo of Klanswomen near Dayton, Ohio, and James Van Der Zee's iconic 1932 photograph of a wealthy Depression-era African American couple, "A Harlem Couple Wearing Raccoon Coats Standing Next to a Cadillac on West 127th Street."
Not surprisingly, works by modern and contemporary artists most radically challenge traditional notions of the portrait as likeness. Marcel Duchamp's "Boîte-en-valise" [Box in a suitcase] is a portable cardboard box containing some 80 miniature reproductions of the artist's works. "Genetic Self-Portrait: Hair" by Gary Schneider is an enlarged image of the artist's hair follicle, which exhibition text suggests takes the portrait form to its "logical extent."
Courtesy of Middlebury College of Art
"Shón-ka-ki-he-ga, Horse Chief, Grand Pawnee Head Chief," oil painting by George Catlin
Bangladeshi American artist Hasan Elahi perhaps comes closest to the themes of digital intimacy, immediacy and surveillance embodied by the selfie. For "Tracking Transience," Elahi used (and continues to use) media technology to continuously track and broadcast his own location — as a form of protection and what Cabinet magazine called an "ongoing alibi." Elahi conceived the work after his post-911 investigation by the FBI. As Anne Collins Goodyear writes of his work in the 2016 exhibition catalog for "This Is a Portrait If I Say So: Identity in American Art 1912 to Today," at Bowdoin College Museum of Art: "What was subversive in 2003 is now common."
Though photography is not permitted in the gallery, visitors are given two opportunities to create their own portraits. The exhibition includes a contemporary (free) digital photo booth designed to look like its popular, older, analog counterpart. It's a delightful touch and offers an interactive reminder of the visceral appeal of having one's picture taken — and personalized souvenirs.
The second interactive component is downstairs in the museum, where text suggests that former president Barack Obama's selfie moment in 2013, at Nelson Mandela's memorial service, was a definitive moment in selfie history. Visitors are invited to snap and share their own, with the hashtag #MiddSelfie, to become a part of the exhibition.
With "American Faces," Saunders has laid a strong and expansive (overwhelmingly so, at times) groundwork for considering practices of depicting both self and personhood through the wide lens of history. This is not a breezy exhibition. If you stay there long enough, you might begin to feel the lines between the selfie and other forms of portraiture begin to dissolve. After all, haven't we always been using the technology at hand to show ourselves, as we are and as we want to be remembered?