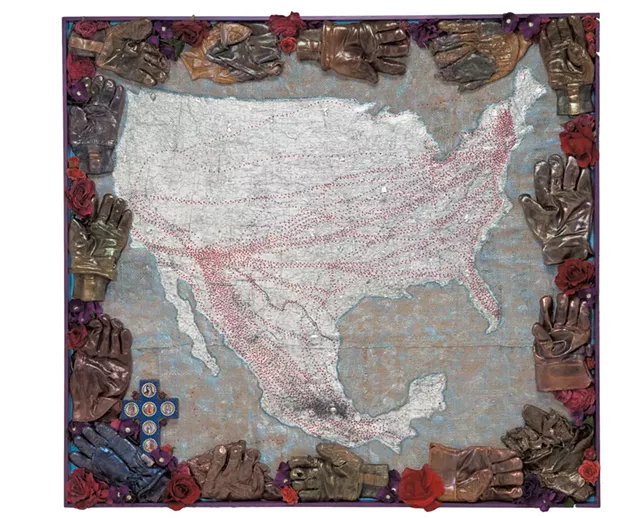 Courtesy Of 77 Gallery
"Workers' Mandala" by B Amore
Try inviting a dozen or so artist friends to submit a few pieces of their art and see what happens. That was how William T. Ramage made an initial call to artists for the exhibition "70+: Gero-Transcendence" at Rutland's 77 Gallery. No advertisements or announcements. Instead, Ramage suggested those artists invite other artists, creating a kind of egalitarian curatorial process.
For his part, Ramage prepped the 7,000-square-foot gallery in hopes that 40 or so artists might show up. Then he waited. The resulting show is "an acre of art," according to Ramage, the curator and imaginer behind "70+: Gero-Transcendence." With 65 participating artists and more than 400 works on two floors, Ramage calls it "Rutland's largest exhibit ever."
While those numbers are impressive, the show centers thematically on the number 70. The single requirement to participate was that artists must be at least 70 years of age; some are much older, and Ramage himself is a dynamic 77. Collectively, the artists have nearly 5,000 years of experience — and it shows. Most of the artists here are highly accomplished; many have achieved international recognition. This is an exhibition of diverse styles and mediums, filled with energy, vitality, fresh perspectives and political commentary.
As the entry deadline approached, the quantity and quality of the work submitted exceeded Ramage's hopes, he recalled in an interview. There was just one problem: The volume of artwork surpassed the available exhibition space at 77 Gallery. So Ramage expanded the show to the second floor and asked for even more submissions.
Courtesy Of 77 Gallery
"Winter Window" by Elizabeth Nelson
While the first floor of the building has been operating as 77 Gallery since the fall of 2017, the upstairs hadn't been used in years, as the peeling paint attested. A crew of several artists and lots of student volunteers primed and readied the walls of the space, formerly home to Central Vermont Public Service.
The exhibition wasn't curated in the usual sense, in that Ramage didn't choose some submissions and reject others; that would interfere with the ethos of the artists, he said. Instead, his challenge was to hang all of the work in a cohesive, evocative ensemble.
The result is an enticing, often exciting, walk through decades of art making. The list of the participating artists, from B Amore to Ann Young, is too lengthy to reproduce here. For this reviewer, however, a number of works stand out.
Sarah Ashe's "Convoy (Parade)" reignites memories of loss, rescue and new beginnings related to Hurricane Katrina. Her small articulated sculptures of boats, people and belongings flow by in a world turned upside down, suggesting ideas of resilience, home and community.
Nitya Brighenti's masterful, soulful oil-on-canvas paintings convey a time out of time and a place that is unknown yet as familiar as home. Carrie Gelfan's portraits are vivid, jump-off-the-canvas visions, quirky snapshots filled with people you know, or wish you did.
Ramage's own work appears in a second-floor installation piece that is startling to stumble on — especially if visitors encounter it via a 3D standing figure that they will likely mistake for a real person. Ramage has always been interested in working with alternatives to the traditional vanishing point. Here he addresses ideas of creation, infused with sexual and spiritual energies.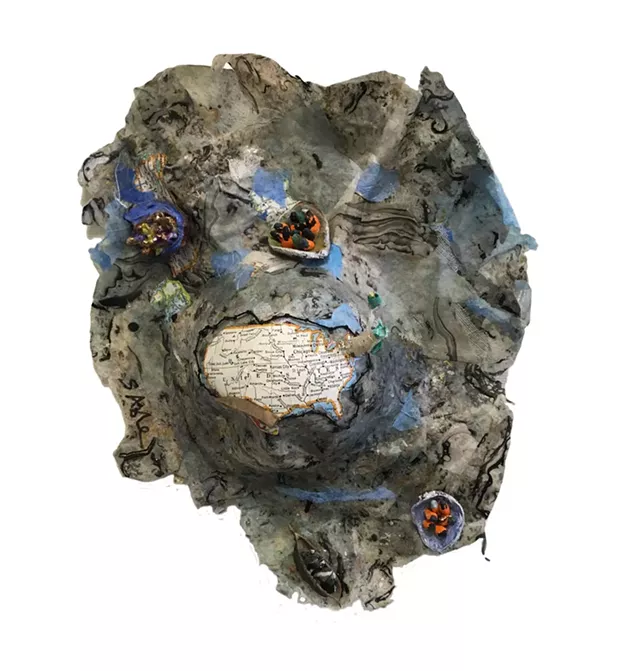 Courtesy Of 77 Gallery
"No Refuge" by Sarah Ashe
Randolph-based nonagenarian Ronni Solbert has worked as a book illustrator, painter, sculptor and photographer, with her work exhibited widely in the United States and abroad. Her four paintings here bring to mind Morris Louis and Helen Frankenthaler, both of whom applied color in assured swaths that sweep the canvas. Solbert's dark mixed-media palette in "Venus Lunar Probe" and the central "eye" of the painting are quietly riveting.
Across the room hang two very large (perhaps eight feet high) drawings by Bennington-based Tim Secord that conjure up trees, woods, marshland and hills. Using colored and graphite pencils, he makes marks, lines, swirls and whorls to build dense layers of imagery.
The prolific Fran Bull, based in Brandon and Barcelona, has several large-scale works on exhibit. Of particular interest is "Flamingo Stereopticon," a 1985 photorealist painting on loan from Bennington College. It appears juxtaposed with more recent abstract work.
Despite the sheer volume of works on display, the exhibition does not feel like a visual barrage. Just as interesting as the art is a series of video interviews with the artists, which visitors can sit and view. The artists talk about their work, lives and influences, providing links across the generation(s) represented here. It's fascinating to hear their stories and then look at their artwork again.
Courtesy Of 77 Gallery
"Crushing Violence" by John Douglas
One example is Burlington artist John Douglas. His mixed-media print "Crushing Violence" can be read as a war-torn street scene. From his interview, the viewer learns that Douglas dipped an assault rifle in ink, laid it on Masonite and proceeded to run over it with a bulldozer. That explanation yields a whole new understanding of the piece.
Ramage noted that the idea for this exhibition isn't new to him. "I've wanted to do this for years," he said. "So many people come and see the show, and they're stunned when they discover the artists' ages.
"I think we're the most interesting and creative generation," Ramage went on. "But we got the 'irresponsible' label. We're the bridge from the modern to the postmodern world, and you needed that kind of wacky and wild transition."
In a curatorial statement, Ramage further explains, "If you were born between 1938 and 1949 ... this makes you a participant, whether you resisted, were unaware, ignored, bore witness, contributed or actively participated at the heated core of a culture redefining itself.
"Many of us who are now 70-plus were the unwittingly iconoclastic youth that challenged, dismantled and inventively replaced what was a culture that had outlived its viability," he continues. Ramage suggests that the youth of the '50s, '60s and '70s were countercultural not because of sex, drugs, and rock and roll, "but because they were the impassioned pioneers exploring the uncharted frontier of a new era that ran counter to the prevailing culture."
Ramage's idea that his generation's legacy is one of cultural empathy is worth considering. After all, we're still talking about it, singing its songs, and revisiting its politics and rebellion.