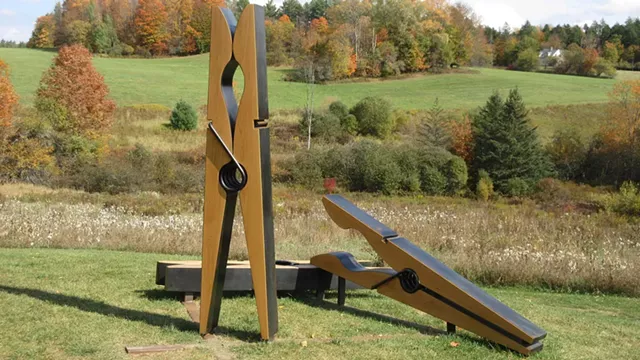 Amy Lilly
"Hammered, Welded, and Sprung" by Flywheel Industrial Arts
It was a measure of how starved for art Vermonters are that, on a recent Tuesday morning, a steady stream of people showed up to tour Art at the Kent in Calais. The beloved annual exhibition, begun 12 years ago by curators Nel Emlen, Allyson Evans and David Schutz (also the state curator), is entirely outdoors this year. Called "20/20 Hindsight," the show consists of artists' responses to pre-industrial trades and the hand tools used in them that were recovered from its charming backdrop: Kents Corner State Historic Site, a cluster of brick and clapboard mid-19th-century buildings that once served as an inn, general store, shoe factory and blacksmith shop.
Before the pandemic, the curators planned to hold a much larger version of "20/20 Hindsight" inside the buildings, whose unique spaces act like a fourth curator, they like to say. That show has been postponed until fall 2021.
Meanwhile, the curators asked the artists to rethink their art for the outdoors. One, Stowe-based sculptor Chris Curtis, didn't have to; his quartzite monolith, "Windows," is prominently sited as planned.
Another 10 artists created new work; three existing outdoor sculptures sited for earlier Art at the Kent shows were integrated into the flow; and the curators rounded out the exhibition with four sculptural homages of their own.
Visitors, be warned: This part of Vermont is devastatingly beautiful on a fall day, and the Kent's bathrooms are closed. A day trip should include lunch from the Maple Corner Community Store & Whammy Bar, a swing by the 1803 Robinson sawmill — the oldest operable sawmill in Vermont — and a visit to the Old West Church, an 1823 meetinghouse whose steeple is newly restored. All three sites lie within a half mile of the Kent.
Emlen and Evans created "Old West" in homage to the meetinghouse, using three blocks of wood they rescued from the steeple's "burn pile," they said during a tour with Seven Days. The unadulterated stack of history lies between Curtis' "Windows," which will survive eternity, and the bravely unweatherized "Fractured" by Trevor Corp — a pair of acrylic paintings on canvases that fill the frames of a window and door.
Corp, based in Wolcott and on staff at Vermont Studio Center in Johnson, was named one of 10 "2020 Vermont Artists to Watch," a project of Ric Kasini Kadour in partnership with the Vermont Arts Council. According to his artist statement, Corp is "drawn to objects that show their age and their interaction with ... the elements." The latter effect should soon become apparent in "Fractured," as it is slated, along with most of the exhibition, to remain up through the summer of 2021. (A few pieces will come down on November 1.)
Corp's work, with its repeating star shapes that are never whole, evokes the current culture's fractured sense of focus, a reference by opposition to the technology theme of "20/20 Hindsight." "Less and less of what we surround ourselves with has the handmade touch," Corp wrote.
The exhibition is part of "2020 Vision," the statewide, yearlong, technology-themed exhibition project of the Vermont Curators Group. Recently relaunched with a new, pandemic-oriented subtitle — "Reflecting on a World-Changing Year" — the expanded project now encompasses exhibitions at 47 participating institutions in the state.
The curators' group hopes to encourage visits to those sites through its passport program. Visitors to the Kent and other sites listed on the group's website can post a photo to a public social media account and tag it with "@vermontcurators" to be entered in a prize drawing scheduled for July 2021.
Several artists responded strikingly to the Kent's technology-and-hindsight theme. Working from a historical photo of a 19th-century trade sign depicting a giant spring-clip clothespin, which was mounted on the roof of the National Clothespin Factory in Montpelier, the trio who make up that city's Flywheel Industrial Arts (Chris Eaton, Ben Cheney and Jesse Cooper) created "Hammered, Welded, and Sprung." The work consists of three eight-foot-tall clothespins, complete with spring clips, beautifully fashioned from wood and metal. The objects were fully operable, Emlen and Evans reported, before the craftsmen affixed them in a Claes Oldenburg-like arrangement to a rail base.
Amy Lilly
Nel Emlen, left, and Allyson Evans with "Laundry: Homage to Christo"
Nearby stands an echo of "Hammered" in words. Usually, Art at the Kent holds a poetry series, Words Out Loud, at the Old West Church. Taking its place this year are two odes, "Clothespin" and "Outdoor Shower," by Putney poet Megan Buchanan. Rendered as an artwork by Montpelier letterpress designer Kelly McMahon, the handmade paper sheet hangs from two clothespins inside a roofed display case fashioned by John Parker, a custom builder in Chelsea. (Parker also created "Revolutions," a pair of abstract assemblages of 19th-century tradesmen's tools and signifiers, elsewhere on the grounds.)
Eve Jacobs-Carnahan responded to the technology theme by knitting a yellow cozy for the lamp that stands on a post outside the Kent's north door. The Montpelier artist's work, "Energy," references three sources of power: the sun, through its color; gas, in the knitted shapes of flames; and wind, specifically the world's first megawatt-size wind turbine, which was erected on Grandpa Knob in Castleton in 1941.
The color of "Energy" is echoed across the road in the curators' "Laundry: Homage to Christo," one of their two homages to artists who died in 2020. The other, "In the Woods: Homage to Wolf Kahn," is an assemblage of vertical sticks with horizontal branches painted lavender and vermilion; it lines the woods on the opposite side of the Kent.
In "Laundry," the curators evoke Christo's "The Gates" and other large-scale installations in the minimal language of bolts of fabric, which they cut to between six and 15 feet and strung on a line. Fabric artist Karen Henderson dyed them yellow — the original color of the barn they extend from — in a washing machine. On a clear day, the cheerful installation can be seen blowing in the background of almost every other work in the exhibition.
Self-taught sculptor Cindy Blakeslee of Bradford uses the humor of scale and unexpected texture in her two technology-themed works: "#176," a rusty faucet spouting lengths of piano wire; and "#146," a four-foot paintbrush whose bristles she made from old maps shredded in a pasta machine.
Courtesy Of Allyson Evans
"Cairn" by Thea Alvin seen through Chris Jeffrey's "In a New Light"
The curators hung "#146" in a window and displayed a ladder and paint can in the adjacent one. In a normal year, Emlen said, "Our piece is hanging the show and trying to marry the space and the work." Figuring out how to accomplish that outdoors made up for the interrupted mission.
Chris Jeffrey, a Montpelier stained-glass artist, created three framed rectangular pieces that line the foundation walls below Blakeslee's window installation. Called "In a New Light," the trio appears to be formed from tinted circular mirrors of varied diameters. They're actually lenses manufactured in Vermont for medical imaging and space exploration, which have been used on the Mars rover. The lenses change color with light and viewing angle while reflecting ambient color, creating a miasma of hues to which it puzzles the mind to assign depth.
"I created this installation to enliven these historic buildings with space-age technology, allowing the structures to be seen literally in a new light," Jeffrey wrote in an artist statement.
The colorful works equally reflect and alter images of surrounding fall foliage and nearby sculptures, including Thea Alvin's stone "Cairn" from 2012 and Leslie Fry's "Dust to Dust," an arced arrangement of plaster-cast objects piled on one another in the grass. Fry installed the work in 2018 and has allowed the curators to rename and rearrange it each year. This year, they were pleased to discover the shapes of numerous old tools among the casts, including a saw, hammer, screwdriver, vise and light switch plate.
Anyone can experience such delight in looking and finding at "20/20 Hindsight" — a rare non-digital opportunity these days.