13 slides
On an idyllic summer evening last weekend, cars streamed down Dorset West Road and up a swooping drive to a hillside barn. There, long tables stood laden with locavore fare, a bluegrass band was set up in the corner and, on the veranda, a bartender offered up wines, beers and iced water flavored with lemon and lime. Guests roamed the sprawling lawn, dipped into a spring-fed swimming pool or trudged farther up the hill to look at an abandoned quarry and mountain views.
Vermonty wedding reception? No, but this was another highly anticipated event that brought out curious locals — and one reporter from Burlington.
Saturday's event was the first public open house of the Marble House Project, a new artist-residency program ensconced in a sumptuous property. The enormous, Federal-style Manley-Lefevre House — built in 1815 from stone quarried right up the hill — sits near the road and is, for passersby, a slow-down-and-gawk kind of mansion. No surprise it's on the National Register of Historic Places. But what sets the house apart, even in tony Dorset, is the adjacent formal garden, complete with marble fountains, walkways and staircases, ascending the hill and topped by a marble portico. Its Italianate elegance comes courtesy of renowned American landscape architect Charles Downing Lay (1877-1956).
The property also holds several artist studios, which bring us back to the point of last weekend's event. In June, the Marble House Project began providing two-week and month-long residencies to six to eight individuals at a time. For the inaugural season, the recipients came by invitation (the future will bring an application process); they work in visual arts, music/composition, dance, film, poetry, fiction or journalism, or a combination of disciplines.
In addition, the project presents open-to-the-public workshops, ranging from poetry writing to mixed-media collage to a team cooking experience. That last one illustrates two ways in which the Marble House Project differs from a typical artist colony: It maintains a creative focus on food, local agriculture and "permaculture principle," and it offers residencies for families.
All this is the vision of two women from New York: Danielle Epstein and Dina Schapiro. Life partners as well as cofounders of the Marble House Project, they purchased the house and 48-acre property two years ago — for $1,450,000, Epstein revealed — and spent a couple of years and hundreds of thousands more dollars cleaning and restoring it.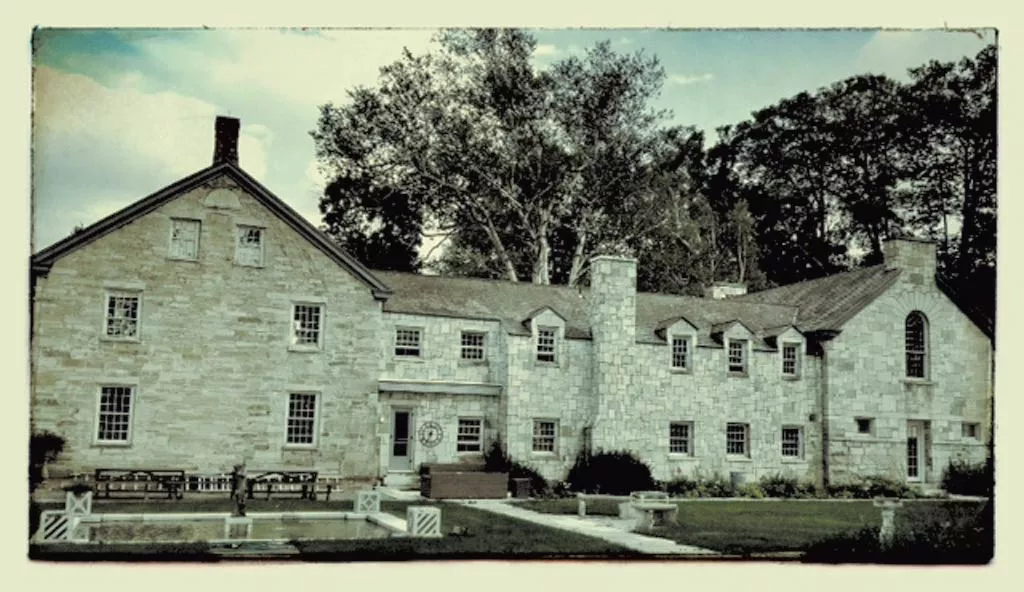 The pair moved a classic post-and-beam barn from Waterville and reconstructed it on their hill as an event space. They had a new, smaller barn built behind it, including a caterer's kitchen and composting toilets. They discovered that marble-lined swimming pool, covered in muck, and had it restored. And they hired a farmer, Pablo Elliott, to manage the organic gardens and grow food for the facility's residents and functions. Last year, the women also purchased the Marble West Inn just down the road.
Epstein's successful career in New York City real estate made this project possible, but her artistic passion — she makes photography-based works — fueled the ideas behind it. "I wanted to combine the two careers," Epstein explained in an interview the day after the party. Schapiro is an art therapist and assistant chair of the art therapy graduate department at Pratt Institute. To the Marble House Project she brings an understanding of and commitment to the power of art: to heal, to fulfill and, as the project's mission statement declares, to foster a community "that nurtures the imaginative spirit."
"All these elements come together," said Schapiro. "We want this to be self-sustaining."
"We both wanted to do this kind of project for a long time, well outside of the city," Epstein said. "This property one day just came up online..."
Schapiro finished her sentence: "Coming here confirmed the idea."
What the women didn't know when they arrived in Dorset was how the community would respond. Their first hint of support came at an early zoning-committee meeting. When an official peppered Epstein with questions about their plans, she recalled, an audience member stood up and suggested he just "give them what they want," because it was a great idea.
The open-house attendance on Saturday confirmed what the founders have learned about their adopted town: "Everybody wants [Marble House] to be part of their life and to be great," Schapiro said. "This has been a private property for hundreds of years, but it's also been here for the public, even though they didn't have access to it."
Within Marble House, another batch of residents arrives every few weeks to create new relationships, fostered by mutual creative stimulation and by the agrarian beauty of the setting. Epstein and Schapiro, too, have found a serendipitous community with their small staff: farmer Elliott, chef/innkeeper Connie Sturgis and program director Sarah Walko. "I feel completely blessed," Epstein said simply.
Looking to the future, she and Schapiro see the Marble House Project, like its gardens, growing organically. Indeed, this place appears to be fertile soil for artists and farmers alike. "It's all so new," Schapiro said. "There are so many things to think about."
INFO