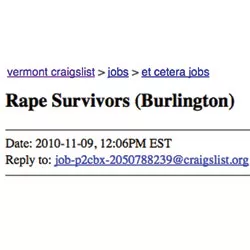 At first glance, the online ad sounds like a promising, albeit emotionally charged, opportunity for a self-selected candidate: "Anonymous rape survivors wanted for inclusion in a theatrical production. You do not need to do any acting or much beyond meeting with the producer for a couple of hours. The project benefits the Burlington Rape Crisis Center."
This ad, and at least three others that are similarly worded, are currently running on the Burlington hub of Craigslist, a national online bulletin board that publicizes postings for jobs, housing, services, items for sale and other "gigs."
The ads were placed over the last four months by Burlington artist and musician Dana Graham Phelps, who claims to be compiling rape-survivor stories for inclusion in a "multimedia video project" he's producing at VCAM, a local community-access channel. Phelps says his ultimate goal is to raise money for victim-advocacy groups in Vermont and elsewhere.
One problem: The Women's Rape Crisis Center has no connection to Phelps or his work, and has posted a warning to that effect on its website. Of particular concern to the WRCC are reports that Phelps has asked some of the female respondents if they would disrobe so he could photograph them naked. Several have reportedly done so.
"The WRCC has never, and will never, endorse or partner with any projects that sexualize and/or glorify the reality of rape," the online statement reads. "Any attempt on the part of an independent organization or individual to expressly represent or imply such an association or partnership with the WRCC exists should not be believed."
WRCC director Cathleen Wilson first learned about the ads from a woman who responded to one of them. The woman told Wilson she was "creeped out" after meeting with Phelps at his apartment. Wilson declined to comment further about Phelps or his work.
The ads have since attracted the attention of the Burlington Police Department and the Chittenden Unit for Special Investigations, the latter of which investigates potential sex and Internet crimes. Both agencies warn the public to be cautious and vigilant whenever responding to online ads that ask respondents to meet in person, especially in someone's home. At least three murders in the U.S. this year have been "facilitated" by Craigslist.
Lt. Kris Carlson, CUSI's director, says he's seen Phelps' Craigslist ads, which he describes as "inappropriate and disgusting." But he points out that as long as all the individuals involved are consenting adults, and not being forced to do anything against their will, no crime has been committed.
"Is it distasteful that he's targeting a vulnerable population? Absolutely," says Carlson, who also heads Vermont's Internet Crimes Against Children Task Force. "But there's also nothing here to indicate that he's looking for anyone under the age of 18."
Even Phelps' claim that he's raising money for the "Burlington Rape Crisis Center" — the organization's actual name is the Women's Rape Crisis Center — evidently doesn't meet the definition of fraud, according to Lt. Tim Charland, a Burlington police detective.
"I don't think he's breaking the law, but if these women don't realize it, he's re-victimizing them," Charland says. "These are women who've gone through traumatic experiences, and to be put back in such an emotional position and tell their stories? I'm just baffled that he'd get them to disrobe for him."
Reached by phone last week, Phelps claims the WRCC originally sanctioned his project — and that a woman there "offered to composite some real stories" for him. After learning there was an "erotic" element to the project, the crisis center reversed itself, he says.
"It was a problem, and I'm trying to deal with it in an amicable way," Phelps adds. "We're on the same side here. I wanted to give them money, but at this time, I have to say it's now a totally separate thing."
Phelps says he's received "many responses" to his ads, from women in Vermont and elsewhere, and has interviewed six survivors already. Typically, subjects come to his apartment and he records their stories using home audio equipment.[*]
"It's not going to be pornographic or overtly sexual. I'm not even going to put much nude stuff in there," Phelps says about the finished project, which he hopes to complete by the end of March. "The point is to put empowering, sensual, beautiful, feminine pieces in the background" of the video. Asked if he was also interested in speaking with men who had experienced rape, Phelps said he was, but that none has yet responded. His October ad on Craigslist specified "female" victims.
Phelps says he doesn't plan to augment or embellish the survivor stories. Rather, he's just transcribing the interviews and converting them into a script, which will then be read by actors. The multimedia project will also include some of Phelps' original music, photos and artwork projected in the background, he says.
VCAM Exective Director Rob Chapman confirms that Phelps has been trained and done work in the past at VCAM, but reports "no activity" on his account since summer.
Most of the women he interviewed did not want to be identified, Phelps reports. But he did supply the name of Laura Letourneau, a 26-year-old college student and mother from Hardwick. Letourneau says she drove to Burlington alone about a month ago to meet Phelps in his home.
"It was fine. Obviously, I was nervous at first because it was at his apartment, but he was really nice," she says. "I got a trustworthy type of vibe and I was all right after a few minutes."
After she saw the ad on Craigslist, Letourneau says, she contacted the Burlington Police. She said they were aware of Phelps' project. "I definitely checked him out before I made the drive to Burlington," she says. The Burlington PD could neither confirm nor deny her claim.
Letourneau says she told Phelps the story of her brutal rape, which occurred when she was 18. He recorded the interview and took several photos, "but nothing weird," she emphasizes.
When Phelps mentioned "erotica art," she says, "it kind of freaked me and I thought, This is kind of sadistic … But then I saw his art and you cannot really tell they're nude images … They're very abstract."
Letourneau explains why she agreed to be identified by name: She recently wrote a book about her rape, entitled Daddy's Secret Love. It was published last June.
As for the connection to the WRCC, Letourneau says Phelps told her about that "misunderstanding" when she visited his apartment. "I felt pretty comfortable with him," she says. "He seemed pretty genuine."
Editor's clarification: Ken Picard reported that Burlington artist Dana Phelps admitted to asking several of the women to disrobe for his project, as is alleged in a complaint filed with the Women's Rape Crisis Center. In fact, although Phelps told Picard that he had photographed several of his subjects, and said his art project will include "nude and erotic" photos of women, Phelps did not say those photos were specifically of the rape victims he interviewed. Nor did Phelps suggest that he ever asked any of his subjects — rape victims or otherwise — to take their clothes off. On Phelps' other points, Seven Days stands by its story.