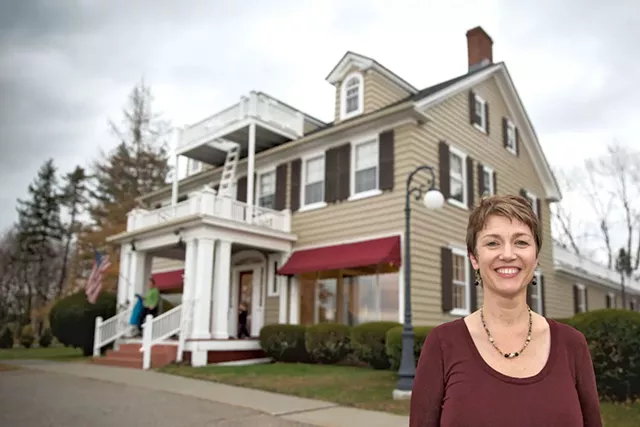 James Buck
Teresa Davis at the future Davis Studio
Just south of Koto Japanese Steak House on Shelburne Road, a stately yellow house is set back from the busy street. Some might remember it as the former home of Country Curtains. The colonial-style building has been devoid of life for more than a year, but soon it will be filled with artists of all ages as the new home of Davis Studio.
Since 2003, the arts-education enterprise has occupied cramped quarters in the Howard Space, as well as a gallery/classroom inside the South End Arts and Business Association headquarters on Pine Street. Over a dozen years, founder and director Teresa Davis has grown her operation and acquired an enormous following. But with 30 classes a week, more than 500 kids attending weeklong summer camps, ever-expanding programs for adults and plans to keep growing, Davis decided it was time to pull up stakes and relocate to a larger facility.
The first time she walked into 916 Shelburne Road, the artist says, "The building felt welcoming, light filled and inspiring — a great place to create art." But the three-story structure requires some remodeling to bring it up to code and accessibility standards, and Davis is currently raising funds through a Kickstarter campaign.
She's confident about reaching her financial goal. So confident, in fact, that she's already signed a three-year lease with an option to buy at any point during that time. It's an option Davis intends to pursue as soon as possible.
Among the planned renovations, designed by Burlington's Freeman French Freeman architects, are two handicap-accessible bathrooms and an enclosed stairwell. The second-story ceiling will be removed, and a maze of tiny bedrooms (from the building's days as an inn) will be opened up to create a large studio space with vaulted ceilings.
And then there's the all-important caffeine and internet access. Davis is in the market for an espresso machine, and she plans to create a Wi-Fi-equipped café area in a first-floor room with a broad picture window looking onto Shelburne Road. Eventually, there will be a small kitchen, which will make the facility more conducive to event rentals.
Tom Fontaine is the general contractor for the new space. Fresh from completing the brand-new Vermont Comedy Club in downtown Burlington, he's ready to dive into another project. In a phone interview, Fontaine says construction will begin "the first or second week of December. That's when the permits should be ready. I think it'll be neat with what they're doing," he adds. "It's going to be a pretty cool studio space."
Davis aims to be fully operational in the new quarters by March — or, as she puts it, "March-ish."
At an open house in the building last Sunday, longtime supporters of the Davis Studio mingled over snacks including palette-shaped cookies and stuffed grape leaves. In one corner, Kadina Dinash of the Human Canvas transformed small faces into butterflies, tigers and fairies.
A large sheet of brown paper hung on the wall and invited attendees to write on it suggestions for uses of the new space. Some ideas, such as installing showers for employees who bike to work, seemed relatively practical. Others, like "my own private room" and "a room full of fuzzy koalas" were less so. But in artists' creations, who knows what might happen?