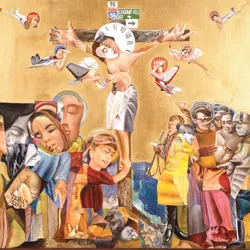 Stepping into Burlington's Union Station this summer for "The Henry Gorski Retrospective: Art as Evidence of Science" feels like entering a very strange church. At the top of the grand staircase, as if over a pulpit, hangs a painting depicting a 1960s political crucifixion: John F. Kennedy, Elizabeth Taylor and a group of astronauts, among other figures, look on as a man bleeds from a cross. On display below it, charts and graphs measure the artist's creative process.
"This is not art for art's sake," says Albert Levis, a Manchester-based psychiatrist and theoretician who has been collecting the work of American painter Henry Gorski "compulsively" since 1972. The obsession began when he determined that the painter's canvases perfectly illustrated the scientific theory Levis himself had been developing for years.
Levis directs the Museum of the Creative Process, a research and learning center dedicated to the scientific study of creativity housed at the Wilburton Inn, which he also owns. He showed the Gorski work two years ago at a similar retrospective at the Chaffee Art Center in Rutland. That exhibit and the Burlington one were facilitated by Mark Puryear, now an account executive for Vermont Business Magazine. Puryear had discovered Levis' collection during a meeting at the Wilburton Inn several years ago.
In Levis' eyes, the exhibit at Art's Alive GalLery at Union Station has a clear goal: to introduce Burlington to his theory — that the creative process is a quantifiable conflict-resolution mechanism, "the psyche, the mental heartbeat, whose function is to reduce psychic and social conflict by helping an individual to make social adjustments." To ensure people understand the science behind the art, Levis is leading weekly tours of the exhibit through the end of August.
His theory is certainly fascinating, if complicated, but the art is worth seeing for its own sake. Gorski, whose career spanned the 1950s through the '90s and included exhibits with the likes of Robert Rauschenberg, Elaine de Kooning and Andy Warhol, died last year at 92. He was best known for his sports lithographs, which make up a small portion of the work on display at Union Station.
Some of the most striking works are Gorski's "Pain Things," his early paintings depicting people whose mouths have been erased or obscured. In "The Birth of Adam," for example, a bald head emerges from a gray substance. Everything below the cheekbones is unformed, covered in the swirls of a fingerprint.
Gorski struggled throughout his life with a speech impediment, and one of his two sons had such severe autism that he never spoke. As a result, Levis notes, the mouth is an important symbol throughout Gorski's work. Later in his career, the artist began a series of disembodied lips, pursed as if ready for a kiss.
"What is remarkable is to go from these mouthless people to all these kisses," says Levis. He notes that Gorski's use of minimalist symbolic language — in addition to the mouth, he repeatedly depicted crosses and athletes — makes it easy to observe how his emotions evolved over time.
In the last work he completed before he died, called "The Paradox," Gorski sketched a self-portrait, crowned with thorns, over a white kiss suspended in a blue sky. Three identical kisses are arranged around it in the shape of a cross. Levis sees this work as the culmination of the artist's symbols, and proof of his successful resolution of the conflicts in his life; he's progressed from mouthless suffering to heavenly kisses.
Gorski wasn't always amenable to Levis' interpretation of his work. "As an artist," Gorski wrote Levis in 1982, "reading your psychoanalyst's essay leaves me cold … non-committal, as if the lifeless cadaver of me, the artist, was propped up on a slab and examined for clues.
"To explain my personality in terms of my work strikes me as a formidable and awesome task," Gorski continued. "I shall have to leave that area of professional competence to you. I am only reminded that Robert Frost's poetry reveals very little of the son-of-a-bitch he was…"
Five years later, however, Gorski took a different view. In Levis' book about his theory, Science Stealing the Fire of the Gods and Healing the World, he quotes the artist as saying, "Albert Levis in his formal approach to behavior theory, as seen and interpreted through the artist's eye, has enhanced the realm of creative vision which I experienced intuitively as a painter. His new dimension of insight fostered a meaningful relationship between the formalist and the intuitionist… [it] extends the frontiers of understanding our humanity."
Levis' son Max, a Harvard Divinity School grad who has collaborated with his father, says the last thing they want to do with the exhibit is strip away the magic surrounding Gorski's artistic genius. "We're trying to understand the dynamics present in the creative process," he says.