suzanne M. Podhaizer
Ribs at ArtsRiot
Christopher Chaisson stood in a hole on Burlington's Pine Street last week working on the steel-reinforced concrete base of a sculpture. He talked to Seven Days about the food he eats when he attends the annual South End Art Hop, which takes place this week, September 8 to 10.
"You can go from art opening to art opening and eat free all night," said Chaisson, a builder and farmer who lives in Charlotte.
It's true. You can hit up Pine Street and Flynn Avenue this Friday, the first night of the Art Hop — as thousands of people will — and make a meal out of cheese and crackers, peanut M&Ms, Chex Mix and paper cups of white wine. Or you can eat boneless smoked chicken with housemade sesame noodles and braised greens and drink a rum old-fashioned.
As the size of Art Hop crowds and the variety of artworks on display have grown over the past 25 years, so have the food and drink offerings on Pine Street. Gone are the days when a Styrofoam cup of coffee from Red Roberts Store (locally known as Red's, later Pine Street Deli) and a two-straw slushie from Cumberland Farms spanned the gamut of hot and chill drinks in the vicinity.
Now breweries and a cidery produce boozy beverages on this stretch of Burlington real estate, joining a coffee roaster that claimed commercial space in the heart of the Art Hop zone 24 years ago.
In fact, the roaster — Speeder & Earl's Coffee — got so busy over the past quarter century that, five years ago, it moved its roasting operation to Williston. The café remains in the space beside the office of the South End Arts and Business Association, which produces the Art Hop.
"When we moved in here, it was us, and across the street was Champlain Chocolates," said Speeder's co-owner Jessica Workman. "Fresh Market was a few doors down, and that was pretty much it. The big happening on Pine Street was the plastics plant [Specialty Filaments, now Dealer.com]."
The renaissance of the street is something she couldn't have imagined "in a million years," Workman said. "Pine Street has become this totally different animal. I love it. I love being here. I love the energy down here."
That energy is unsurpassed each year on the first night of Art Hop. We reporters remember with fondness an installation from a dozen years ago that combined art and food: Someone erected a one-night fireplace near the Great Harvest Bread parking lot and shared the flames for toasting marshmallows.
This year, 29 food trucks and mobile vendors will roll in for the festivities, bringing kettle corn, barbecue, salads, gyros, falafel and more. Art Hoppers can eat on the go or stop at a restaurant for food and drinks. We've sampled nearby stationary fare and listed special Art Hop hours where possible (check with businesses directly about extended hours).
The info could be useful to event organizers, too. "Oh, I get to eat during Art Hop?" SEABA executive director Adam Brooks said, only half kidding. "Nobody told me that."
— S.P.
Citizen Cider
316 Pine Street #114, 448-3278, citizencider.com. Open Friday, 11 a.m. to 11 p.m.; Saturday, 11 a.m. to 10 p.m.; and Sunday, 11 a.m. to 7 p.m.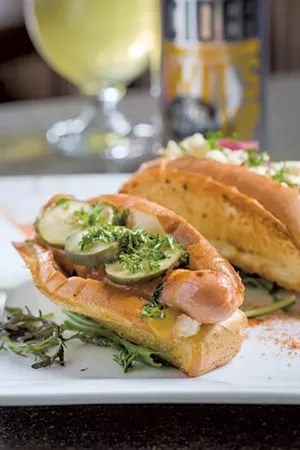 Oliver Parini
Hot dogs at Citizen Cider
Soon after making its move to Pine Street from Colchester's Fort Ethan Allen in 2014, Citizen Cider established itself as a spirited gathering place with an inside-is-out and outside-is-in vibe. You can sit at a high-top table that straddles the border of inside and out beneath the frame of big, open, garage-style doors. If you're lucky enough to snag one of these spots at Art Hop, you'll have a view of the Pine Street throngs to the west and ready access to snacks and drinks.
The restaurant will have food and drink stations outside for Art Hop, with a bar and grill set up at the loading dock. Hoppers can feast on hot dogs, beef and veggie sliders, and chocolate-covered apples.
We stopped by last week for appetizers and a glass of cider and made a meal for two from three plates: fiery apple Buffalo wings, a charcuterie selection and a spicy riff on avocado toast.
The avocado appetizer was a special consisting of three pieces of grilled French bread topped with guacamole, goat cheese, red onion and honey sriracha sauce. It paired well with dry cider.
For Art Hop, Citizen Cider will make a couple of its special hot dogs, which are typically served on Thursdays with a can of beer for $6. The McKenzie Country Classics dogs are grilled and dressed with topping combos such as sliced apple, wilted spinach and goat cheese; pastrami, mustard and sauerkraut; or duck-fat gravy and cheese curds from Sweet Rowen Farmstead in West Glover. For Art Hop, the restaurant will offer a chili dog and another special.
In the days leading up to Art Hop, customers decorated 60 paper prayer flags that will hang in the taproom during the show.
— S.P.
Myer's Bagel Bakery
377 Pine Street, 863-5013, myersbagels.com. Open Friday, 4 a.m. to 11 p.m. (with last call for pizza at 10:30 p.m.); Saturday, 4 a.m. to 4 p.m.; and Sunday, 7:30 a.m. to 3:30 p.m.
Myer's Bagel Bakery has been making Montréal-style bagels in a little shop on the west side of the Pine Street railroad tracks for 18 years. In 2013, it added a café that serves bagel sandwiches, soups, salads and baked goods.
For three summers, the café stayed open on Friday nights to make pizza in its wood-fired bagel oven. Those weekly pizza suppers will be revived Friday night at the Art Hop when Myer's fires up its bagel oven and becomes a one-night pizzeria.
The café will bake and serve whole pizzas to order, including meat, veggie and white pies using bagel dough, co-owner Adam Jones said.
Diners may eat inside or out and bring their own beer and wine, Jones added. During Art Hop, the restaurant tends to be a hot spot for people who need to use the bathroom, he said, since food trucks are not equipped with that service.
Hungry hoppers can also buy bagels on Friday night, with one ingredient missing: chief bagel-maker, founder and co-owner Lloyd Squires.
"I'm going to be in Maine," Squires said, "eating lobster."
While Myer's is not a designated Art Hop stop, the café displays a rotating exhibit of work by local artists and welcomes submissions, Jones said.
— S.P.
The Great Northern
716 Pine Street, 489-5102, thegreatnorthernvt.com. Open Friday, 7 a.m. to 10 p.m.; Saturday, 10 a.m. to 10 p.m.; and Sunday, 10 a.m. to 3 p.m.
Sally Pollak
Rum old fashioneds at the Great Northern
The vintage mahogany bar at the Great Northern is a Pine Street art installation in itself — one that will remain in place long after the Art Hop shuts down for the year. The woodworker who restored and rebuilt that bar, Michael Kuk, turned me on to a cocktail that is a great pleasure to sip there.
Called the Witchcraft, the tequila-based drink is whipped with egg whites to create a foamy cocktail that is magically appealing: potent and refreshing but not too sweet, balanced with a bite. It gets its name from one of the ingredients: Strega, or "witch," an Italian liqueur. The drink is almost a meal in a glass, and it pairs well with banter from Colin Walsh, the bartender who mixed me one last week.
Walsh, who is a painter, will exhibit his work at the restaurant during Art Hop. He speaks of cocktails as he does of landscapes, noting that color, texture and composition are important elements in crafting a first-rate drink.
Walsh previewed a cocktail for us that will appear on the Great Northern's fall menu, suggesting that the drink — a rum old-fashioned — would be perfect for Art Hop weekend.
It certainly did the trick a week in advance, with its blend of rums aged on pineapple flesh and husk, a dash of cherry and bitters. The amber hue looks just right on Kuk's bar.
"It's stiff," Walsh said of the drink. "You don't have to lug around a full belly of liquid. You can walk in and have one and catch a buzz."
— S.P.
Brio Coffeeworks
696 Pine Street, Suite 4B, 777-6641, briocoffeeworks.com. Open Friday, 9 a.m. to 6 p.m., and Saturday, 11 a.m. to 6 p.m.; closed on Sunday.
While Speeder's is the most venerable of Pine Street's current caffeinated offerings, Brio Coffeeworks, which opened in 2014, is a must-stop for coffee aficionados. It's a roaster with a drop-in atmosphere; hoppers who follow the scent of roasting beans will discover a counter where they can buy cups of hot or cold coffee and a curated selection of brewing equipment for sale.
In the back of the room, they might glimpse staffer Tyler Van Liew staring at time and temperature graphs on a computer screen as he roasts beans to the moment the Brio team has decided is optimal for that variety.
Aside from the bright red and gold Diedrich roaster, what's hot right now? According to co-owner Magda Van Dusen, it's actually something cool: a line of cold coffees that aren't cold brewed. Extracting flavor from chilly coffee results in a loss of nuance, she said, but the last thing you want is to drink yesterday's stale brew. A proprietary process that involves brewing the grounds hot and rapidly cooling the liquid gives Brio the best of both worlds.
I sipped a cold cup from Reko, Ethiopia — a Yirgacheffe, with its classic lemon and floral flavors — that was silky smooth without a hint of bitterness. It's perfect fuel for a long night of checking out sculptures, watching fire jugglers and noshing on the best the city has to offer.
For those seeking an artwork they can drink, Van Dusen pointed out the Barichu Karindundu from Kenya, the most expensive coffee Brio sells, which is only temporarily available. The beans are washed with river water, dried in the sun and, she said, taste of honey, apricot and blackberry.
— S.M.P.
SoYo Frozen Yogurt
696 Pine Street, 540-0851, soyobtv.com. Open Friday and Saturday, 11:30 a.m. to 9:30 p.m., and Sunday, noon to 8 p.m.
suzanne M. Podhaizer
Yogurt at SoYo
All the dairy at SoYo Frozen Yogurt, which opened in 2012, comes from Vermont. And you can load it up with all the exotic toppings you desire, including fresh fruits, nuts, candy chunks and various forms of chocolate; rotating flavors are a sweet bonus.
Art Hoppers fresh from the press of a crowded gallery will find the place cool, both in temperature and color palette. The floor is concrete, tables are white, and chairs are aluminum. Visiting on a sunny day, I kept my sleeves rolled down as I spooned up my creation.
Since I knew the Art Hop would be heavy on cheese, and I had a milkshake in my future, I started with the vegan coconut base. It was a little less dense than the cow-milk yogurt variations and had a pleasant tropical flavor.
Next came the toppings: brownie pieces, pecans, toasted coconut and pineapple, finished off with a drizzle of Vermont maple syrup and a little chocolate sauce. Because I like its chewy texture, I had the super-helpful counter person throw on a few bite-size pieces of mochi.
The blackberries were plump, massive and glistened in the light, but they turned out to be prettier than they were tasty. Turns out, not all art is meant to eaten.
— S.M.P.
Zero Gravity Craft Brewery
716 Pine Street; 497-0054, zerogravitybeer.com. Open Friday and Saturday, noon to 10 p.m., and Sunday, noon to 9 p.m.
suzanne M. Podhaizer
Beer at Zero Gravity
Sometimes you've just gotta take a break from hopping to get yourself some hops. Vermont has more breweries per capita than any other state, and one might aptly think of Pine Street — which is loaded with craft breweries and a cidery — as a sort of boulevard of beer.
One of the stops on the line is 30-barrel Zero Gravity, which got its start at sister biz American Flatbread Burlington Hearth. Here, the brews trend low in alcohol, which is perfect when you plan to sip a few.
Current selections are posted on a gleaming, white-tiled wall above 10 taps and a stainless steel cask that has its own built-in niche, like the finest ancient vase on display at a museum. Order at the counter and bring your glass to the beer garden, where you can enjoy the sun gleaming through the amber, gold or copper-colored fluid in your mug or stein.
Right now, London Calling, an English ordinary bitter, has my vote. Despite its name, the brew has plenty of complex notes from the malt. It's less bitter than an American-style IPA, ringing in at a nice, low 25 IBUs and only 3.9 percent ABV.
— S.M.P.
Lake Champlain Chocolates Factory Store & Café
750 Pine Street, 864-1807, lakechamplainchocolates.com. Open Friday and Saturday, 9 a.m. to 6 p.m., and Sunday, 11 a.m. to 5 p.m.
A natural stop for those hopping with kids, the Lake Champlain Chocolates Factory Store & Café is the closest thing Burlington has to Willy Wonka's domain, without the risk of getting sucked down a chocolate river or turning into a massive blueberry.
The shop features countless factory seconds at reasonable prices, as well as all of the company's truffles, fudge and packaged products, such as chocolate bars and cocoa.
For sweet-toothed hoppers, though, the big attraction could be the hot cocoa, coffee and shake bar. Since malteds are hard to find round these parts, I got one made with Dominican Republic-chocolate ice cream. Sweet but not too sweet, it was perfect to hold while meandering back down Pine Street toward the center of town.
— S.M.P.
Dedalus Wine Shop, Market & Bar
388 Pine Street, 865-2368, dedaluswine.com. Shop open Friday through Sunday, 10 a.m. to 8 p.m. Wine bar open Friday and Saturday, 4-11 p.m.; closed Sunday.
Suzanne Podhaizer
Beef tartar from Dedalus
Longtime Burlingtonians know Dedalus as a wine shop on Battery Street. But when it made the move to Pine early this year, owner Jason Zuliani opened a wine bar that is simply stunning, mixing sleek and rustic elements with aplomb.
Warm light pours onto the tables from woven wooden light fixtures overhead. The Zalto wine glasses have the slenderest stems I've ever held. Shiny black chairs, rose-tinted water tumblers, raw beams and a long, live-edge table complete the picture.
Before sitting down, my companion and I strolled the shop, sampling cheeses — from a lush water buffalo bloomy rind to a deep-ochre Gouda aged enough to be dotted with protein crystals. The meat case holds some fine examples of charcuterie, and the walls are lined with oils, vinegars, Italian pastas and a perfectly curated selection of condiments.
Our server was visibly excited about the food and even more enthusiastic about the wines he selected and poured. I tried the sparkling La Roue Qui Tourne rosé from France, while my friend sampled the big, bold 2015 Domaine Giacometti Patrimonio Cru Des Agriate from Corsica, made primarily with the Nielluccio grape.
The cheese plate was a winner, with a trio of goat cheeses at different stages of ripeness, a pungent washed-rind cow cheese, a handful of crackers, Marcona almonds and corn nuts to nibble between bites of cheese.
But the star of the evening was the generous portion of beef tartare, sprinkled with almonds and served over a swipe of puréed eggplant, with a lacing of harissa aioli. Bits of torn mint toned down the mild heat, and the beef was fresh, cool and diced to just the right consistency.
For hoppers hoping to enjoy a snack-size taste of fine dining, every aspect of Dedalus is a tour de force.
— S.M.P.
ArtsRiot
400 Pine Street, 540-0406, artsriot.com. Open Friday and Saturday, 4:30-10 p.m.; closed Sunday.
If Dedalus is the venerable Metropolitan Museum of Art of the Pine Street dining scene, ArtsRiot is the gutsy MoMA. The restaurant, bar and event space was opened in 2013 by Felix Wai and PJ McHenry, who burst onto the Burlington scene as impresarios of inventive Art Hop parties and shows. With an edgy ambiance, murals on the walls and eye-popping color on the plates, ArtsRiot offers giddy fun along with its food and drinks.
It's hard to choose among the globe-galloping dishes, but the Finger Lickin' Pork Ribs, glistening with fish-sauce-laden barbecue sauce, stand out. Nestled on a plate with plum, dots of fried garlic and snowy-white feta, the tender meat was as gorgeous to look at as it was luscious to suck off the bone.
Something about the texture, my dining companion said, made eating the dish feel "intimate." And I knew exactly what he meant.
We finished the evening with a cup of butterscotch pudding and a glass of Lagavulin scotch neat, and walked into the cool night air slightly lightheaded. This Riot would make the perfect end to a perfect Art Hop.
— S.M.P.