Burlington City Arts curates exhibits in three areas of the airport: the Skyway, the area above the escalator and the walls facing security for Gates 1 through 8. Whether you've arrived early for a flight or are waiting to pick up passengers, do take the time to look around!
From January through March, the Gates feature artworks by Mike Sipe, who has called Vermont his second home since 2002 and his permanent one since 2012. A "serious amateur photographer" for more than 30 years, Sipe currently lives in Richmond, about 25 minutes from the Burlington waterfront that's prominently featured in many of his shots.
"The Lake Champlain region is my unparalleled muse," he writes in an artist's statement — "the beauty of the lake, skies, mountains, valleys and the people enjoying its splendor. I don't have to travel the world to find world-class beauty; it is here in my own backyard."
With a keen eye for composition and color, he captures nature's many moods through the seasons. "Essex Moon Reflection" shows a butter-yellow harvest moon casting soft light over serene water, with quiet mountains standing sentry nearby. In "Extraordinary Light," Sipe trained his lens on the electric-orange clouds of a summer sunset, their reflection caught in the pink ripples of the lake below.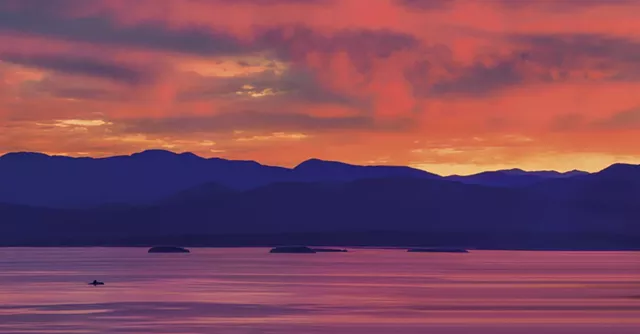 Sipe is currently at work with writer and environmentalist Trevien Stanger on Lake Champlain: Our Basin of Relations, a forthcoming coffee-table book emphasizing the importance of water stewardship.
As Sipe writes, "I will continue to shoot the beauty of the Champlain Valley and its people until I no longer have the urge — which may be a never-ending story."
Learn more about Sipe at mesipe.com, and find more information about Burlington City Arts and its downtown gallery and programs at burlingtoncityarts.org.
---

Burlington City Arts organise des expositions à trois endroits dans l'aéroport : dans le Skyway, au-dessus de l'escalier mécanique et sur les murs qui font face à la sécurité pour les portes 1 à 8. Que vous soyez arrivé à l'avance pour votre vol ou que vous attendiez des passagers, prenez le temps de regarder autour de vous!
De janvier à mars, dans le secteur des portes, vous pourrez admirez les œuvres de Mike Sipe, qui a fait du Vermont son deuxième chez-soi depuis 2002 et son lieu de résidence permanente depuis 2012. « Sérieux photographe amateur » depuis plus de 30 ans, Sipe vit actuellement à Richmond, à environ 25 minutes du front d'eau de Burlington, qui tient une place importante dans ses photos.
« La région du lac Champlain est pour moi la plus inspirante des muses, écrit-il dans sa déclaration d'artiste. Autant le lac que le ciel, les montagnes, les vallées et les gens qui profitent de toutes ces splendeurs. Je n'ai pas à voyager au bout du monde pour trouver la beauté; elle se trouve ici même, sous mes yeux. »
Avec son sens aiguisé de la composition et de la couleur, Sipe capte les nombreuses humeurs de la nature au gré des saisons. « Essex Moon Reflection » montre une Lune des moissons d'un jaune riche qui jette une douce lumière sur un plan d'eau calme, avec les montagnes qui montent stoïquement la garde tout près. Dans « Extraordinary Light », Sipe braque son objectif sur les nuages orange électrique d'un coucher de soleil estival, renvoyant leur reflet dans les ondulations roses du lac en contrebas.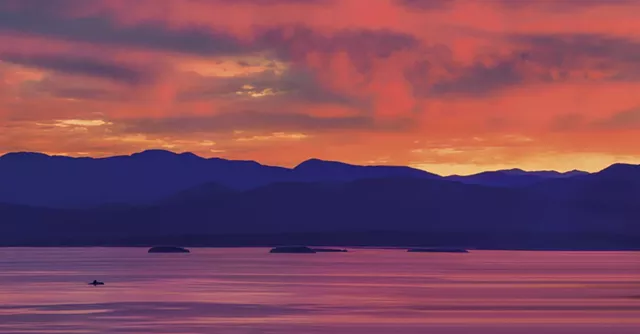 Sipe travaille actuellement avec l'écrivain et environnementaliste Trevien Stanger à la rédaction de Lake Champlain: Our Basin of Relations, un livre-objet à venir sur l'importance de la responsabilité à l'égard de l'eau.
« Je continuerai à croquer la beauté de la vallée du Champlain et de ses habitants, écrit-il, jusqu'à ce que je n'en ressente plus l'urgence — ce qui pourrait bien ne jamais arriver. »
Apprenez-en davantage sur cet artiste à at mesipe.com, et obtenez de plus amples renseignements sur Burlington City Arts ainsi que ses programmes et sa galerie du centre-ville à burlingtoncityarts.org.