Mark Collier, "Fireflies"
Burlington City Arts curates exhibits in three areas of the airport: the Skyway, the area above the escalator and the walls facing security for Gates 1 through 8. Whether you've arrived early for a flight or are waiting to pick up passengers, do take the time to look around!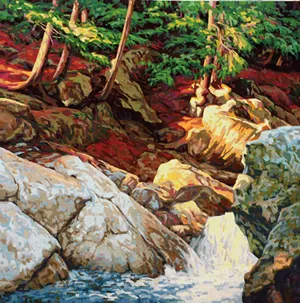 Phil Laughlin, "Bed of Red"
In December, the Skyway features painter Michelle Turbide's mysterious abstract dreamscapes. "It is really not about what you see in the piece, but about what you feel in the witnessing," the artist writes. Ken Russack's plein air paintings of both urban and pastoral scenes are on view in the Gates, and Mary Hill's abstract paintings and textile designs — which she calls "an adventure into the unknown" — are mounted by the escalator. If you're going up, be sure to turn around and look at the wall behind you. But watch your step!
Starting in January, Phil Laughlin's vibrantly colored oil paintings depicting natural scenes of the Champlain Valley hang in the Skyway and by the escalator. The Gates showcase widely published photojournalist Mark Collier's bucolic view of Vermont — think red barns and orange sunsets, as well as fields and fireflies.
Michelle Turbide, "Descent"
All of these artists live or have spent time in Vermont. Please enjoy examples of their work at the airport and on their individual websites.
Find more information about Burlington City Arts and its downtown gallery and programs at burlingtoncityarts.org.
---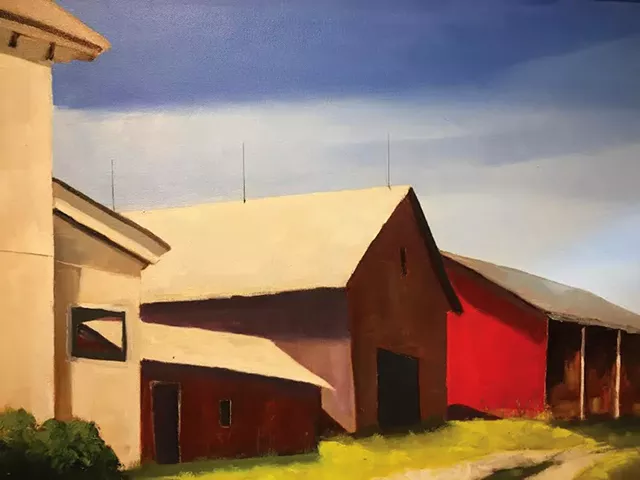 Ken Russack, "Shelburne Pond Rd."
Burlington City Arts organise des expositions à trois endroits dans l'aéroport : dans le Skyway, au-dessus de l'escalier mécanique et sur les murs qui font face à la sécurité pour les portes 1 à 8. Que vous soyez arrivé à l'avance pour votre vol ou que vous attendiez des passagers, prenez le temps de regarder autour de vous!
Mary Hill, "Love All Around"
En décembre, dans le Skyway, place aux peintures abstraites empreintes de rêve et de mystère de Michelle Turbide. « Ce n'est pas tellement ce qu'on voit qui est important, mais ce qu'on ressent », écrit l'artiste. Dans le secteur des portes, vous pourrez admirer les toiles de Ken Russack peintes en plein air, qui représentent des paysages tantôt urbains, tantôt champêtres, tandis que les tableaux abstraits et les créations textiles de Mary Hill — qu'elle appelle « une aventure dans l'inconnu » — seront accrochés près de l'escalier mécanique. Si vous montez, ne manquez pas de vous retourner pour regarder le mur derrière vous. Mais faites attention à la marche!
Dès janvier, retrouvez les huiles aux couleurs vives de Phil Laughlin, qui mettent en scène les paysages naturels de la vallée du Champlain, dans le Skyway et près de l'escalier mécanique. Pour voir les œuvres au charme bucolique du prolifique photojournaliste Mark Collier — granges rouges, couchers de soleil orangés, champs et lucioles —, dirigez-vous vers le secteur des portes.
Tous ces artistes vivent ou ont passé du temps au Vermont. Vous pourrez voir certaines de leurs œuvres à l'aéroport et d'autres sur leurs sites Web.
Pour en apprendre davantage sur Burlington City Arts, ainsi que sur sa galerie du centre-ville et ses programmes, rendez-vous sur le site burlingtoncityarts.org.