"Crossing Road" by Steve Goodman
Burlington City Arts curates art exhibits at the airport in three areas: the Skyway, the area above the escalator and the walls facing security for Gates 1-8. Whether you've arrived early for a flight or are waiting to pick up passengers, take the time to look around!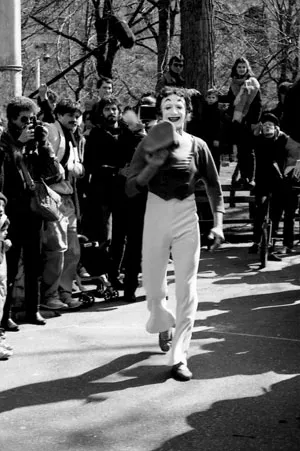 "Marcel Marceau" by Jim R. Moore
In December, you'll see oil landscapes by Jill Madden in the Skyway; the gallery space near Gates 1-8 offers a selection of photographs by Jim R. Moore that he calls "eccentric performers." Moore was part of the clandestine team that staged Philippe Petit's high-wire walk between the World Trade Center buildings; he and his photos appeared in Man on Wire, the Oscar-winning documentary about that exploit.
January through February, Galen Cheney's mixed-media abstractions come to the Skyway, while Steve Goodman's abstracted landscapes brighten the gate area.
"Snowmoon" by Jill Madden
Joan Hoffman's luscious, plein-air oil landscapes greet visitors descending the escalator, through January. (Schedule for the remainder of the winter was not available at press time.)
All of these artists except Moore live in Vermont. Please enjoy examples of their works on this page, on their individual websites and in the airport.
L'Art de l'Aéroport (l'hiver 2012-13)
Burlington City Arts organise des expositions à trois endroits dans l'aéroport : le Skyway, l'espace qui se trouve au-dessus de l'escalier mécanique et les murs faisant face au poste de sécurité des portes 1 à 8. Que vous soyez arrivé à l'avance pour prendre votre vol ou que vous attendiez des passagers, prenez le temps de regarder autour de vous!
En décembre, vous verrez des paysages réalisés à l'huile par Jill Madden dans le Skyway. L'espace galerie près des portes 1 à 8 présente une sélection de photos de Jim R. Moore qu'il a intitulée « eccentric performers ». (Moore faisait partie de l'équipe clandestine qui a organisé la traversée sur fil tendu du funambule Philippe Petit entre les deux tours du World Trade Center; on le voit, ainsi que ses photos, dans Man on Wire, documentaire qui a été réalisé sur cet exploit et qui a remporté un Oscar.)
En janvier et février, les œuvres abstraites multimédias de Galen Cheney orneront le Skyway, tandis que les paysages abstraits de Steve Goodman égaieront la zone des portes d'embarquement.
Jusqu'en janvier, les magnifiques paysages de Joan Hoffman, réalisés à l'huile en plein air, accueillent les visiteurs qui descendent par l'escalier mécanique. (Le calendrier pour le reste de l'hiver n'était pas disponible au moment de mettre sous presse.)
Tous ces artistes, sauf Moore, vivent au Vermont. Vous trouverez des exemples de leurs œuvres sur cette page, sur leurs sites individuels et à l'aéroport.