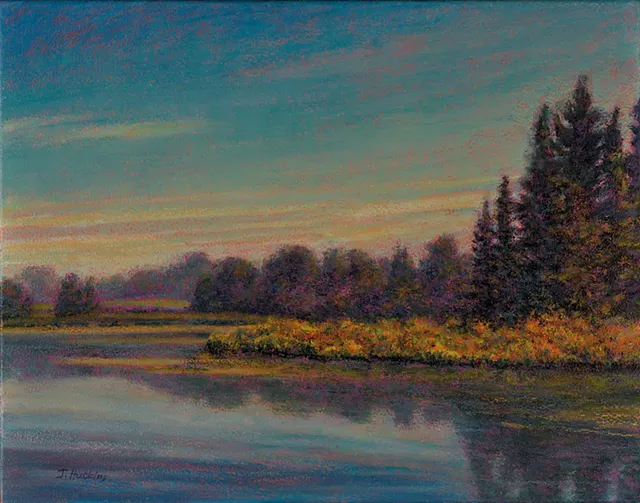 Joy Huckins-Noss, "Berlin Point"
Burlington City Arts curates exhibits in three areas of the airport: the Skyway, the area above the escalator and the walls facing security for Gates 1 through 8. Whether you've arrived early for a flight or are waiting to pick up passengers, do take the time to look around!
Tatiana Yakusheva, "Clouds in the Mountains
In June, the Skyway features works on the theme of "simplicity" by central Vermont's f/7 photography group. As the artists' statement notes, the theme still "leaves ample room for beauty, introspection and ambiguity." In the Gates, Tatiana Yakusheva's oil paintings show street life and landscapes in Burlington and beyond, shaped by the artist's belief that "all the beauty is in imperfection." And Phil Laughlin's vibrantly colored oil paintings depicting natural scenes of the Champlain Valley are mounted by the escalator. If you're going up, be sure to turn around and look at the wall behind you. But watch your step!
In July and August, photographer Elliot Burg presents "Athletes for the Ages" in the Skyway, with images celebrating the senior athletes who competed in 2015's National Senior Games. In the Gates, Joy Huckins-Noss exhibits contemporary pointillism focusing on the natural world. Says the artist, "I want to bring the feelings and sensations of being outdoors into the painting."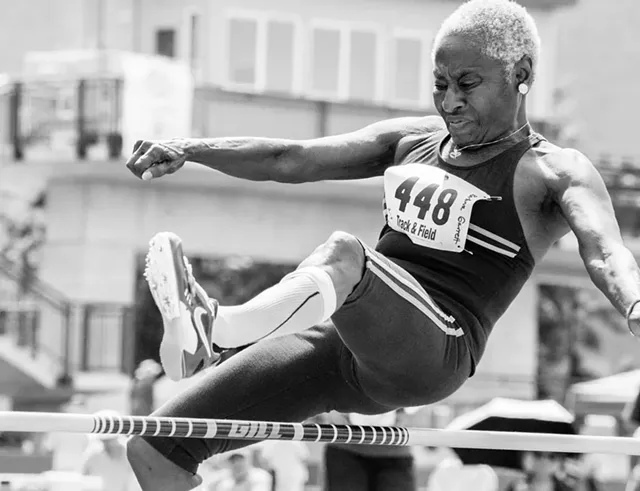 Elliot Burg, "Barbara Garrett, 74, high jump"
All of these artists live or have spent time in Vermont. Please enjoy examples of their work at the airport and on their individual websites.
Find more information about Burlington City Arts and its downtown gallery and programs at burlingtoncityarts.org.
---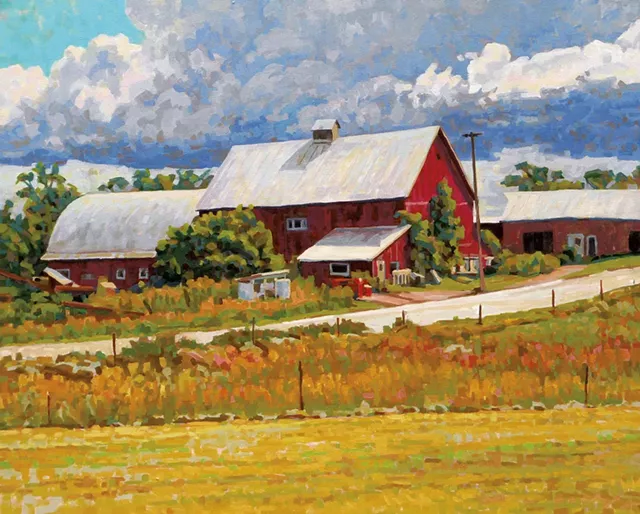 Phil Laughlin, "Franklin County Barn"
Burlington City Arts organise des expositions à trois endroits dans l'aéroport : dans le Skyway, au-dessus de l'escalier mécanique et sur les murs qui font face à la sécurité pour les portes 1 à 8. Que vous soyez arrivé à l'avance pour votre vol ou que vous attendiez des passagers, prenez le temps de regarder autour de vous!
En juin, dans le Skyway, admirez les œuvres sur le thème de la simplicité du studio de photo f/7 du centre du Vermont. Comme l'indique la déclaration des artistes, le thème « laisse toute la place à la beauté, à l'introspection et à l'ambiguïté ». Dans le secteur des portes, les huiles de Tatiana Yakusheva montrent la vie citadine et les paysages de Burlington et d'ailleurs, vus par cette artiste qui croit que « toute la beauté réside dans l'imperfection ». Retrouvez également les huiles aux couleurs vives de Phil Laughlin, qui mettent en scène les paysages naturels de la vallée du Champlain, près de l'escalier mécanique. Si vous montez, ne manquez pas de vous retourner pour regarder le mur derrière vous. Mais faites attention à la marche!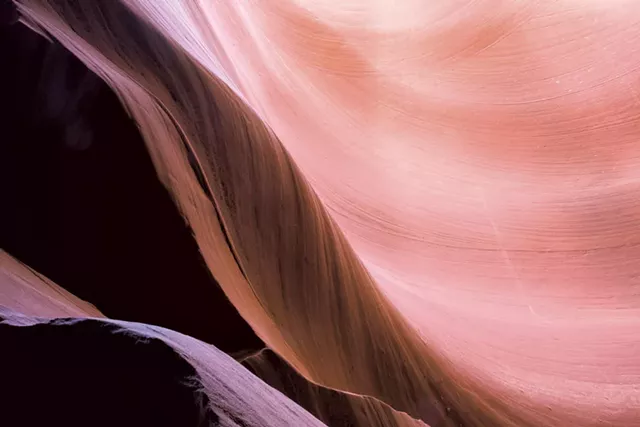 Sandy Shenk, f7, "Sandstone Rhapsody"
En juillet en en août, le photographe Elliot Burg présente l'exposition « Athletes for the Ages » dans le Skyway. Ses photos rendent hommage aux sportifs qui ont participé aux jeux nationaux pour personnes âgées en 2015. Dans le secteur des portes, Joy Huckins-Noss expose des toiles pointillistes modernes sur le thème du monde naturel. Elle affirme : « J'essaie d'intégrer dans la peinture les sentiments et les sensations ressentis en plein air. »
Tous ces artistes vivent ou ont passé du temps au Vermont. Vous pourrez voir certaines de leurs œuvres à l'aéroport et d'autres sur leurs sites Web.
Pour en apprendre davantage sur Burlington City Arts, ainsi que sur sa galerie du centre-ville et ses programmes, rendez-vous sur le site burlingtoncityarts.org.